Swim Through the Mountains
Experience Swimming in a Brand-New Designer Pool at 1,650 Meters
It has been a good day: sun, exercise, fresh mountain air. Now it is time for a little relaxation. Fortunately, the Sonnenburg is a hotel with pool. Carrying a captivating book, you leisurely walk down to the basement. When you arrive at the pool area, you are instantaneously wow-ed: across the green-blue sparkle of the pool your gaze plunges directly into the stunning Oberlech mountainscape. You admire the imposing Alps through the large panorama front.
That is to say, the choice is yours now: head into the pool? Use the Finnish sauna? Submerge yourself in new worlds while reading your book on a comfortable lounger? Or simply lean back and enjoy the fantastic view over the Lech mountains?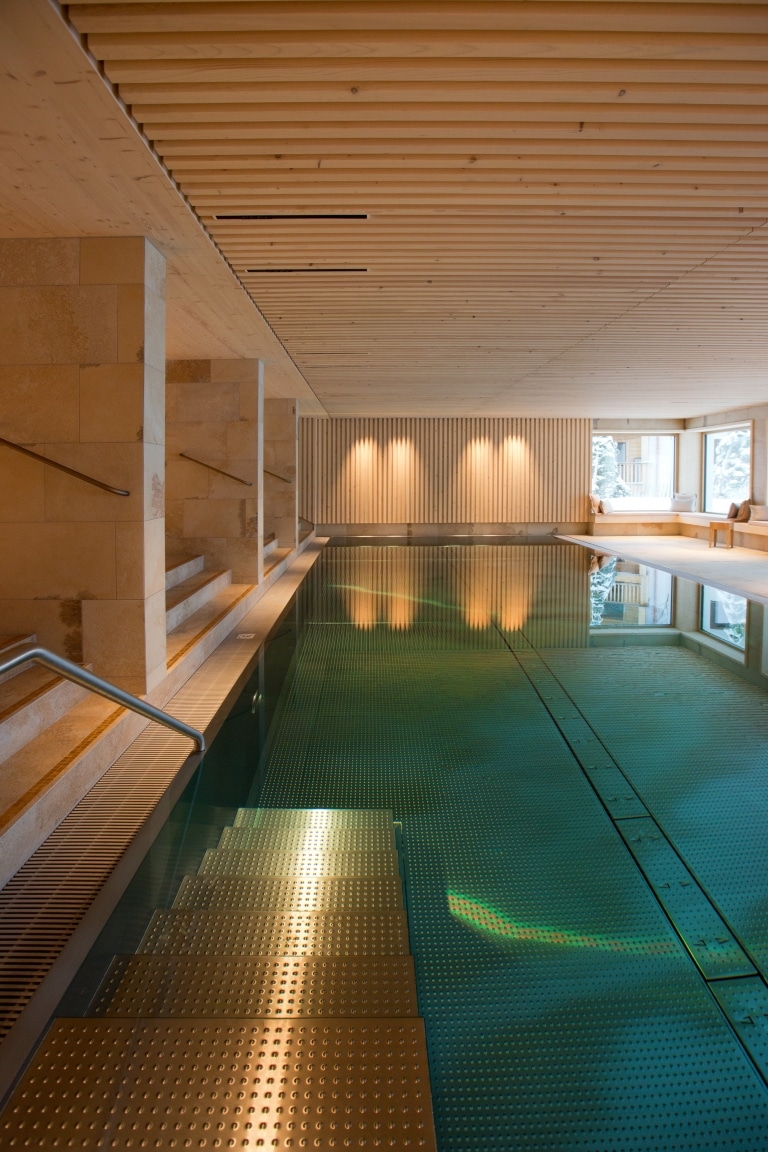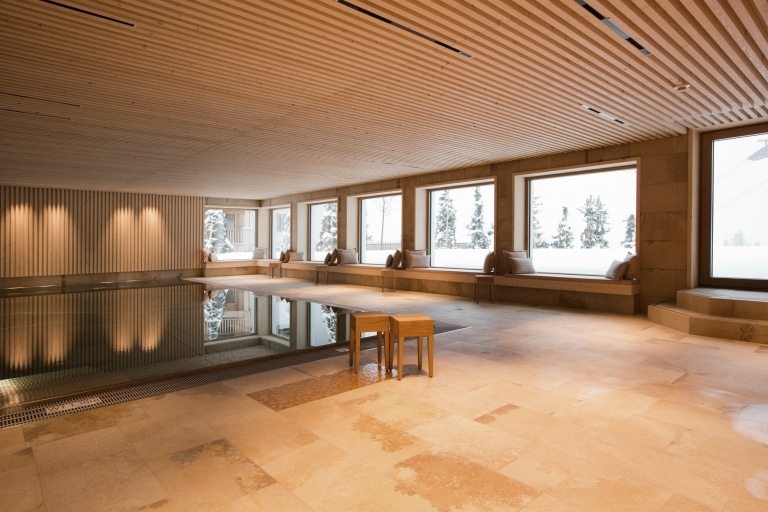 Warm, Welcoming, Wonderful
Spa and sauna in the Arlberg region
As you enter the "Heukraxenbad" sauna, a fragrant scent of fresh alpine meadows tickles your nose. The spruce wood of the benches cracks invitingly in the background. While sitting comfortably, the gentle warmth of the sauna can work its magic: all the strained muscles in your neck and back, your legs and calves release more and more tension. For a long moment, the world is pleasantly far away.
Sufficiently warmed up, it is time to refresh yourself. First, you rub down your skin at the ice fountain before taking an extensive shower. Afterwards you tread cold water in the mist grotto, where refreshing clouds of mist envelop your head and body from above. After all these spa activities, it is time for a little snack and some delicious tea. And then relax on a comfortably upholstered lounger while reading a book and napping.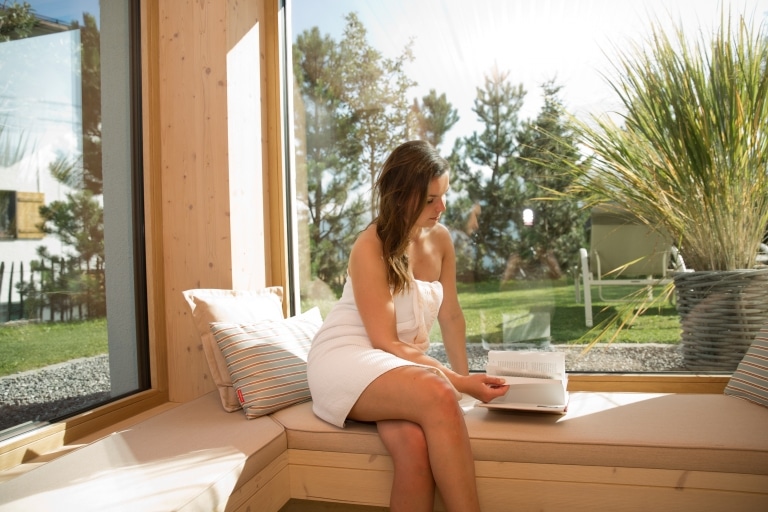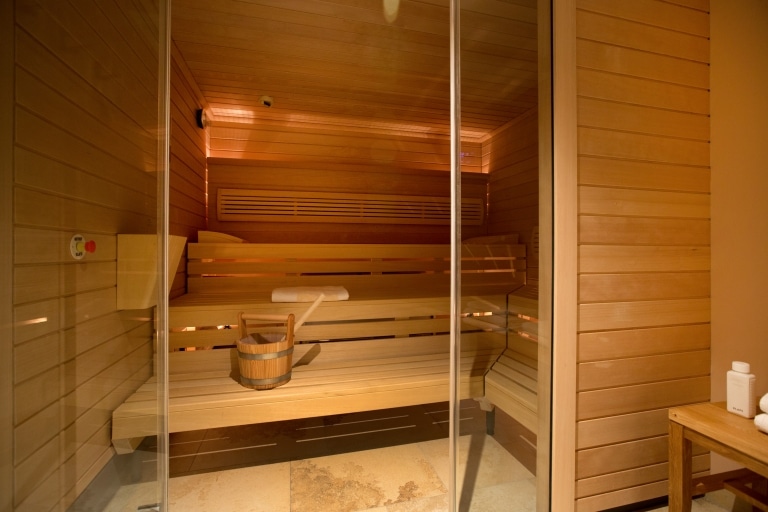 Our pool area offers:
panorama hotel pool: 7 a.m. – 8 p.m.
family sauna: 2 p.m. – 5 p.m.
ladies only-sauna: 5 p.m. – 8 p.m.
naturalistic wellness area (14 years +):  2 p.m. – 8 p.m.
swimming pool library
relaxation area with well-lit reading niches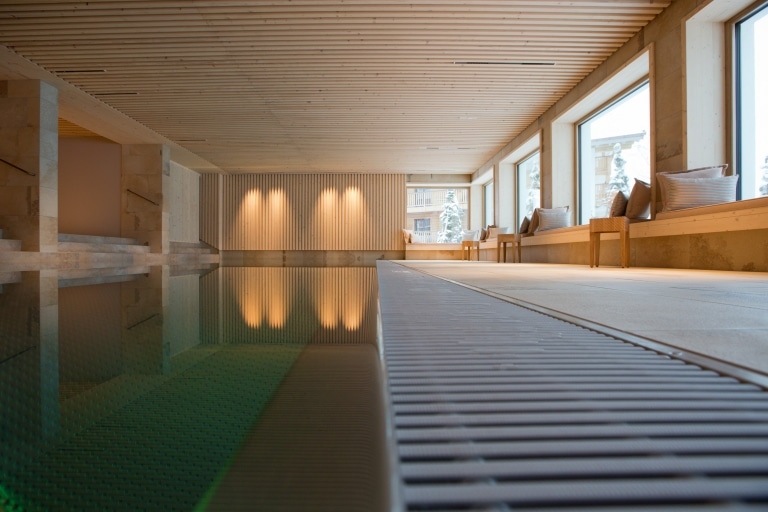 Our family spa hotel area is open daily from 2 p.m. - 8 p.m. It includes:

Finnish sauna: 80-90°C
Steam bath: 42-45°C
"Heukraxenbad" – an alpine sauna specialty: 40°C
Laconium: 55°C
Infrared sauna: > 60°C
Mist grotto with Kneipp basin
Ice fountain
Relaxation area with tea bar
Holidays for your body and soul
– spa activities at hotel Sonnenburg
Recharge your batteries and enjoy the peace and quiet. On a 5-star level. Others call it "spa holidays", we simply call it "holidays".
We do not consider ourselves a classic spa hotel. Instead, our premium spa activities round off your active family holidays in the mountains. Your overall wellness is our priority. Visit us in Oberlech and experience our sophisticated spa equipped with an extensive sauna area and an elegant hotel pool. Spend your family spa holidays at the 5-star hotel Sonnenburg situated in the majestic Arlberg mountains in Western Austria.
Choose from our wide range of spa activities: would you like to visit the Finnish sauna, spend time in our Laconium or relax in the infrared sauna? You can also experience our typical alpine "Heukraxenbad" sauna or take a steam bath in the Hotel Sonnenburg's spa. After the sauna you can cool off at the ice fountain or in our magnificent mist grotto with its unique Kneipp basin. Meanwhile, the tea bar in our wellness oasis provides you with snacks and refreshments to restore your energy in the relaxation area. Our family spa hotel Sonnenburg is the perfect place for you to take care of yourself and your health!
Hotel Sonnenburg in Oberlech
– More than a Hotel with Pool
Have we sparked your interest in our elegant panorama pool? It is at the heart of the Sonnenburg spa experience and designed to make you and your family feel comfortable. For instance, our stainless-steel pool was custom made for us in 2018 and sports a length of 10 metres and a width of 4 metres. That way you will find plenty of space for exercise and relaxation in and around our indoor pool. Have a swim from dawn to dusk while you enjoy the unique panoramic view of the majestic Omeshorn and the Lech Alps.
As yet another highlight, our family sauna is situated right next to the swimming pool. There you can spend the afternoons relaxing with your loved ones. This Finnish sauna will boost your immune system with temperatures between 80 and 90 degree Celsius. Afterwards, you will find ample room to further unwind in our pool area. And if you feel like reading: we have established a unique swimming pool library for children and adults. You can pick a book from there or bring your own. Enjoy it in one of our reading alcoves adjoining the panorama front or on our comfortable loungers. However, these are just a few of the reasons why we call ourselves "literary hotel".
You can find magic wherever you look.
Sit back and relax, all you need is a book.

Dr. Seuss
Perspiring in the Right Setting:
May It Be the Family Sauna or the Ladies-Only Sauna?
It successfully completes the overall concept of our pool area: the Finnish sauna. At temperatures of 80 to 90 degrees Celsius, this Finnish bath improves our guests' health and helps both young and old to relax. An active day in the mountains of Oberlech has strained your body? So, allow your tense muscles to melt during the afternoons in our family sauna. Preferably with your whole family.
From 5 p.m. to 8 p.m. the sauna next to our hotel pool then turns into a sauna only for ladies. A peaceful and warm spot for women where mothers, daughters, girlfriends – in short: all female guests – can stay among themselves and completely relax in the early evenings.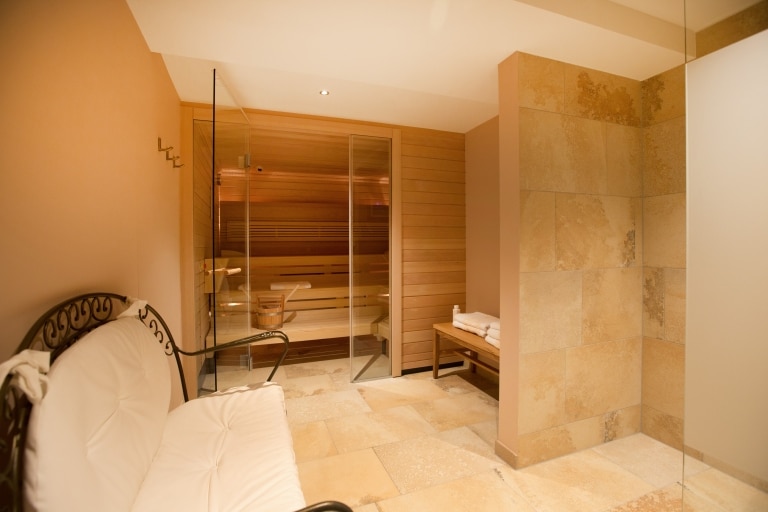 Swimming means Fun for all Ages
Your kids will love our swimming pool: here they can romp, dive, and splash to their hearts' content. And while your kids are playing in the water, you can relax at the pool area. Of course, parents enjoy their time at our indoor hotel pool as well. Swim a few laps after a long day of hiking or winter sports while you enjoy the view of the Arlberg's regal mountain panorama.
Since 1967 Your Hotel with Pool in the Arlberg Region
When the Sonnenburg's pool was first built in 1967, we became the first hotel with a swimming pool in Oberlech. Even though there existed hotels with swimming pools in the "lowlands": at an altitude of 1,650 metres, building a swimming pool was a structural masterpiece at the time. Our indoor swimming pool was a novelty in alpine Austria in the 1960s. And accordingly, it attracted an increasingly international audience to the Sonnenburg hotel.
Since that time, the pool's technology has been constantly renewed and modernised. During a major renovation campaign from 2016 to 2018, we have completely modernized our pool area. In other words, we made it more functional and beautiful for you. Now, our state-of-the-art panorama pool unites elegance and modern design. For our guests' comfort, we also have enlarged the swimming pool: you can now swim your laps in a 4 by 10 meters hygienic stainless-steel pool. Which, by the way, the Austrian company Felder custom-made to meet the high standards of our 5-star Sonnenburg guests.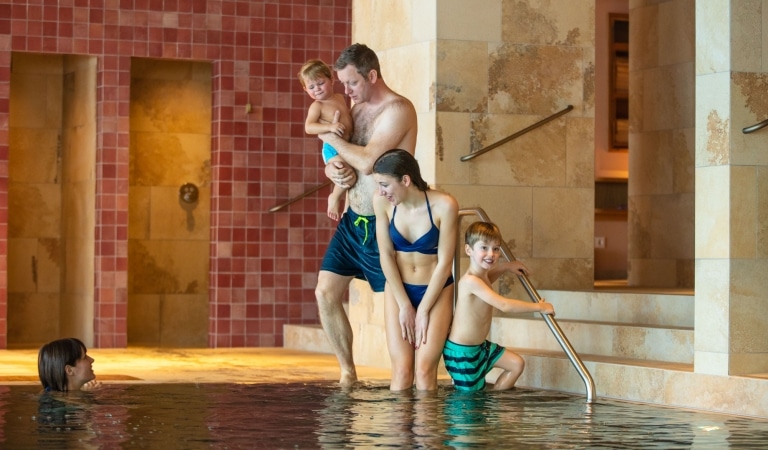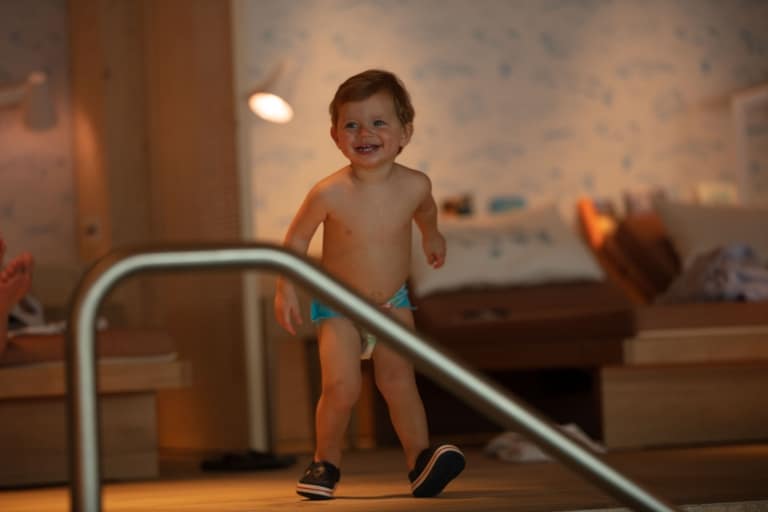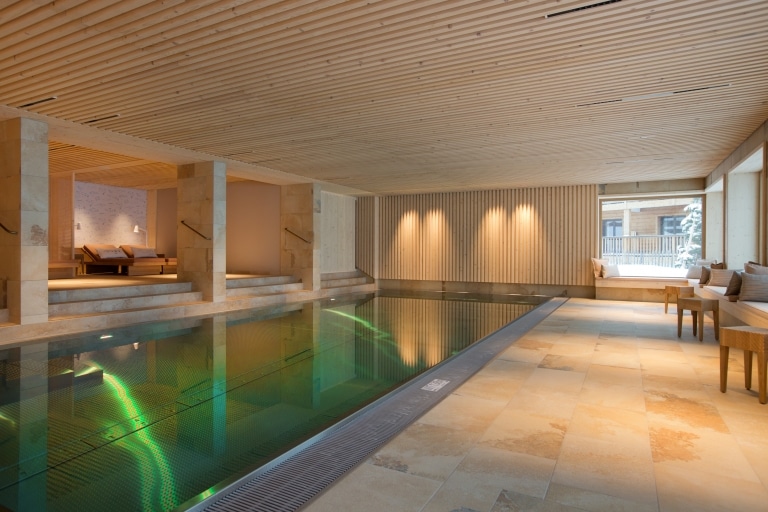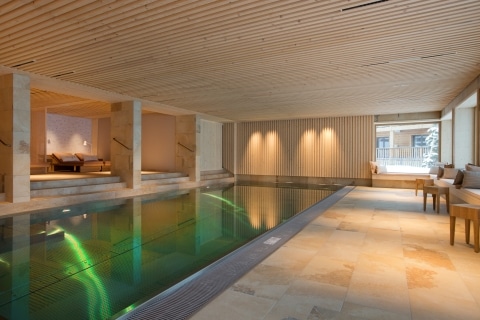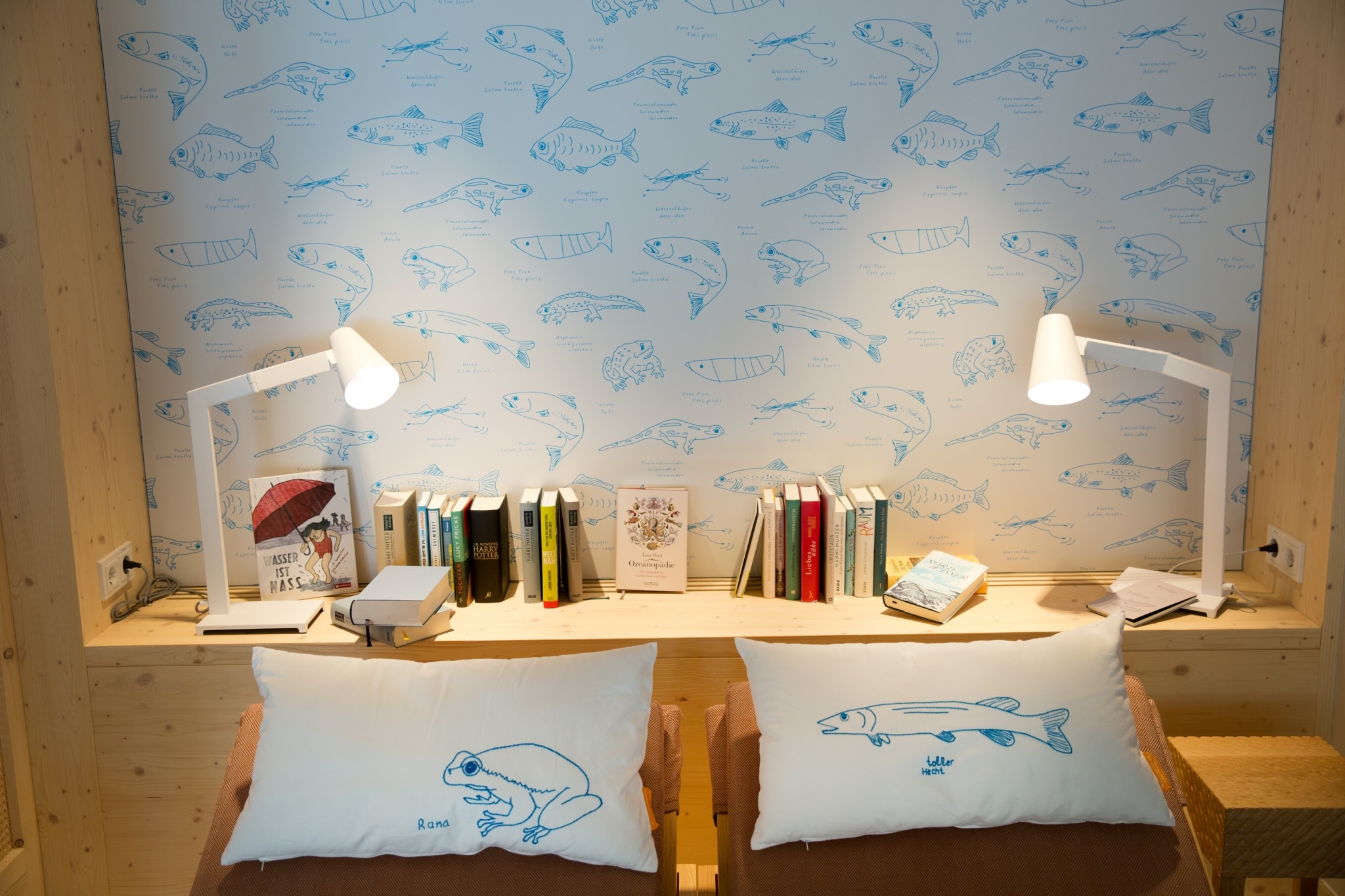 Swimming Pool Library ?
You will only find this at the literary hotel Sonnenburg!
"Reading is a great miracle" writes the magnificent Austrian poet Marie von Ebner-Eschenbach. And speaks right from our hearts: as a literary hotel in beautiful Oberlech, it is our goal to unite nature and literature to create a unique experience. And that is what we did in our swimming pool area. We set up a swimming pool library for our guests. Over 50 books entertain young and grown-up readers on the subjects of "water" and "swimming". With this in mind, you can leave your favourite book in your room. A replacement is right around the corner.
To round off your literary experience, we made sure that the reading alcoves we installed along the panoramic front are well lit. Besides, there are reading lamps next to our pool loungers as well. And if you have read enough by the swimming pool you can visit our hotel library. Or browse through the Sonnenburg book box that you will find in your room.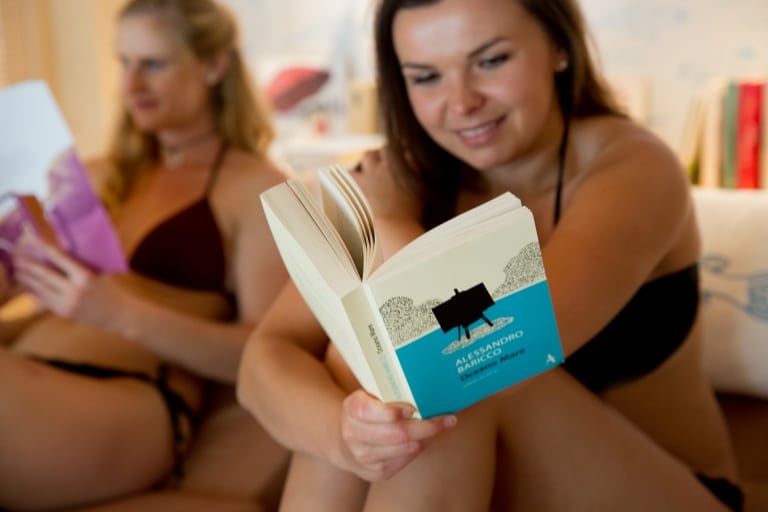 Our wellness area in the basement
At just a few steps from the pool and family sauna you will find our spa area. After swimming in our hotel pool guests aged 14 and up can come here for peace and relaxation.
Enjoy your time at our spa whether you choose the warmth of the Finnish sauna, a visit to our Laconium or the steam bath. You can boost your immune system in our infrared cabin or the alpine "Heukraxenbad". During your visit of our extensive sauna area your muscles will quickly relax after an active day in the Lech Alps. In between all these activities you can cool off at our ice fountain or in the mist grotto. Our relaxation area allows you to fully unwind and recharge your batteries at our delicious tea bar stocked with water, tea, and snacks. In addition to visiting the Sonnenburg sauna area, we recommend an elaborate massage by our certified massage therapist.
The need for warmth is as old as mankind itself. As early as the Stone Age, people used to enjoy their sauna in burrows. As a result, the positive effects of a sweat bath on the human immune system are well-known throughout all cultures. This is why there are so many different kinds of sauna: from the Finnish sauna, the infrared sauna or the Turkish steam bath to our alpine specialty, the Heukraxenbad.
If you ask yourself "Why is sauna good for me?", "Which sauna suits me best?" or "Why is it good to use the sauna after doing sport?" this overview will help you choose among the saunas of the Hotel Sonnenburg's spa area:
Finnish sauna
Traditionally, the warmth of the Finnish sauna offered a welcome contrast to the cold climates of Skandinavia. And it is popular for this exact same reason in our Austrian winter sports paradise Lech Zürs am Arlberg. Our hotel's Finnish sauna reaches temperatures of 80 to 90 degree Celsius. Since this classic dry sauna is so popular, we even put two of the Finnish sweat baths in our wellness area at Hotel Sonnenburg. Whether as a family sauna, ladies-only sauna or highlight of the naturalist wellness area – many of our hotel guests in the Arlberg region enjoy the recuperative effect of a dry Finnish sauna built from fragrant spruce wood.
Steam bath
The steam bath – also known as Turkish Bath – is an interesting variation of the sauna. You might choose to visit it if you prefer moist heat. At low temperatures of around 42 to 45 degree Celsius, your body can gently detoxify. What's more, the inhalation of the steam moisturises your mucous membranes and thus vitalises your respiratory organs. In addition, the moist heat of a steam sauna also opens the outer layer of your hair. This allows care products to penetrate and work more efficiently. Our magnificent steam bath even nurtures your skin: sweating opens your pores and cleanses your skin.
After spending 10 to 20 minutes in our steam bath you should allow your body at least 30 minutes of rest and relaxation. During this time, make sure you drink enough liquids from our tea bar.
Heukraxen-Bad
– The medicinal power of Alpine herbs
In summer, the alpine meadows in the Arlberg region around Oberlech absorb the full energy of the high-altitude sun. These mountain flowers, grasses, and medicinal herbs are harvested late in summer. It is this natural hay that we put into our delightful Heukraxenbad, a traditionally alpine type of sauna. Before we put the hay in the Heukraxenbad we first slightly moisten it and warm it up. This allows the alpine plants to release their precious active ingredients into the air. Combined with the gentle warmth of around 40 degree Celsius, this process creates optimal conditions for detoxification and boosting your immune system. Its mild temperatures have a particularly positive effect on your cardiovascular system. Due to custom shaped and padded seats, the Heukraxenbad in our family spa hotel relaxes especially your shoulder muscles as well as your back and pelvic area.
Laconium with Rose Quartz
Many thousand years ago the Laconians in ancient Greece discovered the advantages of this dry sweating bath. And for good reason: at around 55 degree Celsius, radiant heat stimulates your blood circulation. A visit to our Laconium, among other effects, accelerates the breakdown of metabolic waste products and strengthens your immune system.
In the Sonnenburg hotel's wellness area, a harmonious musical concept reinforces the classical effect of a Laconium. Also, a precious rose quartz in the centre of the sauna contributes to creating a wholesome and relaxing atmosphere. This further reduces stress levels and has a positive effect on your cardiovascular system. Take a little time to enjoy our Laconium: in order for it to develop its full effect, you should remain here for about 30 to 60 minutes.
Physiotherm Infrared Sauna

– how heat makes you happy
Our innovative infrared sauna by Austrian market leader Physiotherm heats your body through and through. This particularly gentle, efficient, and safe application of heat is called low-temperature infrared technology. If you ask yourself, how an infrared sauna works, here is the answer: infrared panels installed on all sides of the sauna cabin emit infrared light. Where this light hits your body, it heats up to pleasant temperatures of no more than 60 degree Celsius.
Infrared radiation, thus, has a beneficial effect on your body. But, what's more, it is also used for therapeutic purposes. Athletes in particular appreciate infrared light. The reason for this is that its warmth deeply penetrates your body and relieves joint pain, muscle ache or tension. Our infrared sauna stimulates your immune system, too, by significantly increasing your body's core temperature. It is also worth mentioning that infrared light supports a desired weight loss. And last but not least: infrared light makes you happy because it makes your body release endorphins.
Cooling down after the sauna session
Cooling off after the sweat bath is a vital part of each sauna session: only by cooling down it can develop its full healing effect. In the wellness area of Hotel Sonnenburg you will find different possibilities for refreshing yourself. And there is one for all tastes.You might want to visit our spa's ice fountain where you can cool off your body by rubbing it down with ice chips. In our mist grotto you can get your system going by wading through a cold Kneipp basin while fine mist from above covers your skin. Here you can tread water as fine pebbles at the bottom of the basin provide a pleasant reflexology foot massage. Of course, you can activate your blood circulation, as well, by taking a cold shower or cooling down gently at room temperature.
Relax and recharge your batteries
Perspiring in the sauna makes your body lose a lot of fluid, oftentimes up to over a liter. For this reason, we have set up a tea bar for you within the hotel's sauna area. Here you find water, tea, and healthy snacks – in short – everything your body needs for a well-balanced stay at our spa and sauna. Between each sauna session your body needs a break. As a rule of thumb, take a break for at least as long as the sweat bath lasted. For these moments of complete relaxation, we have set up several relaxation areas within our spa. Here you can sleep, snooze or meditate on comfortably upholstered loungers.
As a literary hotel, we have installed reading lamps in our sauna world. This way you can enjoy moments of peace while reading a good book. And if you happen to have left your book in your room: our hotel's swimming pool library will provide interesting reading material for both our young and adult guests. Enjoy your stay at our family hotel spa!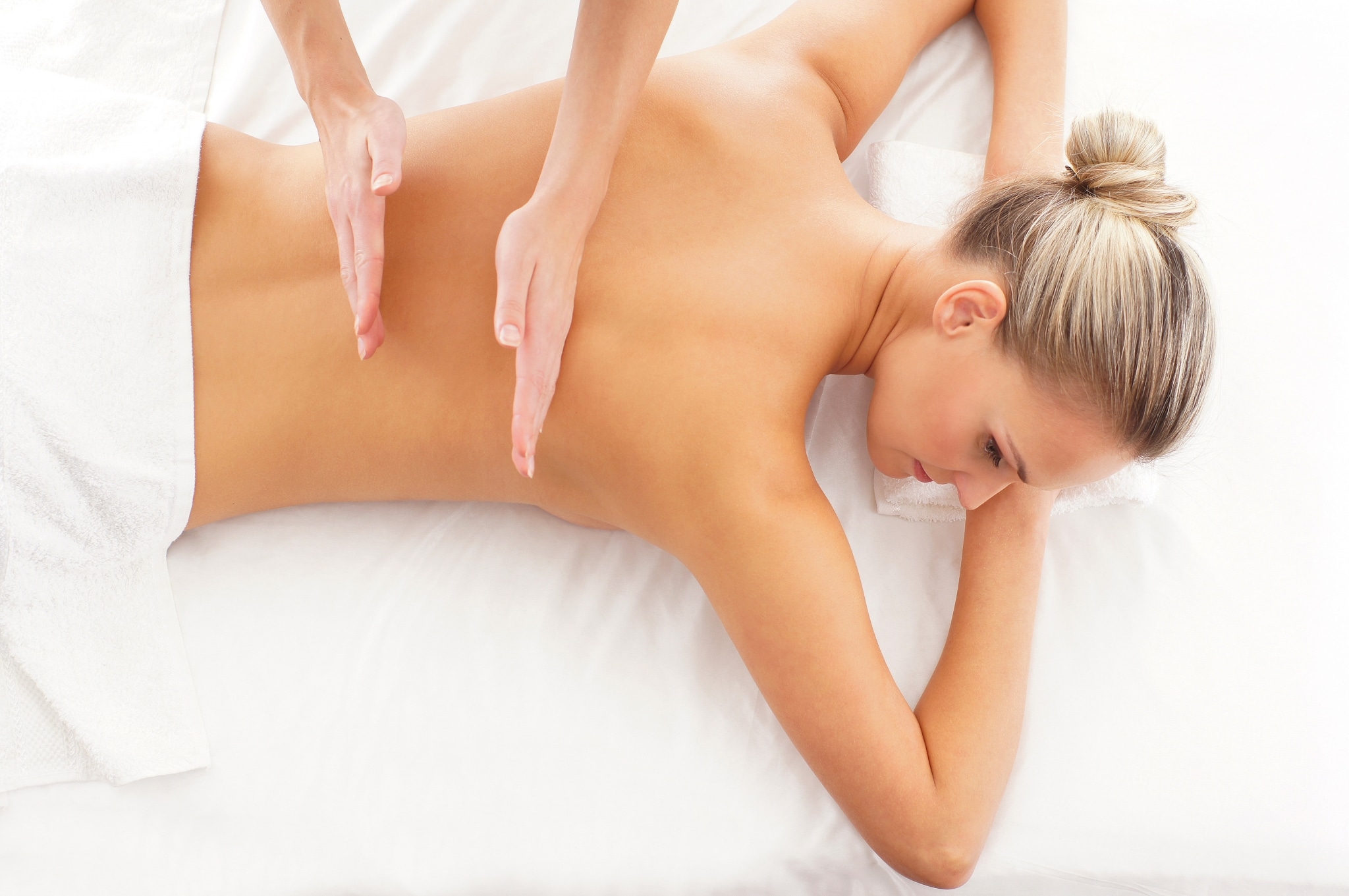 Massage à la Carte
It is well known that sauna and massages complement each other perfectly. We at want you to completely feel at ease in our family spa hotel. This is why we offer a selection of exquisite massages in our hotel's spa area. Simply choose from our hotel's extensive massage and spa menu: may our qualified massage therapist pamper you with a honey massage? Or relax your sore muscles with a sports massage? Wellness for the entire family is an important part of our philosophy. For this reason, we also offer a special teen massage to our adolescent guests.Our concierge will be happy to advise you in detail and organise all your wellness appointments for you. This way, your personal relaxation programme can already be arranged by the time you arrive at Hotel Sonnenburg in Oberlech.