"Family is not an important thing. It's everything," Michael J. Fox once said.
However, there is room for "I" in family. For very personal moments of relaxation.
On top of creating family memories that last a lifetime.
Together they form a harmonious whole.
A very special definition of "us" with very special people.
A Mountain
of Family
As a family hotel in Vorarlberg in the Arlberg region, we aim to create a warm-hearted space for families: Children are highly welcome at Hotel Sonnenburg! Where children can be themselves – cheerful and full of energy – the whole family is happy. We are located in a sunny and quiet spot in the middle of an extraordinary mountain landscape, where the panoramic views make children's and parents' hearts beat faster with joy. Many of our regular guests have already spent their childhood holidays at Hotel Sonnenburg. Now they come back to stay at our family hotel for holidays with their own children. Waltraud and Gregor Hoch, your hosts, are also parents of three children – which shows through in the Sonnenburg: a family hotel in Lech, Austria, that offers everything for a memorable holiday with your loved ones.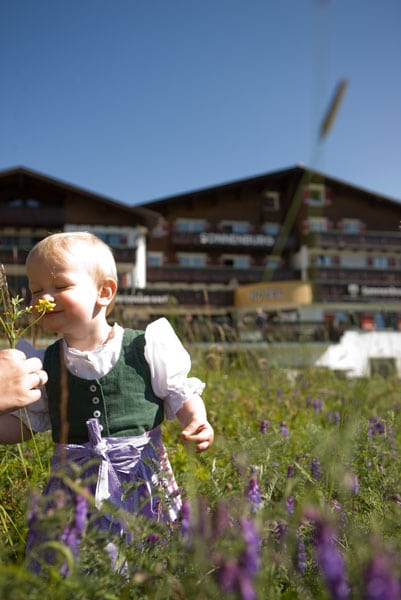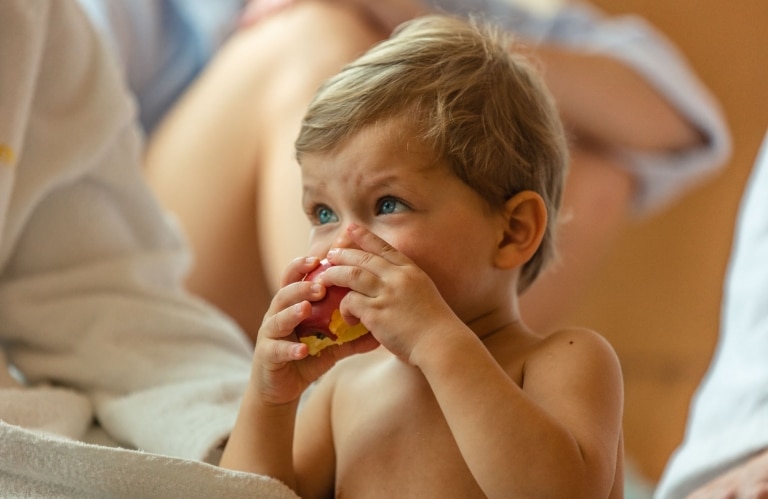 Me Time
for Parents
Your children are in the good hands of our child care, with exciting adventures waiting for them at the Sonnenburg playroom, our child care "Kinderwelt" and the Oberlech children's club. Meanwhile, you as parents can soak in those beautiful moments reserved just for the two of you. Sit back and relax on our sun terrace. Enjoy the peace and quiet as well as the magnificent view. Relax at our swimming pool, treat yourself to a massage or enjoy spending time at our spa oasis. As a literary hotel you can also peacefully read a good book at our library. And after some alone time for you and fun for your kids with their playmates, you are reunited for your next big adventure in the Sonnenburg Family Hotel in Austria at the Arlberg.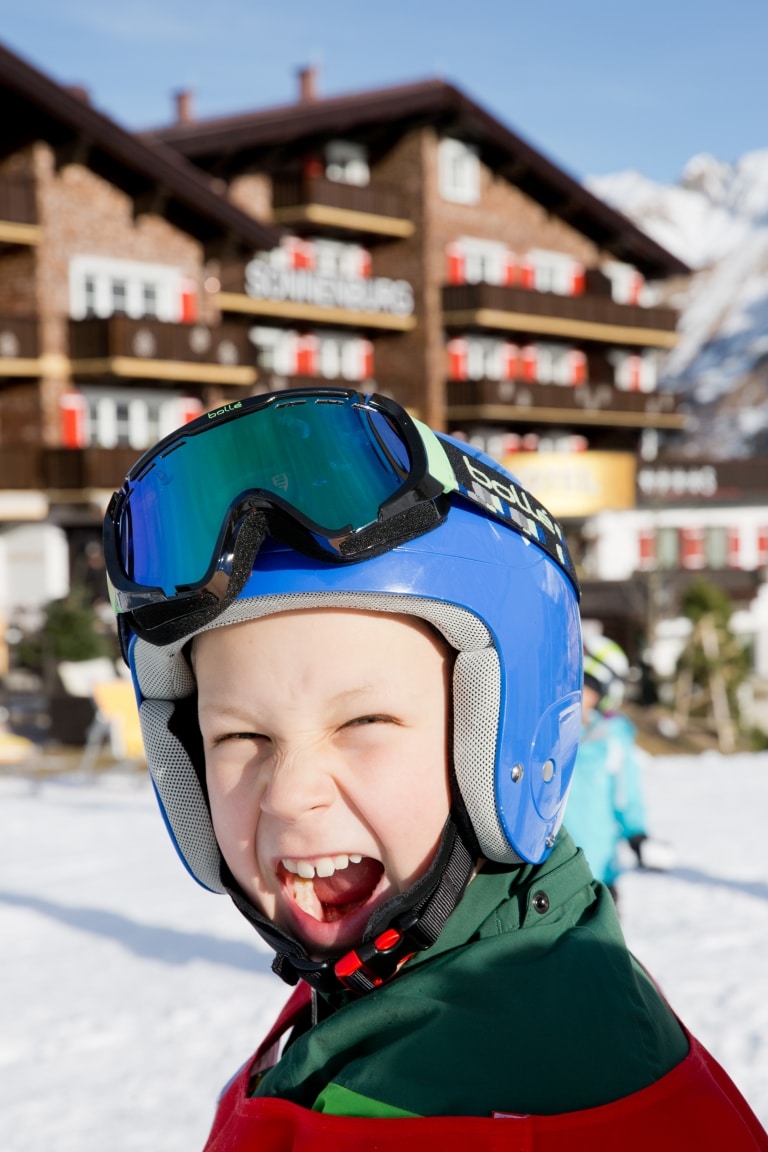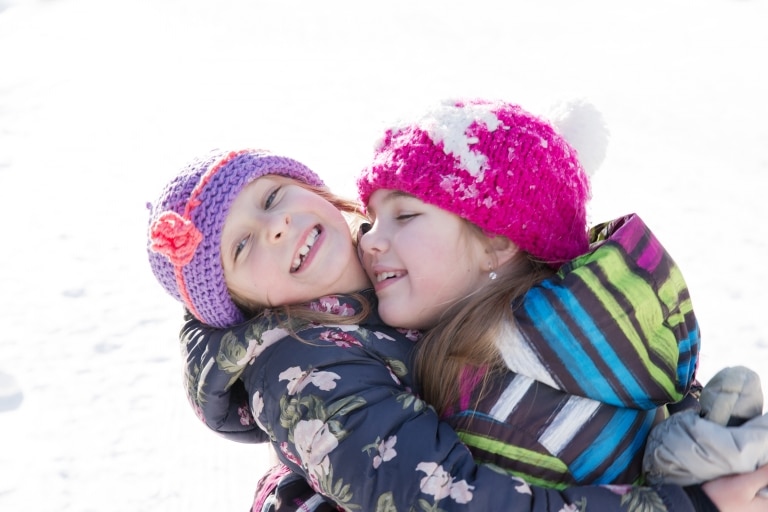 You can find magic wherever you look.
Sit back and relax, all you need is a book!

Dr. Seuss
Spacious suites for families in Hotel Sonnenburg
Relaxing family holidays require sufficient space. Find the perfect generous room with our 5-star Platinum Plus Family Suite. Or enjoy a restful stay in our comfortable and spacious family rooms at our 4-star Landhaus Sonnenburg. Obviously, you can combine your rooms and suites according to your wishes. That is one reason why extended families as well as small families feel at home at our family-friendly hotel in Austria.
The alpine-style Junior Suite with its massive four-poster bed is one of the most popular rooms at Hotel Sonnenburg. It sleeps up to 5 people and is therefore ideal as family accommodation or for conference guests.
More than a family-friendly hotel in Austria
The young generation takes centre stage at the Sonnenburg
Activities for your family holidays
A vibrant array of activities for all generations is waiting for you in and around the family hotel Sonnenburg in Vorarlberg. One of the most beautiful and child-friendly places for a family ski holiday in Austria and for hiking together in the Alps – Lech Zürs – is right at our doorstep. Visit the Arlberg in winter and enjoy plenty of action during snowball fights and toboggan runs as well as romantic rides in a horse-drawn sleigh or a winter hike. Or visit the Arlberg in summer and go on many family adventures: Try your hand at archery, canyoning or hydro speed. And of course, there is endless nature to discover around Oberlech all year round. Everyone will find the right activity during your family holiday!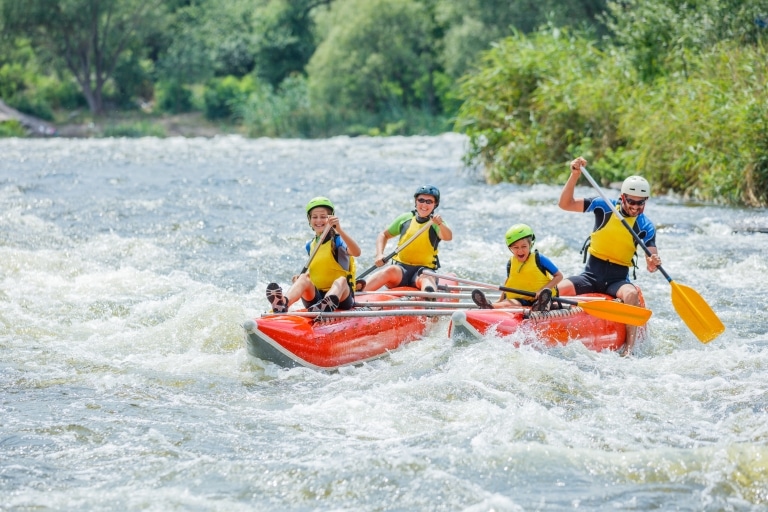 Holidays with adolescents in the Arlberg region
Although all of the outdoor activities right outside our family hotel in Lech are a hit among kids and teenagers alike – for those days, when your older ones aren't in the mood for family activites, we've set up the youth room "Freiraum".  It's a true hotspot for your older children and teenagers for making new friends during their holidays. They can meet to play air hockey, pool or table tennis together. Or they relax on large bean bags at the Sonnenburg's cinema and experience a different film highlight every day.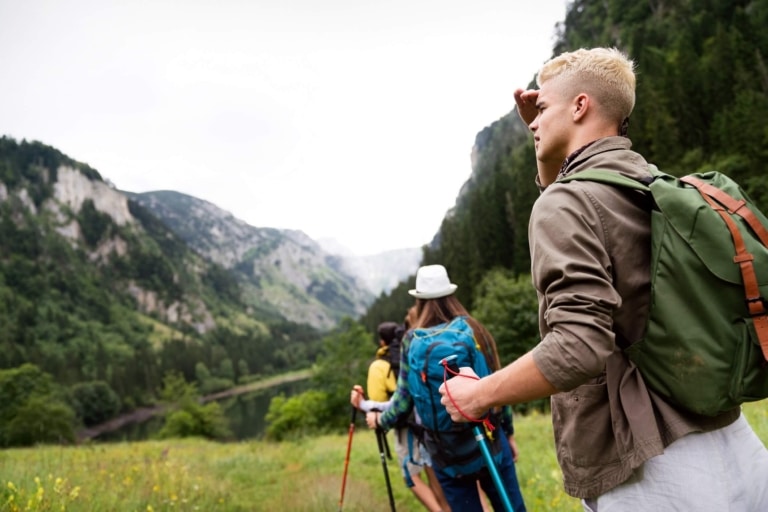 Children's meals at our family hotel in Austria
The Sonnenburg cuisine is colourful and creative, delighting all generations. However, since most children do not care overly much for venison or crayfish, our kitchen team creates delicious children's menus every day. We only cook what children like – and what is good for them. Until 5 p.m. every day you can order your child's preferred meal. The children's dinner will be served by 6 p.m. at our Kinderwelt. So set all worries aside, your little ones will be well looked after and spend an enjoyable dinnertime with their new friends.
You prefer dining as a family? At the restaurant of our family hotel in Austria children will find a daily selection of dishes tailored to their needs – obviously in addition to the delicious half board menu. And in our rustically furnished restaurant "Crêperie Schüna" grandparents, parents, and children will always agree: Homemade crêpes, fondue or raclette are always a winner and popular with the entire family.