The Sonnenburg is a 5-star literary hotel in the Austrian mountains. Since 2016 we are living our dream by hosting literary events on a regular basis. For this purpose, we invite literary figures and book enthusiasts to Oberlech am Arlberg (almost) all year round. We consider ourselves to be a home away from home for writers and literary professionals from all over the world.
Reading is our passion, books are our life.

Waltraud & Gregor Hoch
Authors and writers at Literary Hotel Sonnenburg
Bernhard Aichner
Hans Augustin
Martin Baltscheit
Alex Beer
Joe Berger
Dr. Jörg Bernardy
Bernd Blöchl
Irene Diwiak
Lucy Fricke
Alexandra Helmig
Wolfgang Hermann
Jakob Horvat
Reinhard Kaiser-Mühlecker
Nadine Kegele
Christine Knödler
Tommy Krappweis
Melanie Laibl
Birgit Lutz
Ana Marwan
Simone Meier
Thomas Montasser
Jörg Mühle
Hans Joachim Müller
Birgit Müller-Wieland
Hanni Münzer
Nikolaus Nützel
Jacopo Pasotti
Karin Peschka
Verena Petrasch
Ursula Poznanski
Robert Preis
Hans Rath
Claudia Rinke
Eva Schmidt
Carolina Schutti
Prof. Rudolf Simek
Martina Strolz
Ursula Wiegele
John Wray
FAQ - Frequently Asked Questions by Writers, Agents and Publishers
You are an author and interested in giving a book reading at Literaturhotel Sonnenburg? Or you are looking for an inspiring environment in which you can work on your next book? Apply for the Sonnenburg Writer in Residence programme!
On this page we provide useful information about sharing and creating literature at the Sonnenburg Literary Salon:
Which topics and literary genres does the Sonnenburg look for in author readings?
Please note that your content should be family friendly, as the majority of our guests are families. In general, your work should classify either as fiction, as children's or as young adults' books. However, we are happy to make "exceptions" for factual topics if they fit our surroundings and are, thus, of interest to our visitors. For this reason, we also welcome any applications for the topics mountains, snow, and skiing as well as literature with a local connection to the Arlberg area or Austria.
What requirements should I meet if I want to do a book reading at the Sonnenburg?
It is important to us that you have already been published by a reputable publishing house. This publication should not date back more than 5 years.
We are only interested in readings in German or English.
As a rule, we plan our literary events at least 6 months in advance. Due to a limited number of dates it would be best if you approached us sufficiently in advance.
How do I proceed if I want to apply for an author reading at the Sonnenburg?
Please contact us via e-mail. Ideally, your message will contain the following information:
Contact information: name, address, phone number, e-mail address, and contact details of your representative at the publishing house
Curriculum vitae showing your literary career
Title of the work from which you want to read
Desired timeframe of your reading
 Please send this information to waltraud.hoch@sonnenburg.at. We will contact you should we be interested.
How does the Writer in Residence Programme of Literary Hotel Sonnenburg work?
Through the Sonnenburg Writer in Residence Programme, we enable authors, writers, poets, and other literary professionals to work creatively. For an agreed upon period of time, we provide our Writer in Residence with accommodations, including meals and beverages. In addition, the author can continue to promote his work during his stay by giving book readings or realising other literary events at the Sonnenburg.
As patrons, we would like to encourage writers to pursue their career outside of their usual creative circle. Free of everyday concerns, our Writer in Residence can enjoy all the amenities the literary hotel Sonnenburg has to offer and be inspired by our unique location in the middle of the Oberlech mountains. Part of this programme is also an exchange about literature with other writers and our guests.
How do I apply for the Sonnenburg Writer in Residence Programme?
Please send your application via e-mail. Ideally, your message will contain the following information:
Your contact information: name, address, phone number, e-mail address
Your agent's/publisher's contact information: name, address, phone number, e-mail address
1 letter of intent of 1,500-3,000 words, in which you present your work and describe, which project you would like to advance as Writer in Residence at Hotel Sonnenburg.
At least 3 references about your previous publications and your literary work.
Possible events you would like to hold at the Sonnenburg Literary Salon (e.g. book reading, creative writing workshop)
Desired timeframe of your stay
Please send this information to waltraud.hoch@sonnenburg.at. We will contact you should we be interested.
We have invited you for an author reading or as Writer in Residence. What can you expect from your stay at Hotel Sonnenburg?
We are happy to welcome you (almost) all year round. During your stay, all the amenities of our 5-star hotel in a prime mountain location are at your disposal. Besides a sleeping arrangement in one of our high-quality and comfortable rooms at the Sonnenburg Stammhaus or Landhaus you will enjoy many included services. For example, you can use our hotel library as well as the exquisite wellness area with panorama swimming pool and various saunas. In addition, we offer you a varied breakfast buffet and an excellent dinner menu as part of our half-board service. Besides, non-alcoholic beverages as well as beer and house wine are at our expense, just like sales tax, and local tax.
You only have to cover your travel expenses as well as any additional, fee-based services.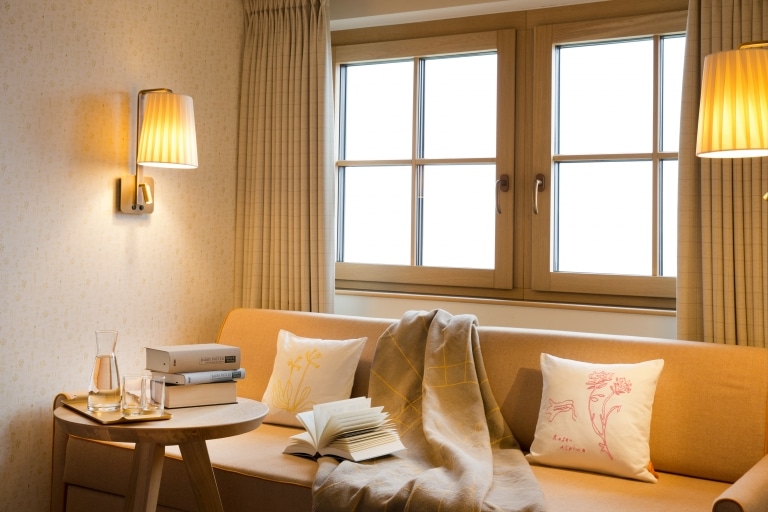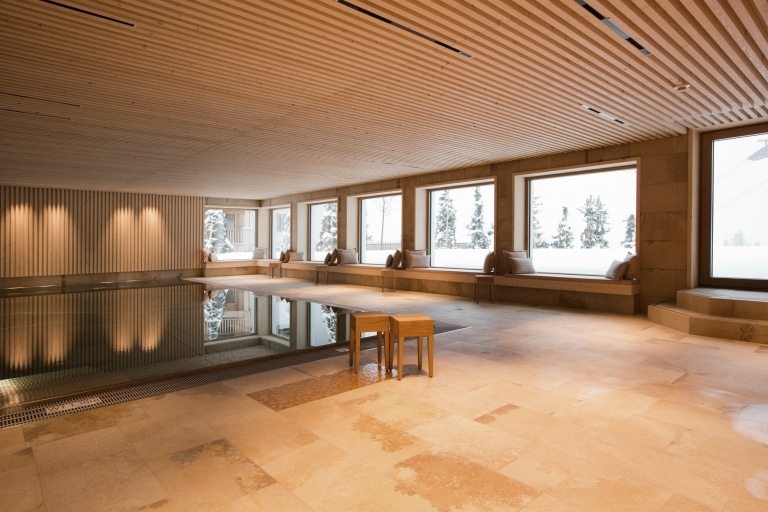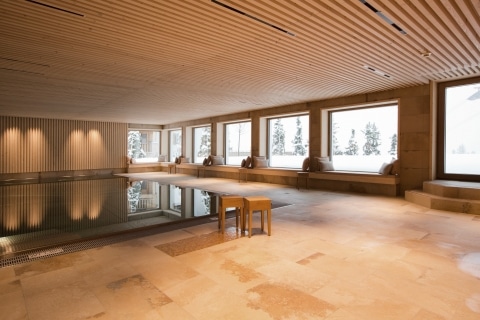 Which rooms are available for author readings and literary events?
Generally speaking, there are three suitable rooms for readings and literary events at Hotel Sonnenburg. Which one we choose for each event depends primarily on the number of participants:
Privatissimum (up to 30 people)
Hotel library (up to 60 people)
Conference centre (up to 220 people)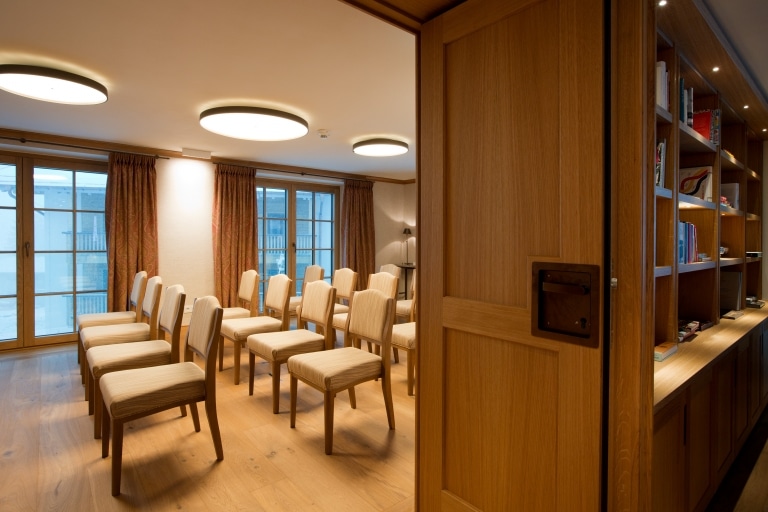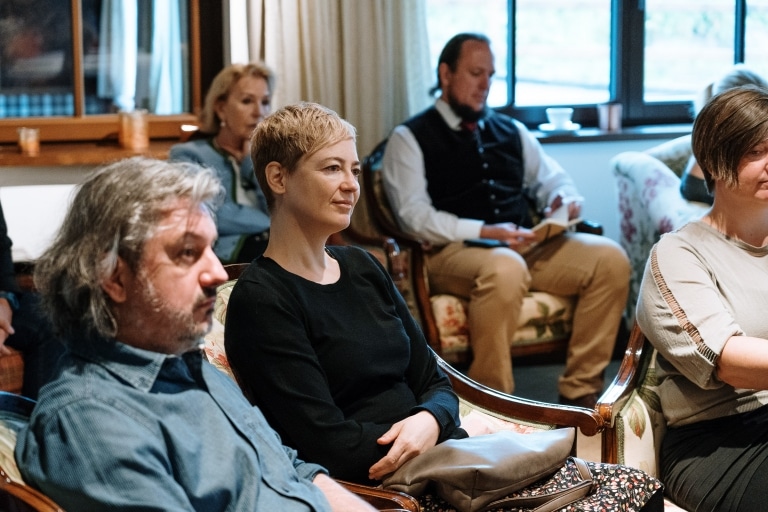 What are the technical conditions for your event at the Sonnenburg?
Our facilities are equipped as follows:
Barco wireless presentation system
connector panels for PC, notebook, video, and audio devices
device for the combined input of DVD, CD, VHS, and HDD
facilitator's toolbox
flipcharts
HDMI port
lectern
laser pointer
lighting system: adjustable according to the type of presentation
microphone system: radio microphone, hand microphone, headset
overhead projector
sound system: powerful ceiling speakers, built-in speakers, additional standard speakers
televisions
VGA port
widescreen projectors (16:10) in each room plus screen
WIFI for speakers and participants
If you need further equipment, please specify this in your application e-mail.
How will my event be promoted by the Sonnenburg?
Your event will be communicated through all internal and external communication channels of literary hotel Sonnenburg. This includes our website, newsletter, social media channels (pre- and post-event reporting) as well as our literary event brochure that we publish annually in print. We also advertise the event on external platforms and channels (e.g. the event calendar of the Lech-Zürs Tourist Office). Of course, we will also get in touch with your publishing house regarding advertising and visuals.
Will there be a possibility for the audience to buy my books before and after my author reading?
Yes, we are happy to provide sufficient copies of your book for sale.
Tyrolia Bludenz, our local bookstore, usually supports us in this.
Is it possible to sign my books at the end of the event?
Absolutely. We explicitly encourage our writers to sign their books at the end of each book reading or literary topics .
Become part of our Writer's Circle!
The Sonnenburg literary programme continues to grow with each season as we constantly develop new ideas. Our goal is to offer a wide variety of literary activities to our young and adult guests alike.
Would you like to give a book reading at the Sonnenburg? Or become our new Writer in Residence? Please contact me for further information. I look forward to receiving your message!
Waltraud Hoch
+43 (0) 5583 2147 30