Your hotel with childcare in Austria
In the cosy sitting area two boys are browsing through colourful picture books. Meanwhile, the other children giggle while playing with hand puppets. After their play, it is story time: while the Gruffalo goes on adventures, all eyes are on the child carer's lips.
Later, following a tasty dinner, colourful children's cocktails make the kids' eyes sparkle. Before bedtime, they can choose to either watch a film at the cinema. Or play hide and seek with the other children. This is what a typical day at our family hotel with childcare looks like: full of affection, fun, and a personal touch.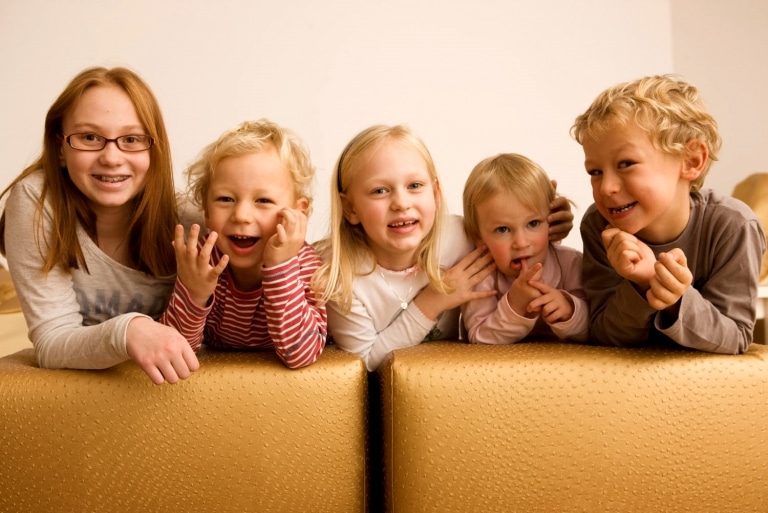 Happy children, happy parents
Our extensive childcare services offer parents time for themselves. While your children are well cared for, you as parents can relax for a change. Maybe you want to unwind outdoors. After all, our family hotel with childcare is located right in the Lech Alps. From here you have direct access to well-prepared ski runs as well as hiking trails. Or you can enjoy your free time relaxing in the panorama swimming pool or at the spa.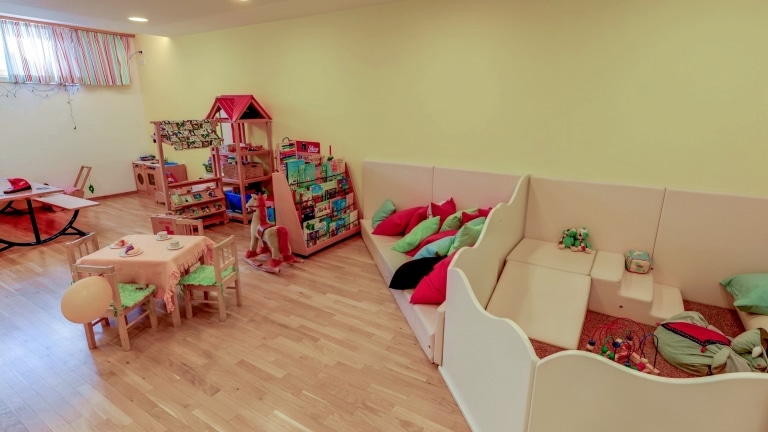 Family holidays with childcare:
in winter: at least 6h per day, 6 days per week
for children from 3 years on (free of charge)
in summer: at least 5h per day, 5 days per week
for children from 3 years on (free of charge)
experienced child carers
24h playroom with climbing wall, castle playhouse, and a slide
organisation of a babysitter service
for children from 0 years on (additional costs)
youth room "Freiraum"
Sonnenburg cinema
Holidays with childcare from 3 to 12 years of age
Romping around, playing, doing arts and crafts – at the Sonnenburg Kinderwelt all children aged 3 and older will have a great time. No matter if they are toddlers, schoolchildren or teenagers. As a family hotel, childcare plays a very important role for us.
For this reason, we guarantee at least four hours of care on five days per week – in winter even six hours or more. Along with their new friends, your children will have fun inside or discover the nature surrounding our family hotel. Experienced child carers will take care of your little ones at the Sonnenburg day care.
As literary hotel we additionally offer literary workshops and events especially for children, such as the Oberlech Picture Book Days or book readings for the whole family.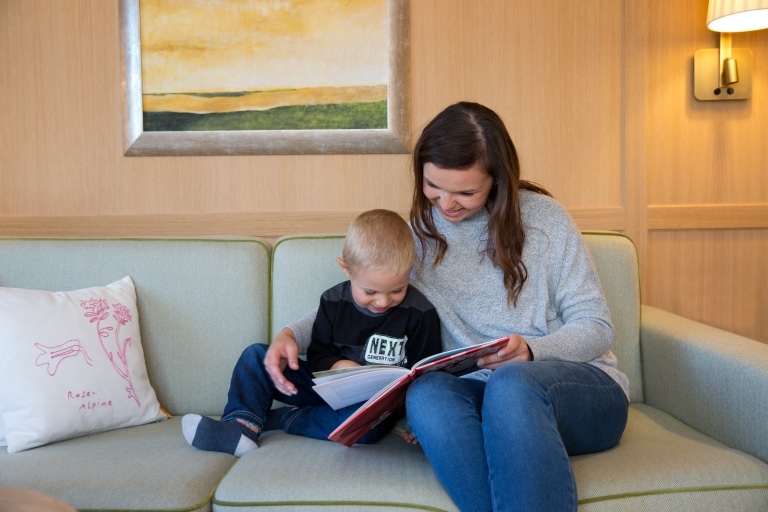 The Sonnenburg Kinderwelt
Our spacious Kinderwelt childcare centre is brightly decorated: In addition to all kinds of arts and crafts supplies, we always keep a wide selection of board games and children's books at hand for all ages. Thus, your kids can either play with them at the Sonnenburg Kinderwelt or borrow the items and take them to your room.
Furthermore, we enjoy celebrating special occasions at our childcare with your little ones: for example, we love baking cookies together during Christmas time. For carnival we even dress up and have a colourful children's make-up event. Around Easter, we always decorate Easter eggs and go on a hunt for where the Easter Bunny has hidden them. Or else, we organise a fun children's New Year's Eve party.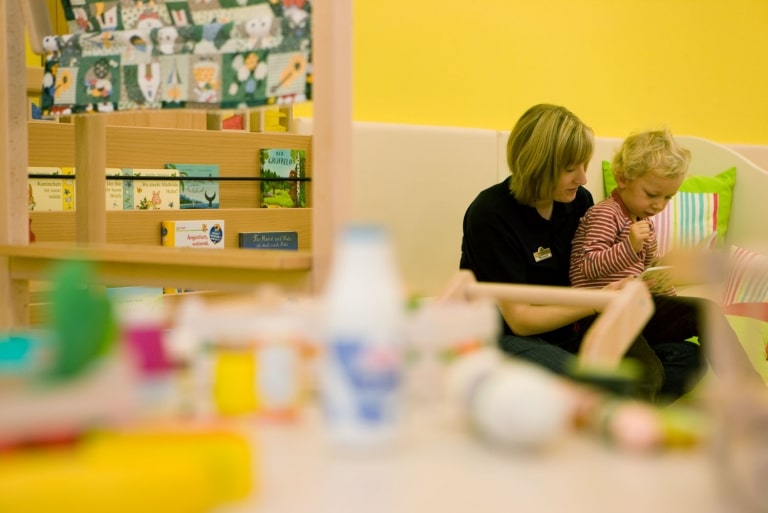 Thanks to toys and loving care,
your little ones are in good hands
Childcare in winter
Are you looking for a ski hotel with childcare located right next to the slopes? If so, family hotel Sonnenburg is the right place for your ski holidays! Experience the beauty of car-free Oberlech as a wonderful destination for winter family holidays. In addition to being looked after at the hotel's own Kinderwelt, your little ones can also learn how to ski or snowboard.
Children from the age of two spend exciting days at the Oberlech Kids' Club – located a few steps away from the Sonnenburg. The Kinderclub is open six days per week from 9 a.m. to 4 p.m. Among other things, the professional supervisors teach children how to playfully interact with snow and nature.
The Oberlech Ski School offers children's ski courses for children aged three and older. Our concierge service will be happy to help you book a spot at the Kids' Club or ski school for your children!
Childcare in summer
During the summer, our child carers take your children out to explore the mountainscape Sonnenburg: in the fresh mountain air, little explorers can hike to the nearby dragonfly lake or make a detour to the large tree house. Also, trips to the farm "Schottenhof" are very popular because the kids get to pay a visit to the shaggy highland cattle. Besides, our little guests love to romp around the hotel's outdoor adventure playground right outside the Sonnenburg family hotel.
Thanks to a carefully devised weekly schedule, your children will always be engaged in meaningful and exciting activities. Nevertheless, spontaneity is important to us: we always cater to the needs of each individual child.
Babies, toddlers, school children and teenagers
In the hotel with childcare they all feel at home
Infant care at hotel Sonnenburg
We make sure that each of your holidays with baby or infant at our family hotel is exceptionally relaxing. Therefore, our playroom is at your disposal every day around the clock. This way, parents and toddlers always have a fun place to go – no matter the time of day. In order to give young parents enough quality time as a couple, we are happy to organise a professional babysitter through the local babysitting agency.
Babys and toddlers from 0 years of age are welcome to join the Sonnenburg Kinderwelt accompanied by their parents: to play, sing or, of course, for a joint kids' dinner. From the age of three, your little ones are more than welcome to stay by themselves along with our staff at the day care facility.
Further benefits for parents with baby
By now, most guests keep an eye on their children's sleep via an app on their smartphones. Nevertheless, as a family hotel with childcare, we also provide baby phones that work throughout the entire Sonnenburg.
In addition, we happily provide our free baby package: baby bed, bottle warmer, kettle, changing mat, and nappy bucket are all included in the room price. Please contact our concierge prior to your arrival if you have any special wishes for your baby or toddler!
Activities for older children and teenagers
The Sonnenburg has a lot to offer for older children as well. In winter, there are special ski and snowboard courses for young people nearby. In summer, we offer daily exciting activities for young adventurers such as Hydro Speed, free climbing or canyoning. To do so, we cooperate with outdoor specialist Arlberg Alpin.
A major highlight is our in-house cinema, where we show two films per day. It goes without saying that in doing so we comply with the law for the protection of minors: at 4 p.m. = 0 years + and at 7 p.m. = 6 years +. This way, any child has the opportunity to take a little break and enjoy a good film. Needless to say, that we are happy to accept individual film requests.
What's more, Teenagers and older children can relax at the "Freiraum" youth room, which is open all day long. Among other things, they can use various gaming tables. Time flies while they are playing air hockey, pool, table football or table tennis with their siblings and new friends.