Austria. A hotel in the very heart of the mountains. In a landscape that is quite simply breathtaking.
Where family and literature feel at home – (nearly) all year round:
in summer, in winter, in golden autumn as well as snow-white spring.
A place to arrive, take a deep breath, and settle in.
Let us call this place "Hotel Sonnenburg".
Sounds promising? We invite you to become the Sonnenburg saga's main character during your holidays!
We are now in the mountains and they are in us,
kindling enthusiasm, making every nerve quiver,
filling every pore and cell of us.

John Muir
Cuisine
– Sophisticated Austrian Food with an International Touch
In our restaurants we focus on Austrian cuisine.  After all, every great family holiday includes first-class food – for every single guest of the Sonnenburg hotel. No matter whether you are vegan, eat gluten-free or suffer from food incompatibilities. We are happy to discuss this topic with you individually.
At Hotel Sonnenburg in Oberlech you start the day with a fabulous breakfast buffet at our hotel restaurant. In the evening, we pamper you with a delicious 5-course menu.
Or you can spend the evening together at our à la carte restaurant "Schüna" in a rustic and stylish setting: the original wooden log cabin offers a breathtaking view of the mountains. As a family, group or company event you can spend a unique evening with up to 35 people.
In addition, you can take advantage of the mountain sun at one of the most beautiful places in Oberlech: our sun terrace. At lunchtime we serve typical alpine dishes, while in the afternoon you can taste homemade pastries and enjoy the breathtaking view over the majestic peaks of the Arlberg mountains.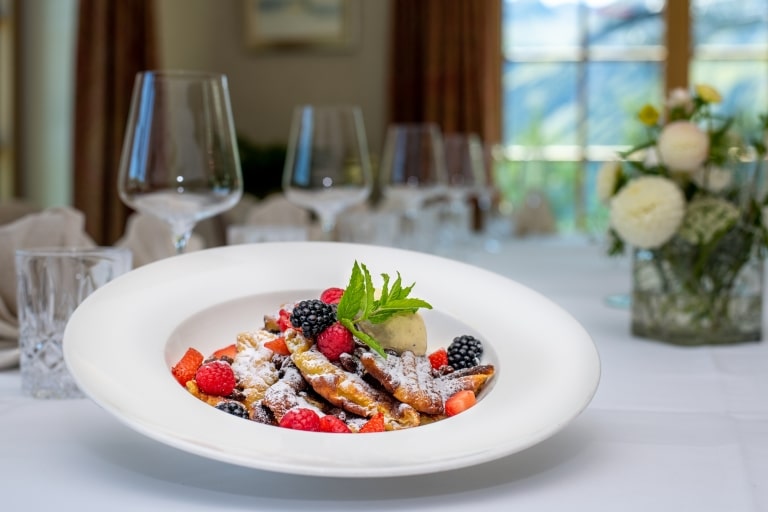 Your hosts
Waltraud & Gregor Hoch
Dr. Gregor Hoch, son of Klaus and Daisy Hoch, first studied International Business Administration with a focus on finance at the University of Vienna. He gained his first work experience far from the Arlberg, for example in New York, Bregenz and at the Marriott hotel chain in Hong Kong. He also worked for the Austrian Hotel and Tourism Bank. As President, Vice-President and today Honorary President of the Austrian Hotel Association, he was able to significantly expand his knowledge of the industry.
Waltraud Hoch studied German and Romance languages at the University of Vienna and completed her Master's degree in Public Relations. For more than eight years she worked in a leading position for an upfront Austrian call centre provider in the field of public relations, direct marketing and advertising.
In December 2004, Gregor Hoch, together with his wife Waltraud, took over the management of the Sonnenburg from his parents. A lot has happened since then: with the construction of a new, spacious conference centre, the 5-star hotel on the Arlberg now has a state-of-the-art infrastructure for highly professional events, seminars and conferences. We have also created the perfect setting for family celebrations. The renovation of all rooms in the main building were also on the agenda. Also new are the hotel bar, a well-stocked library and the children's world – a true paradise for our little guests. The lobby and the spa area have also been redesigned, so that our guests can now feel even more at home. The Privatissimum, a room for smaller meetings and private celebrations has been created. Further innovative changes and new areas are already being planned.