Austria. A hotel in the very heart of the mountains. In a landscape that is quite simply breathtaking.
Where family and literature feel at home – (nearly) all year round:
in summer, in winter, in golden autumn as well as snow-white spring.
A place to arrive, take a deep breath, and settle in.
Let us call this place "Hotel Sonnenburg".
Sounds promising? We invite you to become the Sonnenburg saga's main character during your holidays!
We are now in the mountains and they are in us,
kindling enthusiasm, making every nerve quiver,
filling every pore and cell of us.

John Muir
Cuisine
– Sophisticated Austrian Food with an International Touch
In our restaurants we focus on Austrian cuisine.  After all, every great family holiday includes first-class food – for every single guest of the Sonnenburg hotel. No matter whether you are vegan, eat gluten-free or suffer from food incompatibilities. We are happy to discuss this topic with you individually.
At Hotel Sonnenburg in Oberlech you start the day with a fabulous breakfast buffet at our hotel restaurant. In the evening, we pamper you with a delicious 5-course menu.
Or you can spend the evening together at our à la carte restaurant "Schüna" in a rustic and stylish setting: the original wooden log cabin offers a breathtaking view of the mountains. As a family, group or company event you can spend a unique evening with up to 35 people.
In addition, you can take advantage of the mountain sun at one of the most beautiful places in Oberlech: our sun terrace. At lunchtime we serve typical alpine dishes, while in the afternoon you can taste homemade pastries and enjoy the breathtaking view over the majestic peaks of the Arlberg mountains.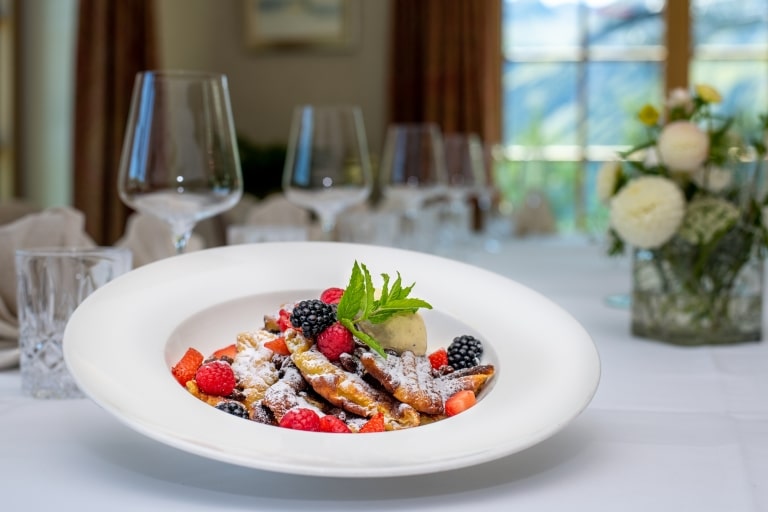 Your hosts
Waltraud Hoch
With heart and great finesse, Waltraud Hoch makes sure that all guests feel at home at the Sonnenburg. In addition to housekeeping, she is also responsible for human resources and thus for all current and future employees of Hotel Sonnenburg.
Waltraud Hoch graduated in German and Romanic literature at the University of Vienna and holds a Master's degree in Public Relations. For more than eight years she held an executive position in PR, direct marketing, and advertising for a leading Austrian call centre provider before she turned her focus to the hotel industry. Waltraud Hoch has been managing Hotel Sonnenburg since December 2004.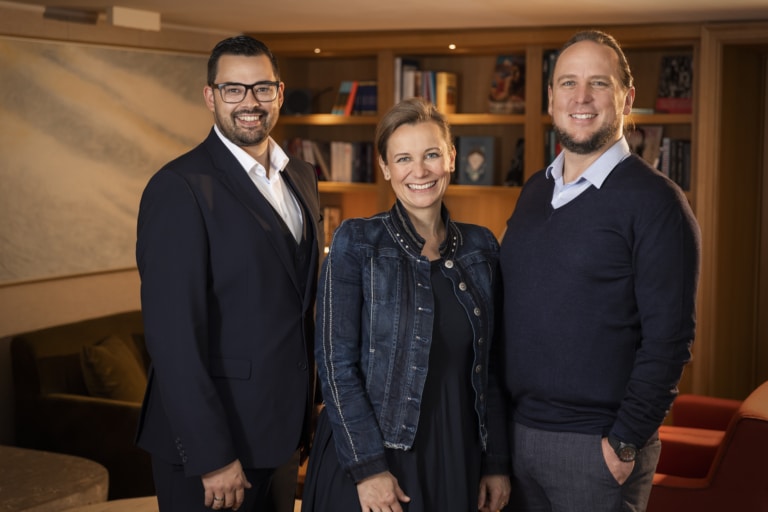 Philipp Jenakovits
When it comes to the culinary aspects of Hotel Sonnenburg, Philipp Jenakovits pulls the strings: as an expert in all things food and beverages, he is responsible for your culinary delights. From breakfast to dinner, from the terrace to our Schüna right through to Textur and bar, your physical well-being is in his capable hands.
After completing his training as a gastronomy specialist, the native Viennese gained extensive experience in international gastronomy as well as in the hotel industry. Before becoming F&B director at the Sonnenburg in 2021, Philipp Jenakovits worked as head of gastronomy in several upscale hotels in Bad Gastein and Kitzbühl.
Gregor Hoch
Dr. Gregor Hoch focuses on strategic issues and mainly acts from the background. With considerable experience he oversees the areas of accounting, controlling, and sales.
Gregor Hoch majored in international business administration at the University of Vienna where he specialised in finance. Far from the Arlberg region, he gained work experience in New York, Bregenz as well as working for the renowned Marriott hotel chain in Hong Kong. Later, he joined the Österreichische Hotel- und Tourismusbank (Austrian Hotel and Tourism Bank). Gregor Hoch has been managing the Hotel Sonnenburg since 2004. As President, Vice-President, and today Honorary President of the Austrian Hotel Association, the born Lecher is closely familiar with the hotel industry.