Winter Wonderland for Sport-Loving Families
The sky is bright blue. Fresh powder snow on the mountain tops glistens in the sunlight. After a hearty breakfast, the whole family heads to the ski room. Wrapped up in warm clothes, the little ones head over to the children's ski school ‒ without a care in the world because Oberlech is car-free. Now it is time for the grown-ups to put their skis on. Take a single step out of the door and there it is: an irresistibly groomed ski slope. Start gliding and spend an enjoyable morning powder skiing, snowboarding or carving in Oberlech.
In the afternoon, reunited as a family, you have plenty of fun in a snowball fight that leaves everybody laughing and breathless. Afterwards, you board a horse-drawn sleigh that glides through the snow-covered Arlberg landscape. Everyone enjoys the magnificent mountain panorama and warms their bellies with a delicious cup of hot tea. Your children happily pet the horses and feed them with apples. After dinner, everyone wants just a little more action. So, you take a tour on the illuminated toboggan run, sledging down through hills and forests to Lech. By gondola the return trip to Oberlech only takes a few minutes. Which is a good thing because your children's eyes are falling shut after so much fun in the fresh mountain air.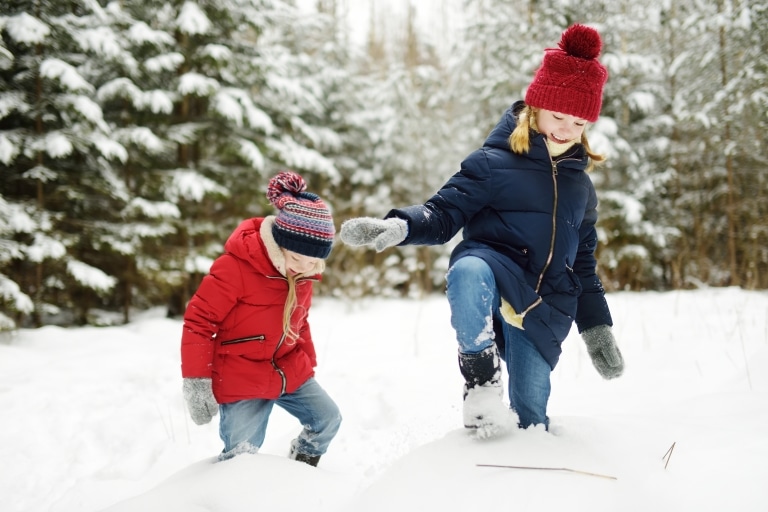 Winter activities for your family ski holidays: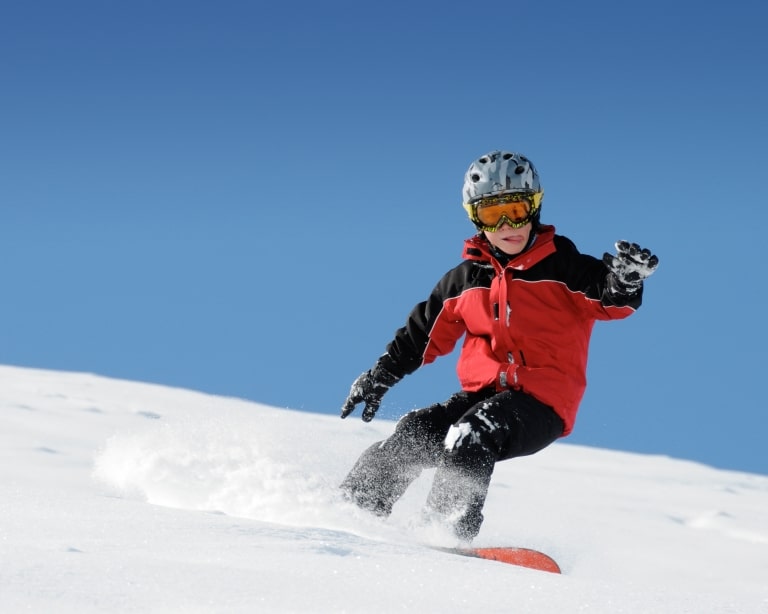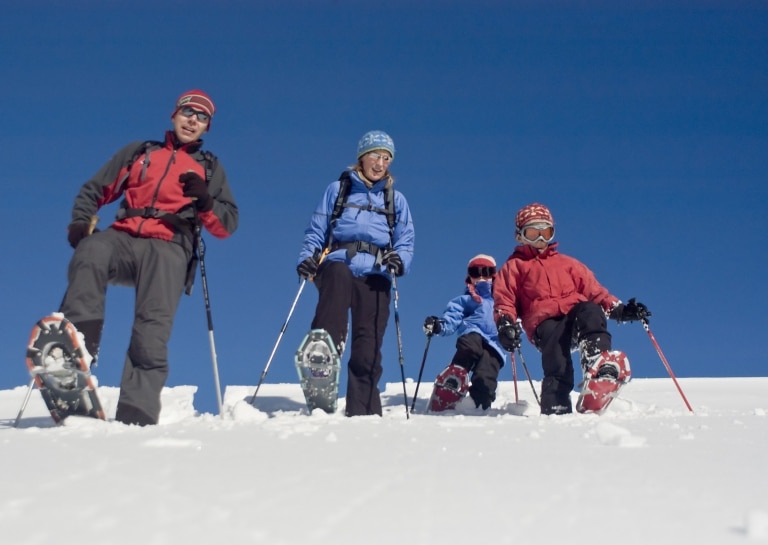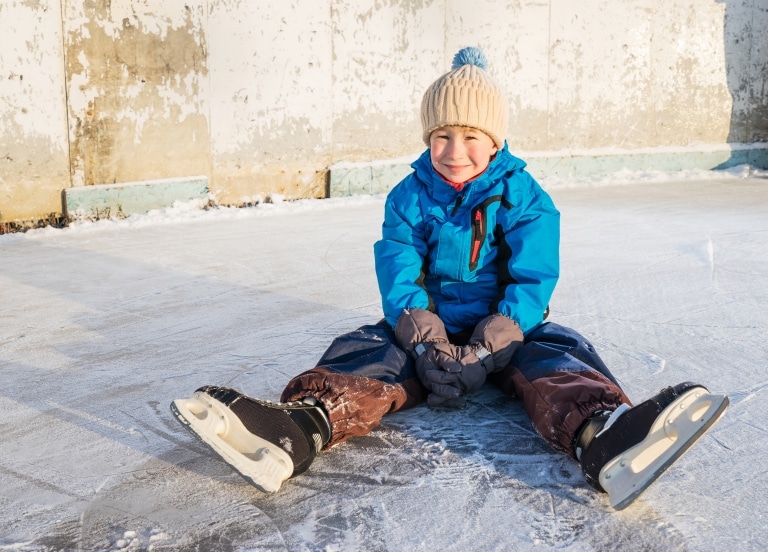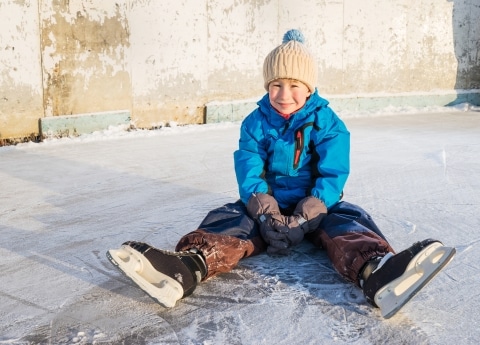 Winter sports in the Arlberg region for the whole family
A wide scope of vibrant winter activities for the whole family. This is what awaits you during your family ski holidays in Austria at the 5-star hotel Sonnenburg. Our unique location is what both skiers and snowboarders particularly appreciate: directly adjacent to the ski slope and only 50 meters from the lift we are situated right between the children's slope and the ski school. Our in-house ski rental service will rent out or service your equipment on site. This allows you even more time to enjoy skiing or snowboarding in Austria with your loved ones.
In addition to skiing there are many more winter activities in and around Oberlech. Do your kids love the thrill of a toboggan run, have fun ice skating or want to discover the winter landscape while riding in a horse-drawn sleigh? Then you have chosen to the right place. From the Sonnenburg family hotel's front door you can directly access the winter hiking trails of Oberlech ‒ with or without putting on snowshoes. Here, at the heart of the Arlberg region, your whole family can enjoy a great winter adventure!
One particularly family-friendly aspect of Oberlech am Arlberg is the fact that it is car-free. Thanks to our unique underground tunnel system there are neither cars nor traffic. This way your children can play in the snow, while you relax and enjoy a quiet cup of coffee on the sun terrace of the Sonnenburg family ski hotel.
Winter Holidays in Oberlech
‒ Something for Everyone
Hotel Sonnenburg is the ideal ski holiday location for all winter sports enthusiasts. Our 5-star ski hotel is conveniently located right in the middle of the exclusive ski resort Lech Zürs am Arlberg. For over a century guaranteed snow, hospitality, and state-of-the-art technology have attracted skiers from all over the world to this "cradle of alpine skiing". Looking for even more reasons why you should plan your next family ski holidays in Austria? Let the facts speak for themselves.
Lech-Zürs is the seventh largest ski resort in the world – and thus THE skiing El Dorado in Austria: 88 state-of-the-art cable cars and lifts, 305 km of ski runs of all degrees of difficulty, 200 km of powder snow runs, more than 1,000 professional ski, cross-country and snowboard instructors as well as fun parks and race tracks for snowboarders. In addition, Lech-Zürs offers freeriding, heliskiing, and 27 kilometres of varied cross-country trails. In the Arlberg region we have always treated our winter guests to state-of-the-art technological innovations. Our goal is to make skiing and snowboarding in Oberlech as comfortable as possible for you. As a result, you can enjoy cutting-edge lifts with heated seats, contact-free lift access with your ski pass as well as the brand-new Ski Arlberg-app. The latter provides you with all the information you need to enjoy your skiing holiday – right on your smartphone.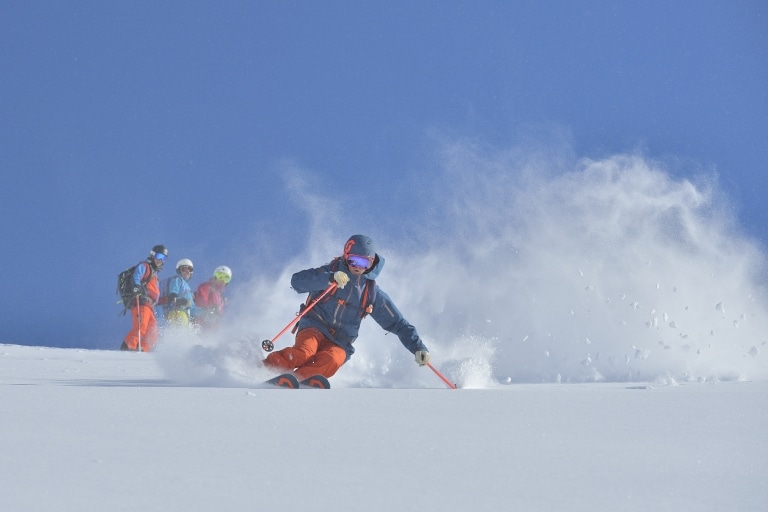 Skiing with children in Austria's largest ski paradise
- in the middle of Austria's largest ski paradise
At the Oberlech Kids' Club, the little ones aged 2 and up playfully learn how to handle themselves on skis. While trained professionals take care of your children and they enjoy learning how to ski, you yourself can take advantage of one of Austria's largest ski area. For your older children the Oberlech children's ski school is located directly in front of Hotel Sonnenburg. This is very convenient, because your children get there within two minutes after breakfast. No matter whether you and your family want to learn skiing or snowboarding: In premium ski and snowboard classes children, teenagers, and adults of all skill levels can learn a lot.
The Arlberg is world famous for its off-piste skiing: many teenagers make their first experience with powder skiing here in the Arlberg region guided by a ski instructor or their parents. To ski powder is fun – provided that you have the necessary know-how and equipment. Create unforgettable impressions that will last a lifetime!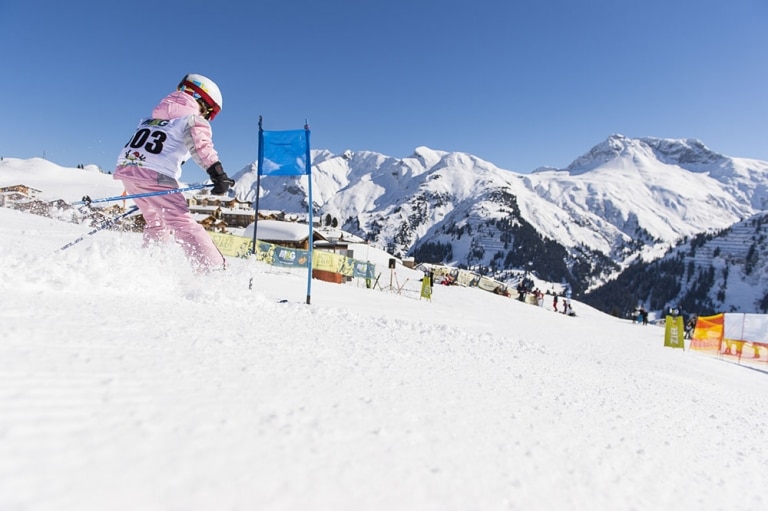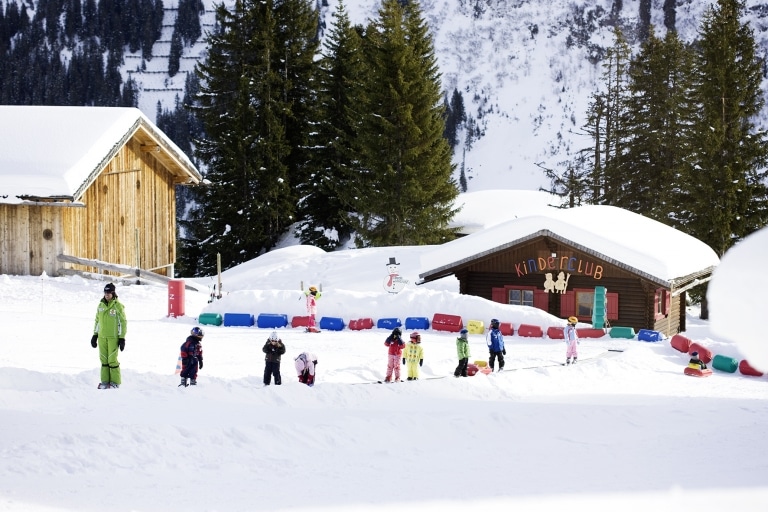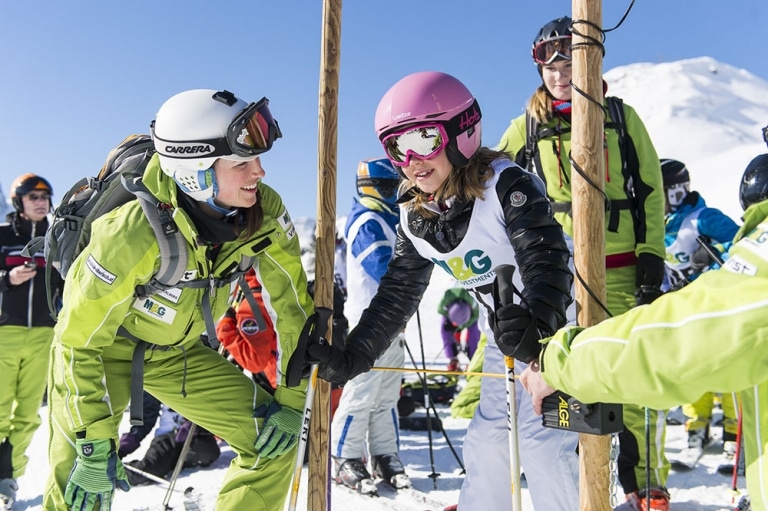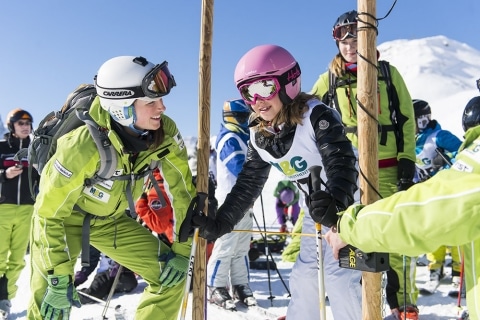 Out of your bed and onto the slope:
Ski-In Ski-Out at the Sonnenburg hotel
If you go on a family ski holiday with your loved ones, location is crucial. You made the right choice by selecting Sonnenburg as your winter sports hotel: our 5-star family hotel is located right next to the ski slope. In one of the most beautiful and spectacular ski areas in the world. Just step out of our ski room and start gliding. Is there anything better than ski-in ski-out? Or as we say in Oberlech: "Out of your bed and onto the slope". In under ten seconds you reach the first ski lift. And once you get to the mountain top, you can enjoy a magnificent view before gliding down the slope. Yes, family ski holidays in Austria can be that comfortable and laid-back!
Cross-Country skiing offers fun for the whole family
You want to show your children the joys of skiing away from the slopes? Lech-Zürs am Arlberg offers perfectly groomed cross-country ski trails and skating tracks for upcoming cross-country skiers. The important point is to approach cross-country skiing with your children slowly. Overly long tours would only discourage them. Besides, your little ones should be at least 4 to 5 years old before they first attempt cross-country skiing. Our concierge will be happy to provide you with the best equipment for children (and adults) and organise an individual cross-country skiing lesson as a family activity. From Oberlech you can easily reach the cross-country skiing trails by taking the Lech-Oberlech cable car or the local bus.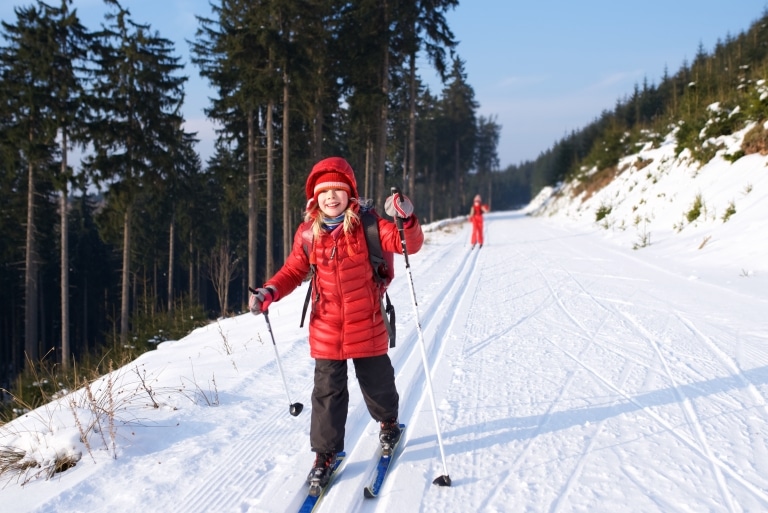 Family Winter Holidays without Skiing
Families in Oberlech can have fun beyond the piste as well. After all, it doesn't take much for fun and games in the snow: What is more beautiful than building a snowman as a family or holding your sides laughing after a snowball fight? In the Arlberg region, young and grown-up holidaymakers will find exciting winter activities for any taste:
Tobogganing fun for the whole family during winter holidays
Try theso called Zipfelbob on the toboggan run, which starts directly in front of the Hotel Sonnenburg
Romantic horse-drawn slight ride in winter holidays with the family
Ice skating is only one of many holiday highlights for your little ones during their winter holiday in Lech.
It is also possible to go snowshoe hiking in the Arlberg.
Just like winter walks and snowshoe hikes with kids.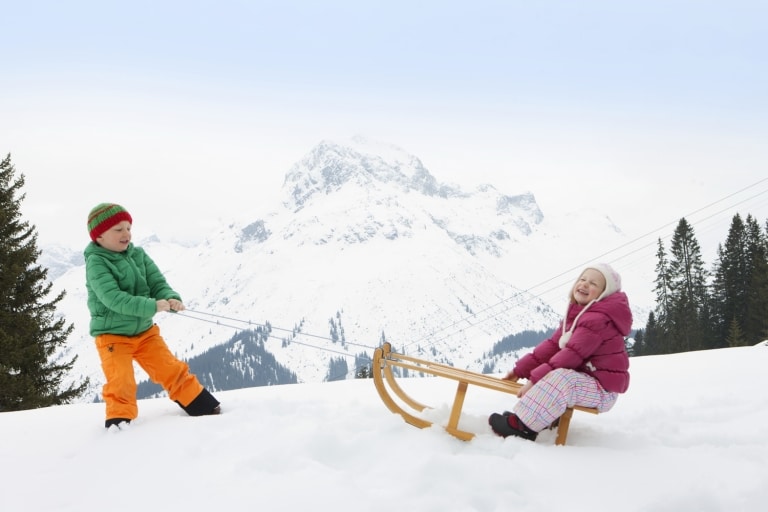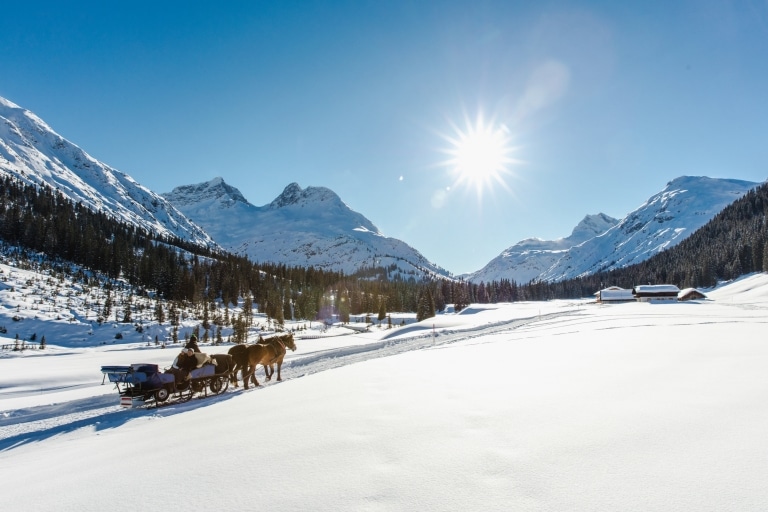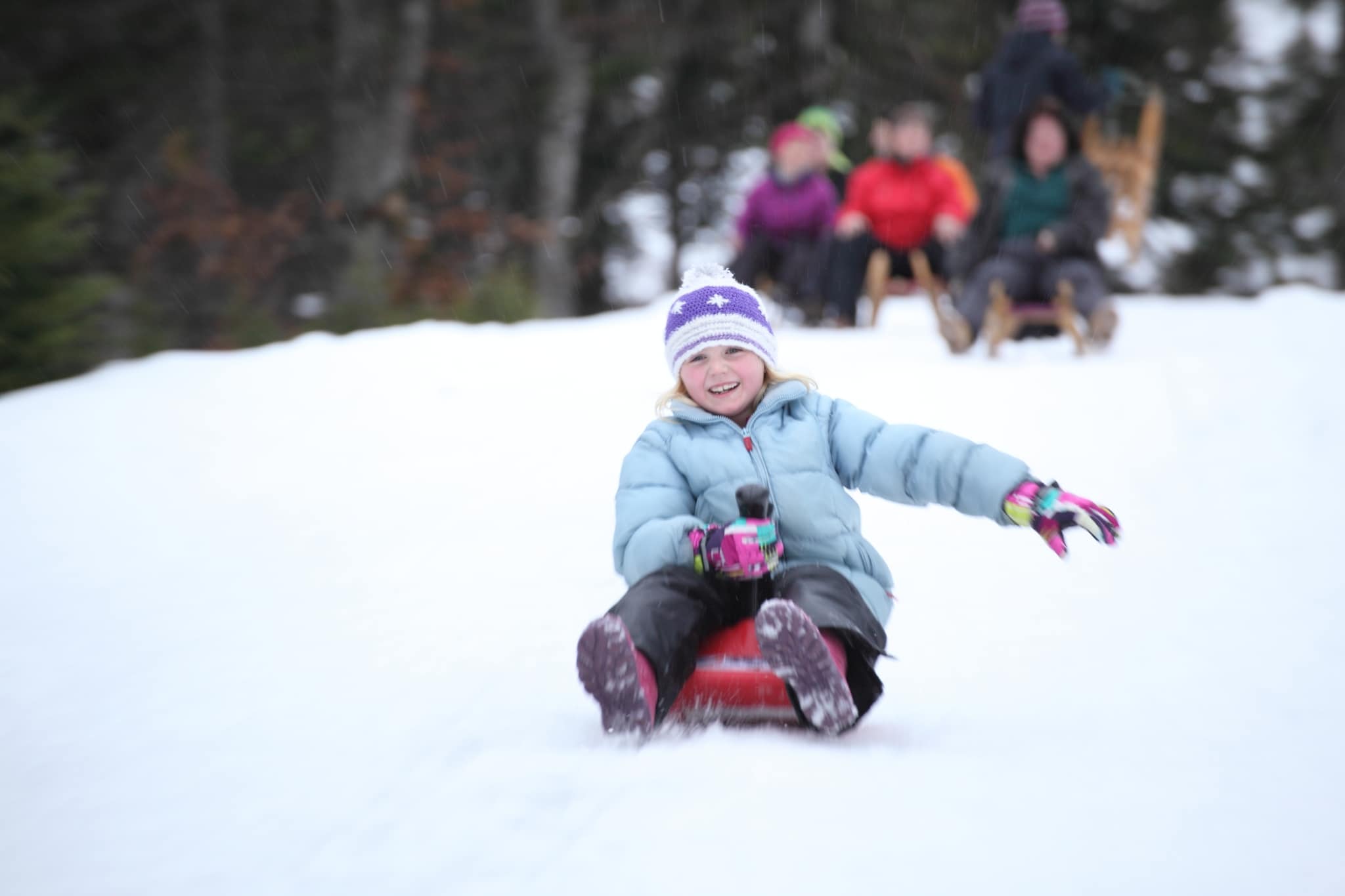 Tobogganing and Bobsleighing
There are many ways to get down to the valley. One of the most exciting and fun is the toboggan run from Oberlech. It starts right in front of our hotel and leads down to Lech am Arlberg. For your tobogganing adventure in Österreich, you can rent a colourful "Zipfelbob"-sleigh from the Sonnenburg hotel's in-house ski rental. And then ride the 1.2-kilometre stretch downhill that leads through mountains and forests in rapid turns.
As soon as you have reached the valley with a slightly increased level of adrenaline, you will most certainly hear shouts for "more, again, please." Therefore, we will gladly supply you with a ski pass to guarantee unlimited tobogganing fun. With this pass you can use the cable car Lech-Oberlech and take the gondola back up to Oberlech. As often as you like. During winter the illuminated toboggan run is open from 9 a. m. to 10 p. m. You have worked up an appetite? How about enjoying a delicious fondue in our "Schüna"?
Take a ride
with a horse-drawn sleigh
Children and adults enjoy admiring our majestic snowy mountainscape out of a horse-drawn sleigh. We will arrange an individual route for your horse-drawn sleigh ride: do you want to go to Zug, Alphorn, Klösterle or Älpele? Let our concierge know which destination appeals to you. This way, we can organise an unforgettable sleigh ride – whether for a couple, a family or a larger group. We will gladly prepare a picnic basket according to your wishes for you: do you prefer a thermos jug of hot cocoa, a Gugelhupf-cake or rather a savoury snack?
Winter Hiking as a Family
Nature lovers of all ages will experience the Austrian winter from its most beautiful side in Oberlech. At Hotel Sonnenburg we lovingly call it our "winter wonderland:" Over 40 kilometres of groomed and carefully marked winter hiking trails invite you to explore them. We are happy to provide you with an experienced guide for your adventurous exploration of our marvellous alpine winter landscape. This way you and your children will get to know the most beautiful corners of the Oberlech mountains at first hand.
One way to discover the mountains, the sky, and the snow from a completely new angle is the art project "Skyspace Lech" created by the renowned Land Art artist James Turrel. Since its opening in 2018, you and your family can discover the "encounter of heaven and earth in a high alpine landscape" in a brand-new way. You can easily combine this cultural highlight with one of your winter hikes: Skyspace Lech is located in Oberlech, only a 15-minute walk from Hotel Sonnenburg.
Snowshoeing with Kids
Care to be a child again alongside your own children? Then try out snowshoeing in the Arlberg region.
Follow the tracks of foxes, deer or birds through forests covered in fresh snow. Wrapped in warm clothes, you trudge over glittering snowdrifts and climb mountains and hills together.
As in most cases, less is more for children: one to two hours of walking with snowshoes is usually plenty for your kids. This way the little ones still have enough time to explore the area while snowshoeing. Our concierge will be happy to advise you on the selection of your snow shoeing tour or organise an experienced mountain guide who can accompany you.
Ice Skating and Curling
Your little ones can let off steam at the natural ice rink in Zürs from Sunday to Friday: ice skating makes young ice hockey fans just as happy as future ice princesses.
After the whole family has unbuckled their skates, everybody can improve their curling skills.
A romantic campfire with mulled wine and children's punch will round off your family holiday at the Sonnenburg hotel. Besides, you can also ice skate in Lech am Arlberg only a few minutes from our hotel: there is plenty of fun to be had at the skating rink of the Jagdhaus Monzabon – regardless of the weather.
Weatherproof fun during your family ski holidays
Wellness and massages at the family hotel Sonnenburg' spa area
Besides winter sport, our family ski hotel in Austria offers a wide range of spa activities. You can relax at Hotel Sonnenburg in our family spa area ‒ regardless of the weather.
Swim your laps in our deluxe panorama pool or relax your muscles in the infrared sauna. On top of that, our family sauna is the perfect setting for your family wellness programme. A soothing massage from our extensive massage menu rounds off your active family ski holidays in the Arlberg mountains. We even offer teen massages for your older children.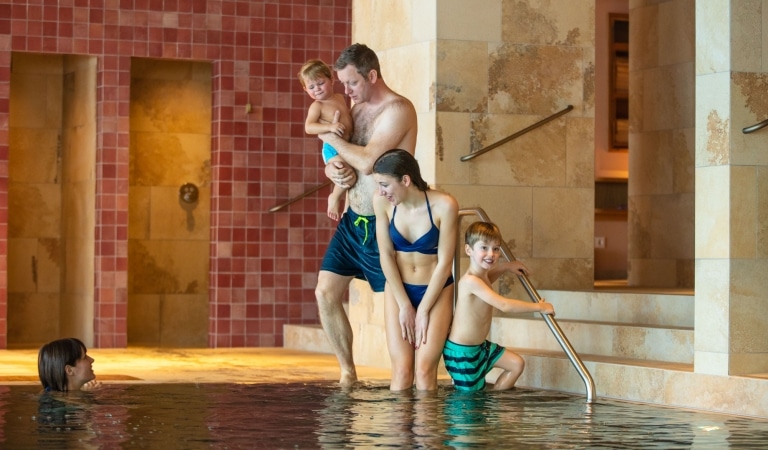 All-weather action at sport.park.lech
sport.park.lech is located only a few minutes by cable car from hotel Sonnenburg. Here sports enthusiasts will find an extensive programme for the whole family.
Maybe you want to exercise, do indoor cycling or weight training? Aerobics, dance lessons, yoga or pilates will help you find your inner balance. For ball players, badminton and tennis enthusiasts there is a multifunctional court where you can play soccer, badminton or volleyball together. And depending on the weather, you can enjoy exciting matches at the outdoor or the indoor tennis court. For instance, you can unleash previously unknown potential during a bowling session. Outdoor fans can also have vertical fun: when it comes to climbing and bouldering, there's nothing left to be desired.
Besides, sport.park.lech has even more to offer: In the cozy café they also live broadcast sports events. This is why all of Lech meets here during important games. Finally, you can also enjoy playing pool and darts here during your family ski holidays.