Happy childhood memories stay with you your whole life.  Even at the breakfast table, fun children's stories are told, the little ones cuddle up to their grandparents and plan another adventurous day.
In Oberlech, where man and nature live in harmony, people of every age enjoy the stunning mountains. When Grandma holds her grandchild's hand and explores the incomparable nature, children's eyes are guaranteed to light up.
Children who spent their holidays with Grandma, Grandad, Mum, Dad and siblings in the Sonnenburg, tell years later of their wonderful moments of happiness.
Extendable family suites for any family size
At the 5 star family hotel Sonnenburg as well as at the 4 star superior hotel Landhaus Sonnenburg you will find the perfect conditions for harmonious family holidays. Regardless whether you are planning this holiday for 5, 9 or 30 people. Part of this is our extensive offer of spacious rooms and suites of all sizes. Incidentally, those can be combined with each other via connecting doors. This way we create room for every family holiday scenario: intimate, large or extended. Furthermore, we help you organize your family reunion or event.
Comfort for your family holidays
Our expansive Platinum Plus Family Suite offers space for up to 6 people spread over 60 square metres. We have expressedly designed this accommodation for the needs of large families. As a result, the layout of your suite contributes to a relaxing holiday for all family members.
To begin with, you will find a spacious walk-in closet in the hallway. Here the whole family can comfortably store their luggage. From there, you walk into the bedroom with its particularly large box-spring beds. Next, you enter a spacious living room which can be separated from the bedroom by a wooden door. This is where your children will spend the night. So, if you plan on staying up or going out in the evening when your children are already asleep, our Platinum Plus Suite offers the ideal solution: thanks to the separate room they will be able to sleep peacefully. This guarantees privacy and comfort for the whole family! When combined with a silver double room a Platinum Plus family suite can accommodate up to 9 people.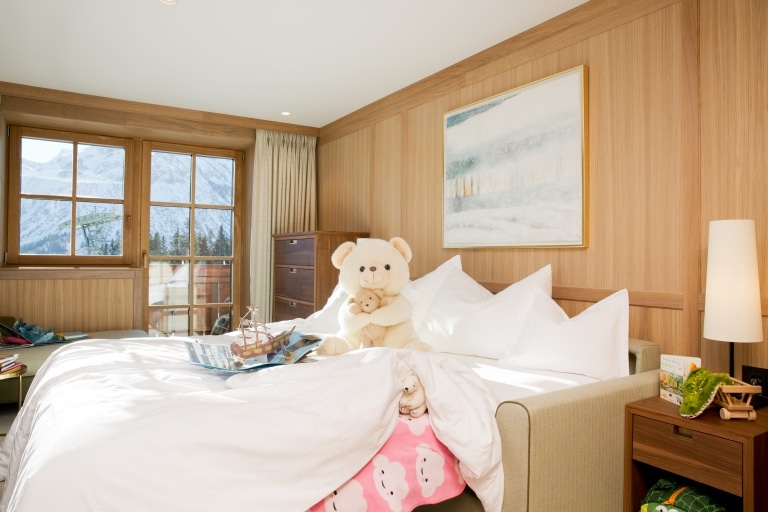 Platinum Plus Family Suite
room for up to 6 people
combinable with silver double room for up to 9 guests
2 separate rooms
south-facing balcony
bathtub and shower
separate toilet
spacious closet area
seating for up to 8 persons
book box with 10 books
extra-large box-spring beds (100×210 cm)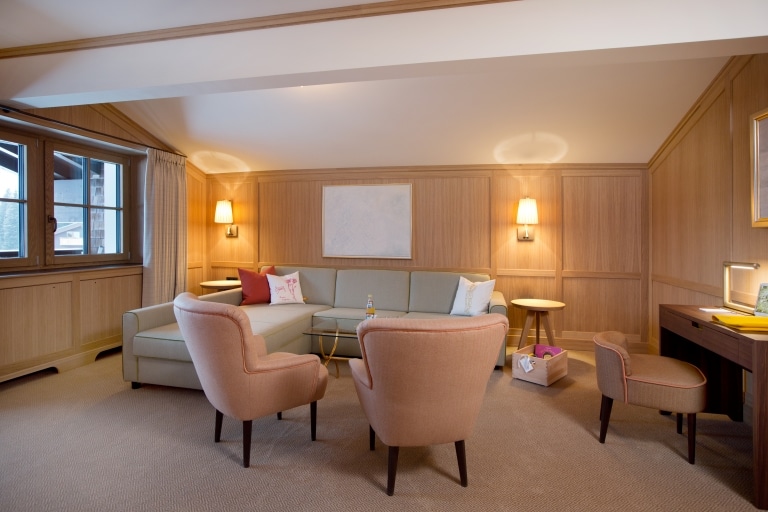 Family Hotel With Childcare
Holidays with a Baby or Toddler
A family holiday with your baby at Hotel Sonnenburg is a relaxing experience for young parents. Through the local babysitting agency, our concierge will be happy to organise expert care for your child prior to your arrival. This way, you can get some quality time with your partner.
In addition, we also provide baby-monitors. Needless to say, that you can book our full baby package as well: it includes a changing mat, a baby cot, a nappy pail, a bottle warmer, and a kettle.
Children from 3 to 12
As a family-friendly hotel in the Arlberg region, we understand that professional child care is part of a successful family holiday. For this reason, we look after our young guests from the age of 3 at the hotel's own Kinderwelt. Our experienced kindergarten teacher takes professional care of your little ones. For at least five days per week and at least five hours a day. Furthermore, little night owls and early risers can romp freely in our 24-hour playroom while their siblings have a good night's sleep.
Whether tinkering, children's make-up or playing with the rocking horse – there is always something going on at our spacious Kinderwelt. Your children can leaf through a picture book, learn exciting facts about the Alps or watch a captivating children's film. Besides, our Kinderwelt is a place where many friendships for life have started.
Teenagers
Moreover, your older children can use our youth room "Freiraum" all day long. Air hockey, table football, pool table, and more invite teenagers to relax and linger. It is probably the best place to chill out at the Sonnenburg family hotel Lech. In addition, we show current children's and teenage films at our cinema every day.
Teens stay among themselves and can enjoy their film on comfortable bean bags as well as in cinema armchairs. Thanks to our professional film equipment, genuine cinema feeling is guaranteed.
And if you want to relax even more: we offer a special teen massage for our guests up to the age of 16.
Activities for all stages of life
With your family or on your own – every guest will find the right activity in and around Hotel Sonnenburg. From 0 to 99 years. At least.
Whether you prefer hiking and skiing or a leisurely lift ride ‒ the Oberlech mountains offer a wide range of possibilities all year round. In addition, the Sonnenburg hotel for families is the ideal location for family outings of all kinds. And if you want to relax: we are a family hotel with pool and family spa. These facilities as well as a massage are available to you at any time. Our concierge will be happy to provide you with further details.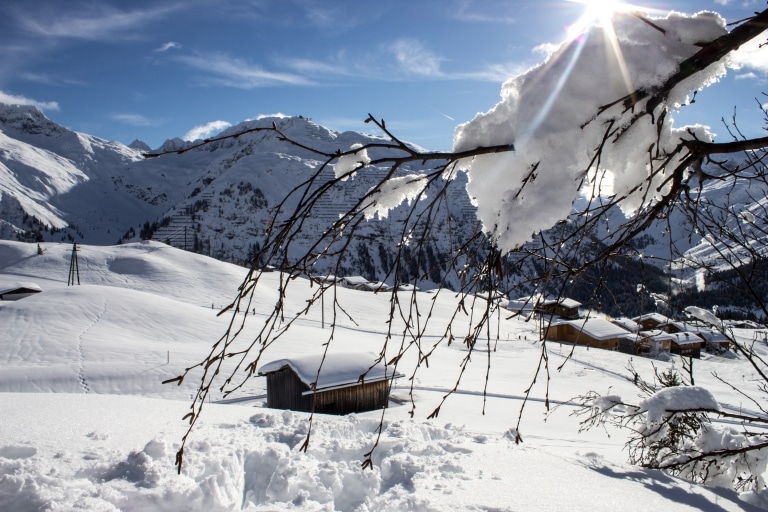 Delicacies for young and grown-up gourmets
Because the culinary offer at the Sonnenburg is colourful and creative, it delights all generations. Our chef focuses on regional quality and the finest ingredients. Since children usually don't think much of venison loin or crayfish, our kitchen team creates great children's menus every day. We only cook what children like – and what is healthy.
Eating together with the whole family? In our hotel restaurant, young guests will find a daily selection of dishes tailored to children – in addition to the 5-course menu. And in the rustic restaurant "Schüna", grandma and grandchildren always agree: fondue or raclette are enjoyed by the whole family.