"I do not wish to die, there is no snow in heaven…"
The same goes for us.
After all, pure joy is white.
Out of bed and straight onto the slope, the mountain, the bob.
Whether as a family moment. Or a moment of peace in nature.
Together, alone – and everything in between.
As long as it is white.
Massive mountain peaks and ample snow create a natural winter wonderland as far as the eye can see: Winter in the Arlberg region is an unforgettable experience. However, many of our guests are looking for something more than skiing during their winter holidays. Namely active days with heaps of snow, a beautiful spa area, and great food.
Luckily, Oberlech features countless outdoor activities:
Snowboarding
Sledging, tobogganing and bobsleighing
Ice skating and ice hockey
Curling
Ride with a horse-drawn sleigh
Austria's nature is particularly diverse ‒ as are the opportunities to enjoy it, especially during wintertime.
What do winter sports enthusiasts particularly like about our hotel? The combination of direct access to the slopes in the middle of the seventh largest ski area in the world. And an extensive winter sports offer for the whole family.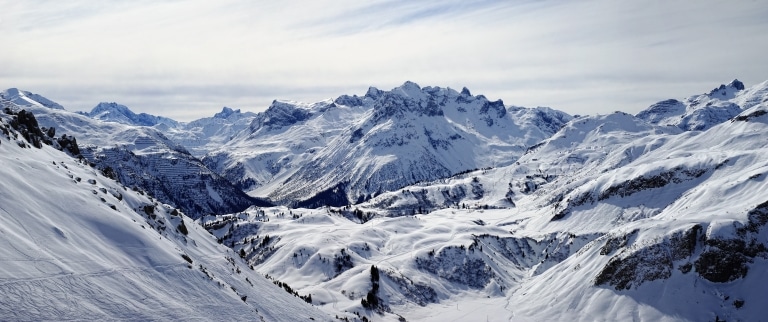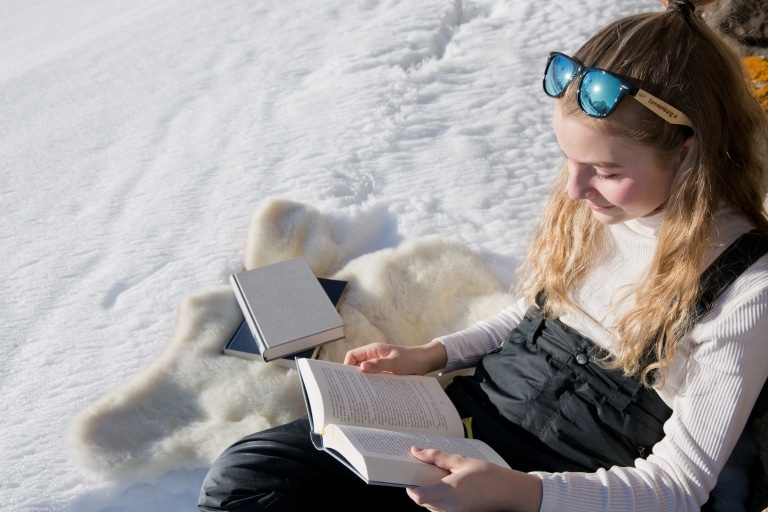 Lech - Skiing Eldorado in the Arlberg region
In the middle of Austria's largest family ski resort ‒ close to Innsbruck ‒ ski hotel Sonnenburg in the Arlberg area trumps with its top location for both adult and young skiing fans. It sits directly on the ski slope right between the children's slope and the children's ski school. From our ski room, skiers can reach the slopes in a single step and start skiing. Less than one minute separates our guests from the first ski lift in Oberlech: the Petersbodenbahn. Heading up into the mountains the spectacular views will take your breath away.
Moreover, the Lech-Oberlech cable car runs straight past the Skihotel Sonnenburg. It will take you down to Lech am Arlberg in no more than three minutes. As a 5-star ski hotel in the Arlberg region, we offer our ski holiday guests a comprehensive service ranging from in-house ski rental to the issuing of ski passes.
For over a century, guaranteed snow, warm hospitality and state-of-the-art technology have attracted skiers from all over the world to the "cradle of alpine skiing". Want more reasons why you should plan your next ski holiday with us in Oberlech, Austria?
88 state-of-the-art cable cars and lifts, 305 km of ski runs in all degrees of difficulty, 200 km of deep snow slopes, more than 1,000 competent ski, cross-country and snowboard instructors as well as fun parks and race tracks for snowboarders. Plus freeriding, heliskiing and 27 varied kilometres of cross-country ski trails. The facts speak for themselves.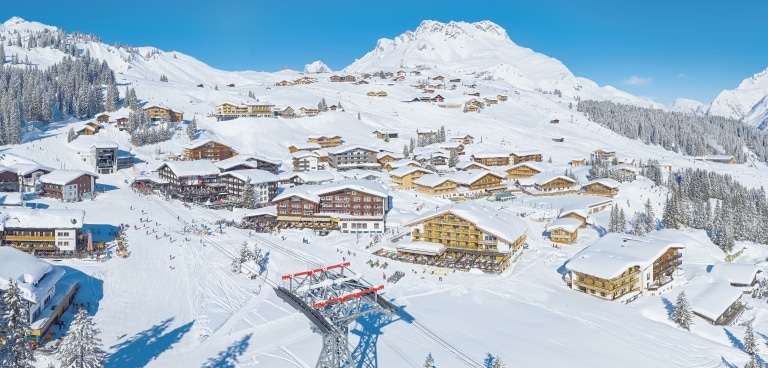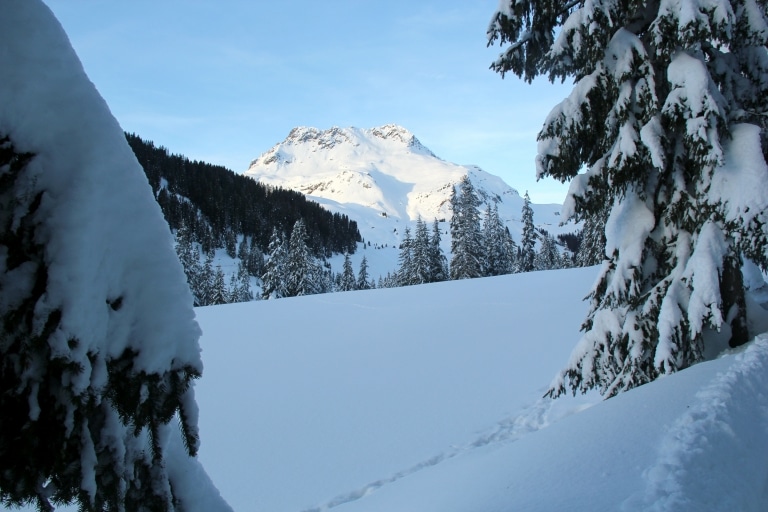 Why take a winter holiday in Oberlech?
There are three good reasons (out of many) to choose our ski-in ski-out hotel in Austria:
Snow resort
Oberlech am Arlberg lies at 1,650 metres.
Such a high altitude guarantees snow-covered slopes from November until the end of April.
Car-free
All hotels in Oberlech are connected by an underground tunnel system. This way, you can experience a pristine mountainscape: completely free of cars and traffic. In this respect, Oberlech is unique in Europe. Thus, the car-free ski resort is particularly suited for your family winter holidays.
Right on the slopes
Get on your skis and start skiing!
Right in front of Hotel Sonnenburg. So, there is no need for a lengthy drive.
That´s Ski In / Ski Out!

Facts about your winter holiday in Lech am Arlberg
One of the most snow-secure regions in the Alps
Guided ski tours
Ski school for children, teenagers and adults
Cross-country skiing on prepared trails
Fun parks & snowboarding
Heated ski room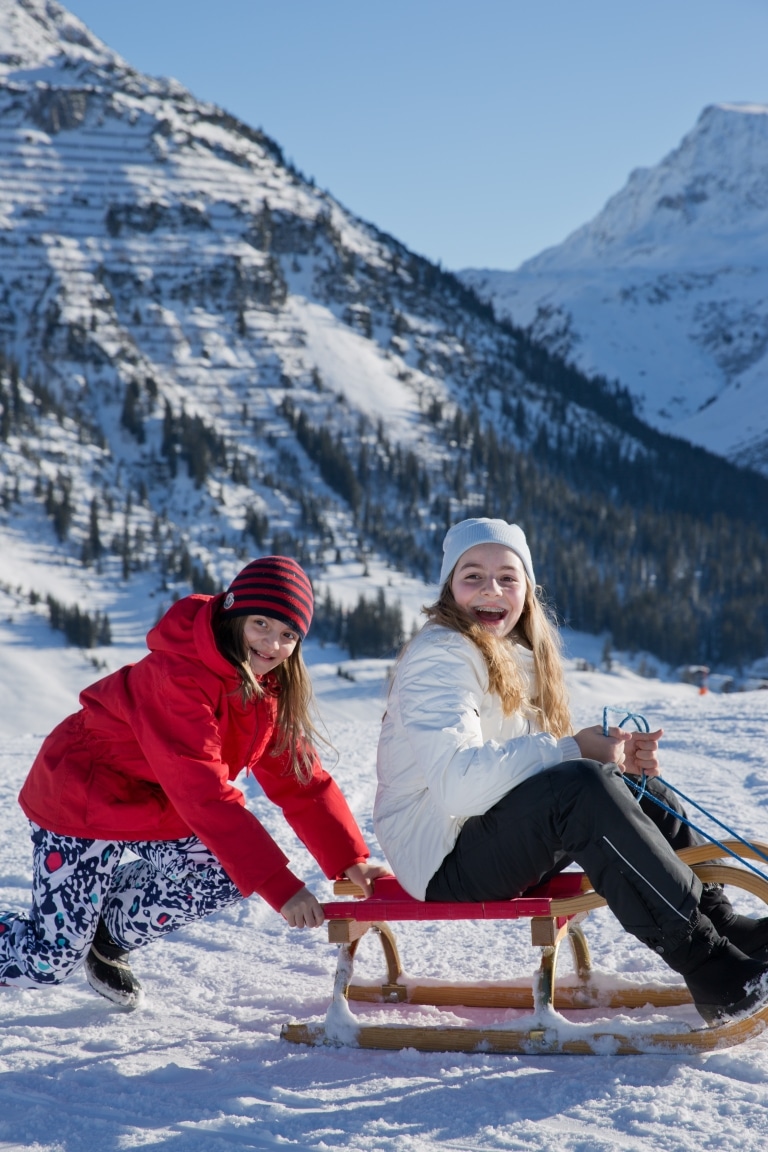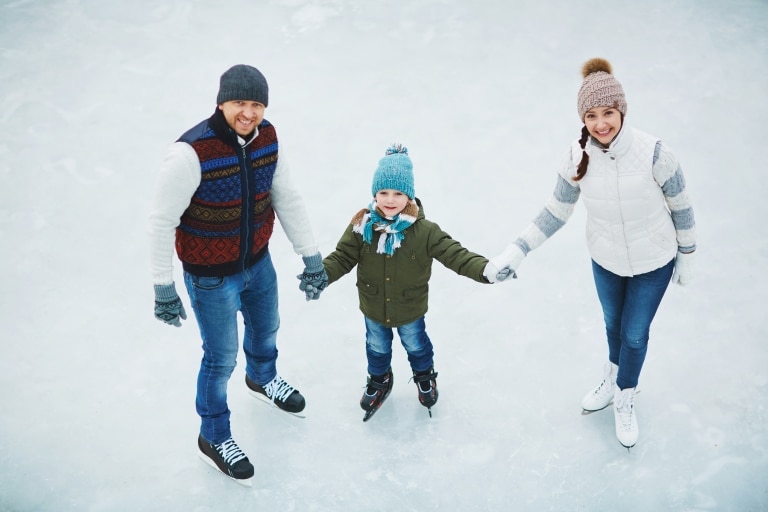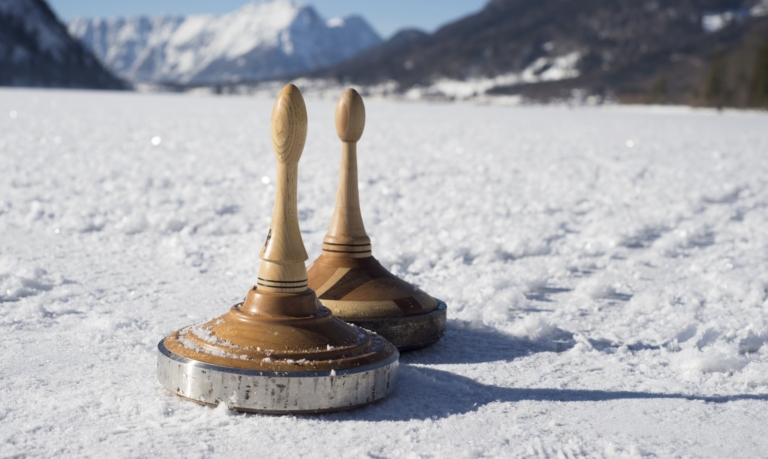 Sledging is great fun for the whole family. Young and old go sledging just for fun or make a competition out of it and try to outdo each other. You can get a sledge directly from the in-house ski rental.
Winter holidaymakers in Lech am Arlberg can go ice skating at the Zürs natural ice rink. Wednesdays are really romantic here, with candlelight skating under a starlit sky. Regardless of the weather, you can always go to the ice rink in Lech.
Not only skaters and ice hockey players of all ages feel at home on the Zürs natural ice rink, even the Vorarlbergers like to drop in here for a Jagertee and some curling.
Winter Holidays without Skiing
Many of our guests are looking for something more than skiing during their winter holidays. Namely active days with heaps of snow, a beautiful spa area, and great food. Luckily, Oberlech features countless outdoor activities beyond the ski slopes: from winter hiking to romantic rides in a horse-drawn sleigh.
Winter sports are about much more than "just" skiing or snowboarding. It is amazing what the Lech-Zürs area has to offer. Take the opportunity to experience the Lech mountains during a snow holiday without skiing! Sports enthusiasts can embark on breathtaking winter hikes with or without snowshoes and enjoy the alpine charm of mountain huts. Active winter holidaymakers can also experience tobogganing, ice skating or curling.
Meanwhile, pleasure-seekers can admire the mountain panorama from the back of a horse-drawn sleigh, followed by a relaxing spa treatment. Additionally, unique events and indoor locations create a special winter holiday for non-skiers ‒ or complement a skiing holiday in Oberlech.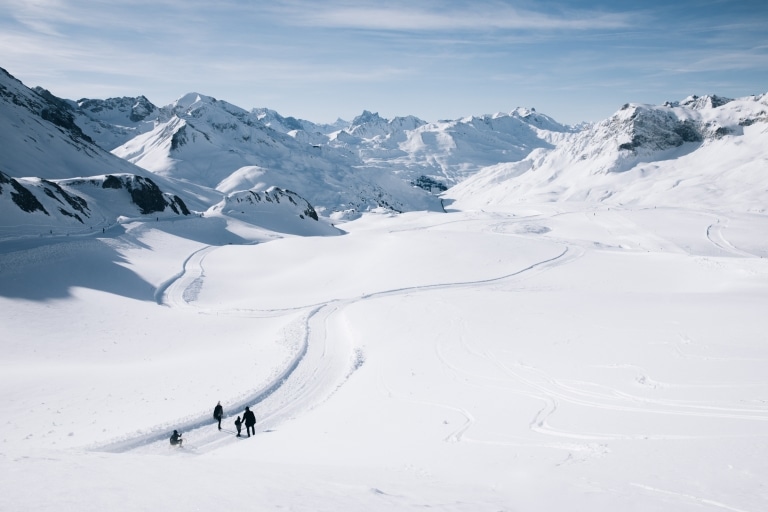 Snowflakes are among the most
delicate creatures in the world,
yet, when they stick together,
they can accomplish almost anything.

Unknown
Take a Horse-Drawn Sleigh Ride Through the Snow

You want to effortlessly glide through the snow-covered mountain landscape of the Arlberg? In that case, a romantic sleigh ride is just the thing for you: wrapped in soft blankets you can lean back and enjoy a glass of mulled wine.
Furthermore, you can choose an individual route for your horse-drawn sleigh ride: Would you prefer to go to Zug, to the Alphorn, to Klösterle or the Älpele? If another destination is on top of your list, simply let our concierge know your ideas. Whether you travel as a family or a larger group ‒ we are happy organise an unforgettable sledge ride during your winter holiday without skis. This way, you can admire the majestic Austrian mountain world at its best.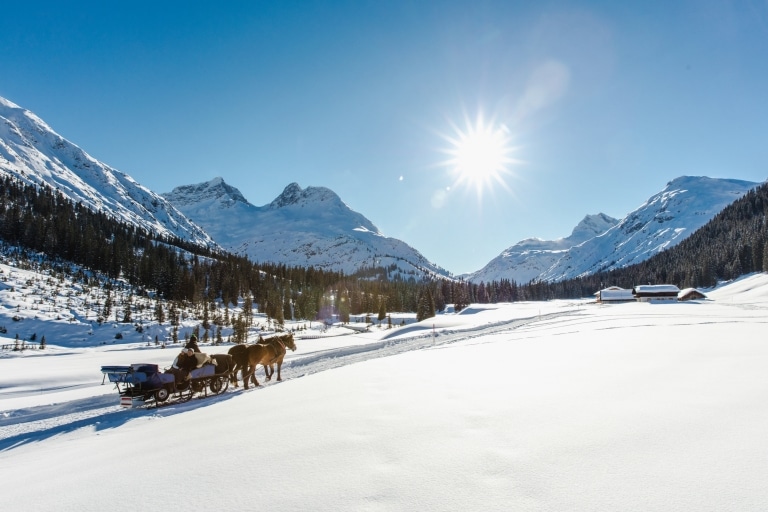 Relax and Admire the Spectacular Panorama
Treat yourself to some downtime! During the winter our well-equipped spa area is even more comfortable than in summer.
Enjoy a variety of saunas designed to relax your tense muscles. Have a swim in our luxurious panoramic pool with its breathtaking view over the snow-covered mountainscape. In addition, a soothing massage at the spa area of family hotel Sonnenburg is a great way to complete your winter holiday in the mountains without skis.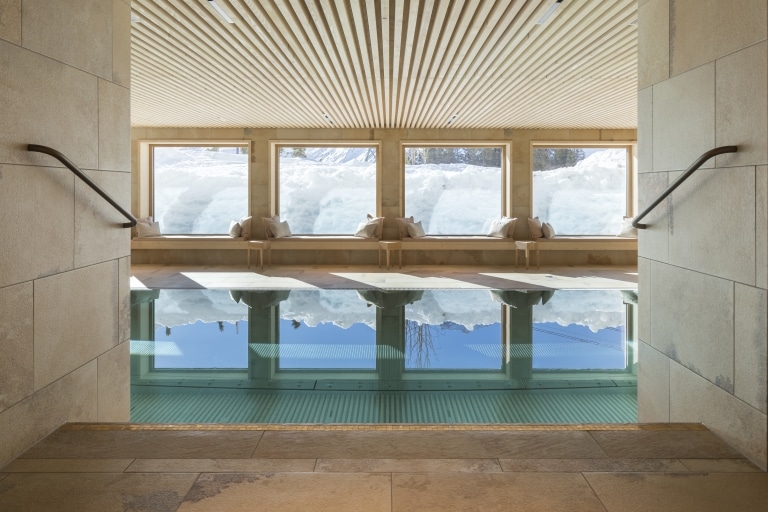 Unique Winter Events All Around Oberlech
Winters in the Arlberg area are famous for a number of cultural events. One of them is the Tanzcafé Arlberg. It attracts top international musicians to the Sonnenburg's sun terrace. Besides, there are other legendary events during the winter in Lech, such as Fantastic Gondolas or the "Weingondeln". On top, as a literary hotel we host a variety of literary events and book readings for adults and children on a regular basis.
Activities
for any weather
sport.park.lech is an indoor sports hotspot located in Lech am Arlberg. It impresses with its wide range of sports facilities: the whole family can compete in bowling, do fitness, indoor cycling or weight training. Aerobics, Pilates, dance or yoga classes offer both variety and fun. There even is a multifunctional court for ball sports enthusiasts for playing soccer or volleyball. And on the indoor tennis court, you can compete in exciting matches. Outdoor fans can have some vertical fun as well while climbing and bouldering.
By the way, sport.park.lech has a cosy sports café where they often broadcast sports events. Moreover, you can enjoy yourself playing billiards and darts here. How does that sound in terms of successful winter snow holidays for non-skiers?