Swim through the mountains
Dive in at 1,650 metres
It was a good day on holiday in Lech am Arlberg: sun, exercise, fresh mountain air. Now it's time for winding down. Luckily, Hotel Sonnenburg has a thing or two to offer when it comes to relaxing. In other words, a swimming pool and anything else you might need for a perfect day at the spa in Vorarlberg. With a gripping book in hand, you head downstairs and are greeted with stunning scene:  Let your eyes wander across the green-blue glistening water and let your gaze plunge deep into the mountain views right outside our spa. The Austrian Alps are stretching their majestic peaks into the blue horizon.
And then you are spoilt for a choice: Swimming laps in the pool? Sweating in the Finnish sauna? Immersing yourself in new worlds with a book on a comfy lounger? Or simply enjoying the fantastic view of the mountain tops? The large panoramic glass front makes it possible.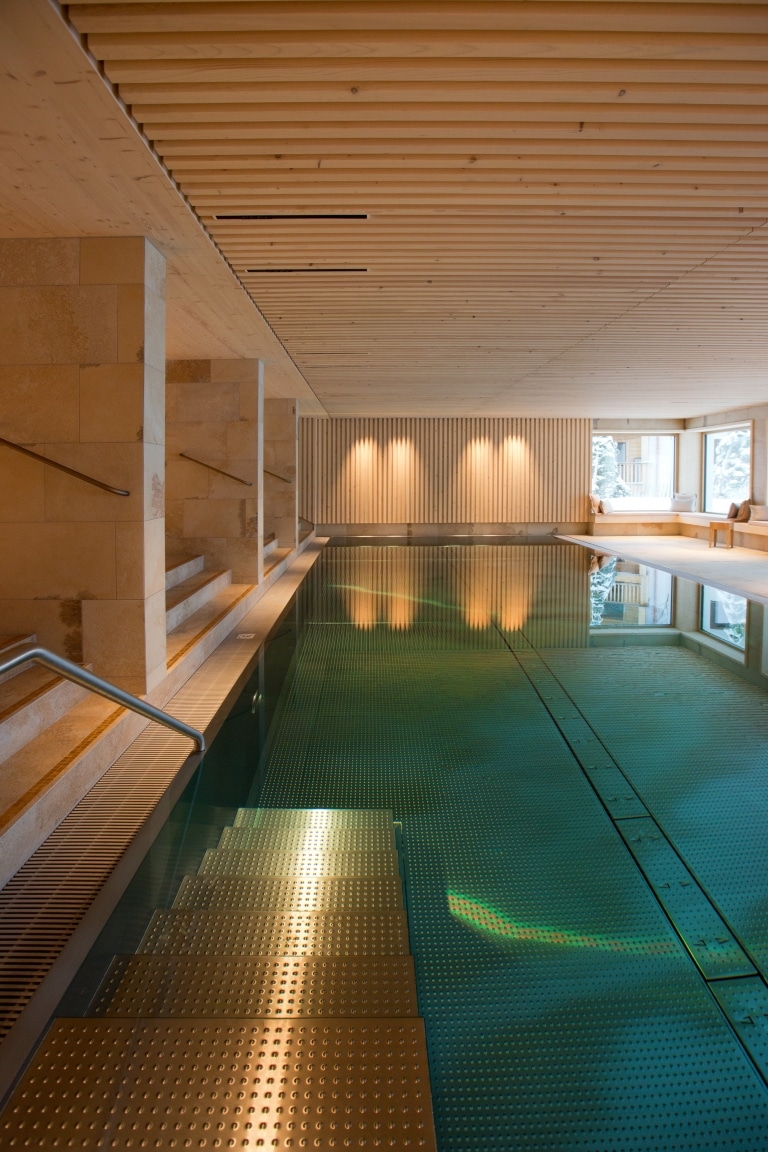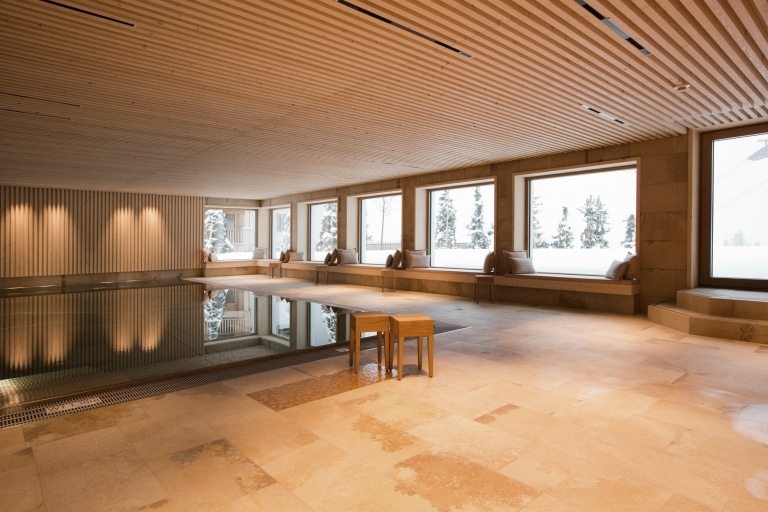 Warm & cozy
Sauna & spa in Lech
The spruce wood of the Finnish sauna crackles softly, the purling water of the pool sounds inviting. Others call it "wellness holiday", we at the Sonnenburg call it "holiday". Because for us in Lech, a spa is simply part of it all.
Even though we don't see ourselves as a classic wellness hotel, we think that a wonderfully warm sauna session, gentle massages and a dip in the pool are the icing on the cake of any memorable holiday. Feel your tense muscles relax in different saunas after skiing or hiking in the mountains. Treat yourself to the welcome cool-down afterwards, either under the cool shower stream or while treading through the Kneipp basin made of exquisite natural stone. Get lured in by the healing warmth of our infra-red couches or the fluffy comfort of our lounge chairs.
Just do what the cute marmot – that adorns the walls of our spa in Lech am Arlberg – does best and relax. His sleepiness is truly infectious.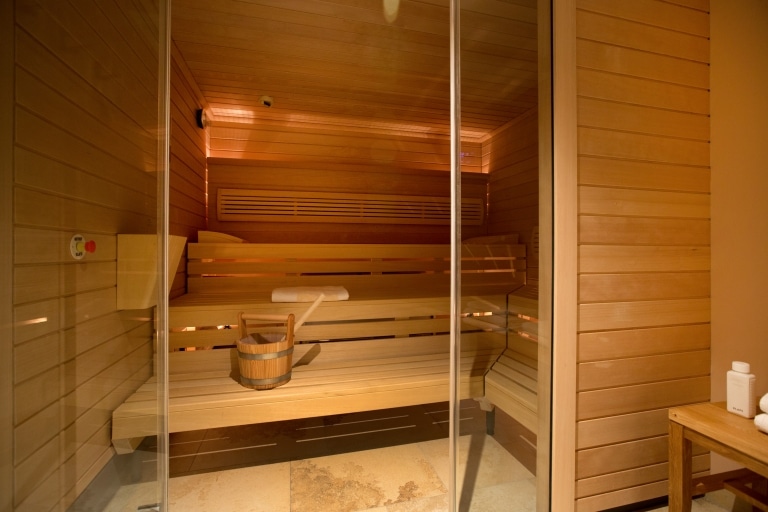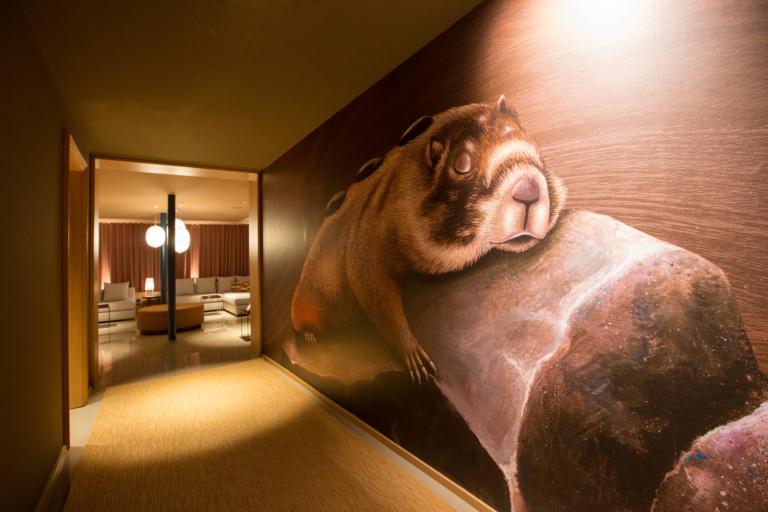 Our pool area:
panorama swimming pool
women-only sauna
family sauna
wellness and sauna area for ages 14 and above
swimming pool library & poetry spa library
relaxation area with well-lit reading nooks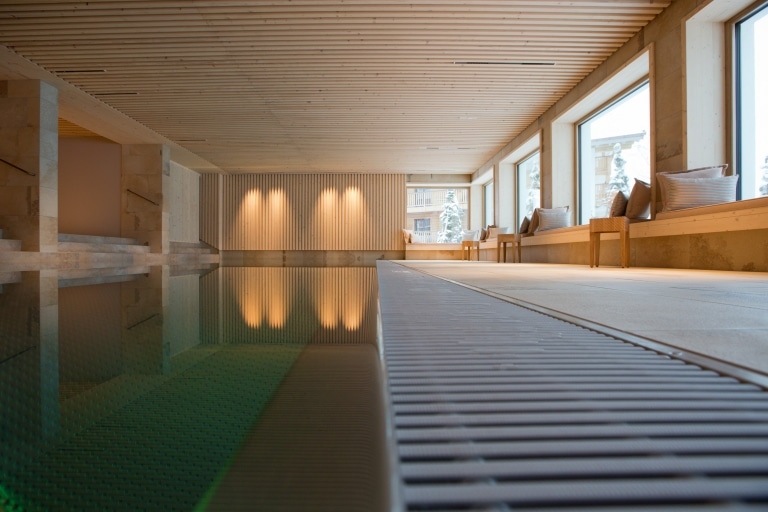 Our spa in Lech
from 2 to 8 pm:
Finnish sauna: 80–100 °C
steam bath: 42–45 °C
SANARIUM®: 40–60 °C
heated loungers
Kneipp basin
relaxation area with a tea bar and drinking fountain
relax corner with cushioned loungers
You can find magic wherever you look.
Sit back and relax, all you need is a book.

Dr. Seuss
A spa in Vorarlberg?
Not without a sauna!
It is a must for many and we cannot imagine our spa in Lech in Austria without one: the Finnish sauna. It is well loved and highly frequented by our guests, both by young and old.
An active day outside with your youngsters has taken its toll on your muscles? Back in our family hotel in Lech our family sauna is the place to be. Enjoy the steaming warmth together and feel all tensions melt away from 2 to 5 pm in the afternoon.
From 5 to 8 pm the sauna becomes a quiet place for women only: Here mothers, daughters, girlfriends – in short: all female guests – can stay among themselves and fully unwind.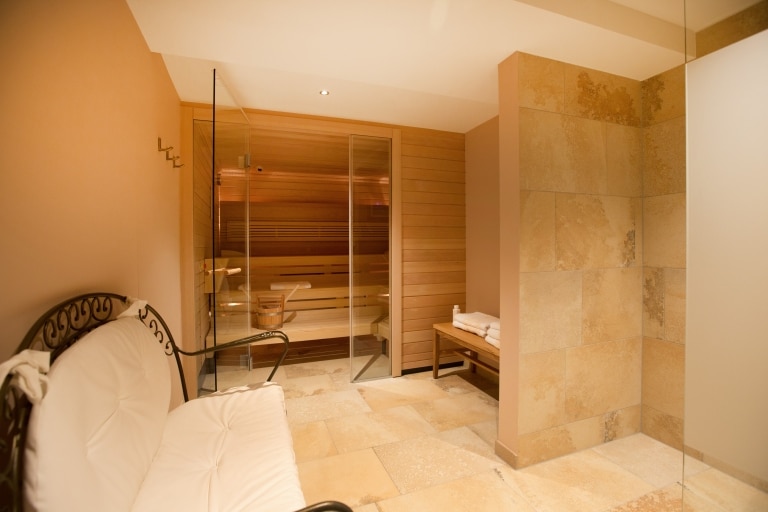 Dive in!
Elegance meets modern design. And the stylish inside merges with the idyllic outside thanks to a large glass front. Since 2018, our guests have been doing their laps in the 40 m² stainless steel panoramic pool, which was custom-made for our spa in Lech am Arlberg.
Children love our indoor pool: It's where they can rollick around, dive deep and dabble to their heart's content. And if – for a change – parents don't want to swim a few laps themselves or keep their kids company while having fun in the water, mom and dad are happy to spend relaxing hours in the pool area. No surprise that our guests, both children and adults alike, cherish our family spa in Austria as much as we do.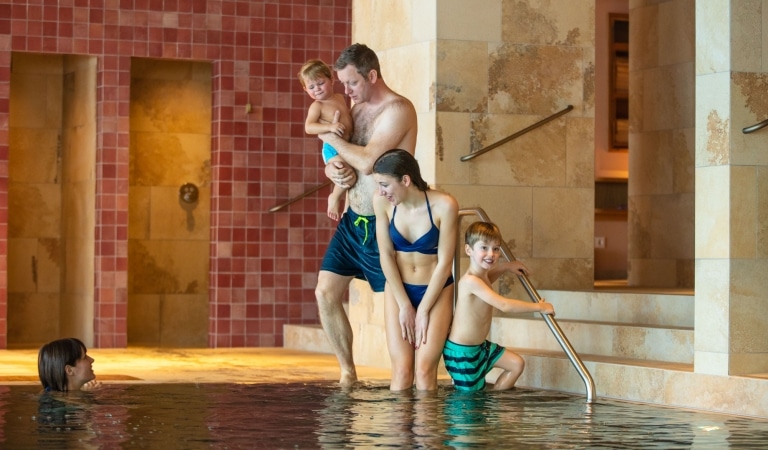 A library at the poolside …
"Reading is a great miracle", wrote the Austrian writer Marie von Ebner-Eschenbach. And we couldn't have said it any better ourselves:  As a literature hotel we want to combine wellness and reading pleasure.
That's why we have compiled a swimming pool library for you, with over 50 titles on the topics of "water" and "swimming" to choose from. To ensure the best experience for our fellow book worms, our relax corners and pool loungers are well-lit. And after the last page is turned, you can find even more books everywhere in our hotel and in the book box in your room.
… and poetry in our spa
In our spa in Vorarlberg we also want to pamper your soul and spirit. Which is why we filled our spa area with poetry: Over 100 volumes of poetry in English and German are available in the relaxation areas. From Ingeborg Bachmann to Charles Bukowski to William Shakespeare: poets of worldwide renown share their valuable, profound and humorous thoughts – and might as well encourage your mind to wander too.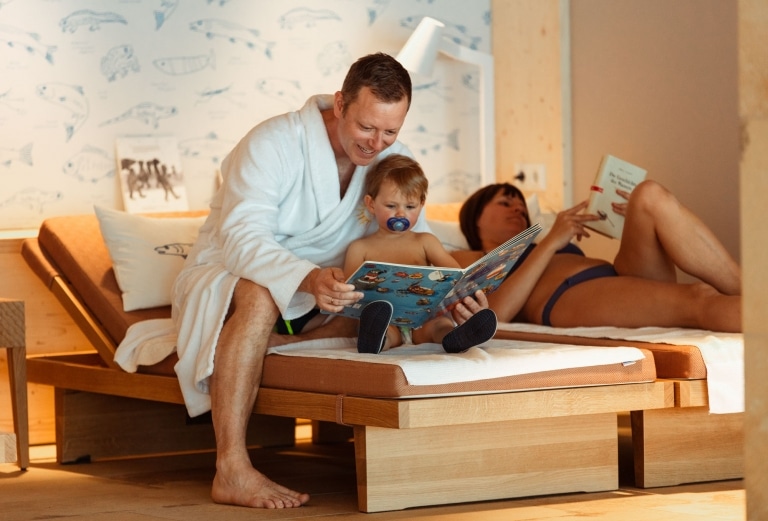 Sweating in our spa in Lech, Austria
The need for warmth is as old as time: The positive effects of sweating have been known all around the globe and since year one. Which is why there are so many different kinds of saunas which we can enjoy today – from the Finnish sauna to the Turkish steam bath to the gentle low-temperature sanarium.
Located directly at the Arlberg, we have built our spa around the needs of athletes. After exercising in the great outdoors, hotel guests over the age of 14 are guaranteed to find peace and relaxation in our saunas. Warming loungers, Kneipp basins and relaxation areas as well as a tea bar with spring water, teas and small snacks round off every spa experience. Ideal for recharging your batteries. Curious? We are happy to give you a small insight into our sauna selection.
FINNISH SAUNA
The warmth of the Finnish sauna perfectly contrasts the cold weather and is a true staple in sauna culture. Here in Lech, at the heart of a winter sports paradise, the Finnish sauna is very popular among our guests as well. Temperatures range from 80 to 100 °C and the humidity settles at about ten percent. After hiking or skiing, the heat helps muscles, tendons and ligaments to recover quickly and strengthens the immune system.
This classic dry sauna is so popular that there are two of them at the Sonnenburg spa: the family and womens-only sauna by the pool and the "Stubensauna" in the wellness area for guests aged 14 and above.
SANARIUM®
If the Finnish sauna is too hot for you, you can relax in the gentle warmth of the SANARIUM®. With 50 to 60 °C, this modern low-temperature sauna perfectly complements the sauna area of our first-class spa in Lech am Arlberg. State-of-the-art technology ensures a moderate climate in the SANARIUM® – ideal for a longer stay or for sauna newcomers.
Did you know that our SANARIUM® has been proven to be healthy? According to a study by the Charité Clinic in Berlin, the heat and climate of the low-temperature sauna lowers blood pressure. Even circulatory disorders may be alleviated and cholesterol levels may be lowered.
STEAM BATH
We consider the steam bath to be a particularly interesting addition to our sauna area.
At low temperatures between 40 and 50 °C, the body may gently detox. In addition, inhaling the steam helps to moisten our mucous membrane, which revitalises our respiratory system. All the while you are enjoying a well-deserved spa break in Vorarlberg. Our steam bath is also the perfect choice before moving on to the Finnish sauna. The steam has a relaxing effect on your muscles and airways, while also opening your pores. This helps cleanse your skin and ideally prepares it for skincare products.
HEATED LOUNGERS FROM PHYSIOTHERM
In a separate room, exclusive heated loungers round off your spa experience. The beautifully designed loungers provide comforting warmth all throughout the body.
In addition, the three-dimensional shape of these innovative heated loungers supports your entire back. Ergonomic armrests and an adjustable neck support enhance the relaxing effect. Try it out!
Cool down, rest & recharge
Cooling down directly after sweating is an important part of every sauna experience. Whether you prefer taking a cool shower, wading through the cold Kneipp basin, showering off with the hose or taking a refreshing walk in the garden: At the Sonnenburg spa in Lech in Austria you'll find plenty of ways to cool off.
And afterwards? Now it's time to relax. In the spacious lounging area with comfy daybeds, you can doze, read or meditate. Discreet room dividers ensure privacy. In our cozy relaxation room, you can stretch out on luxurious cushioned loungers. With soft music in the background, every last bit of tension will melt away and your cardiovascular system rejoices. To ensure that our guests are well hydrated after sweating in our saunas, fresh spring water and tea are provided at the tea bar alongside some light snacks.
So, grab your favourite book and allow your body the rest that it needs after the sauna. As a rule of thumb and to achieve the best effect, you should take a break from the sauna at least as long as you stayed in.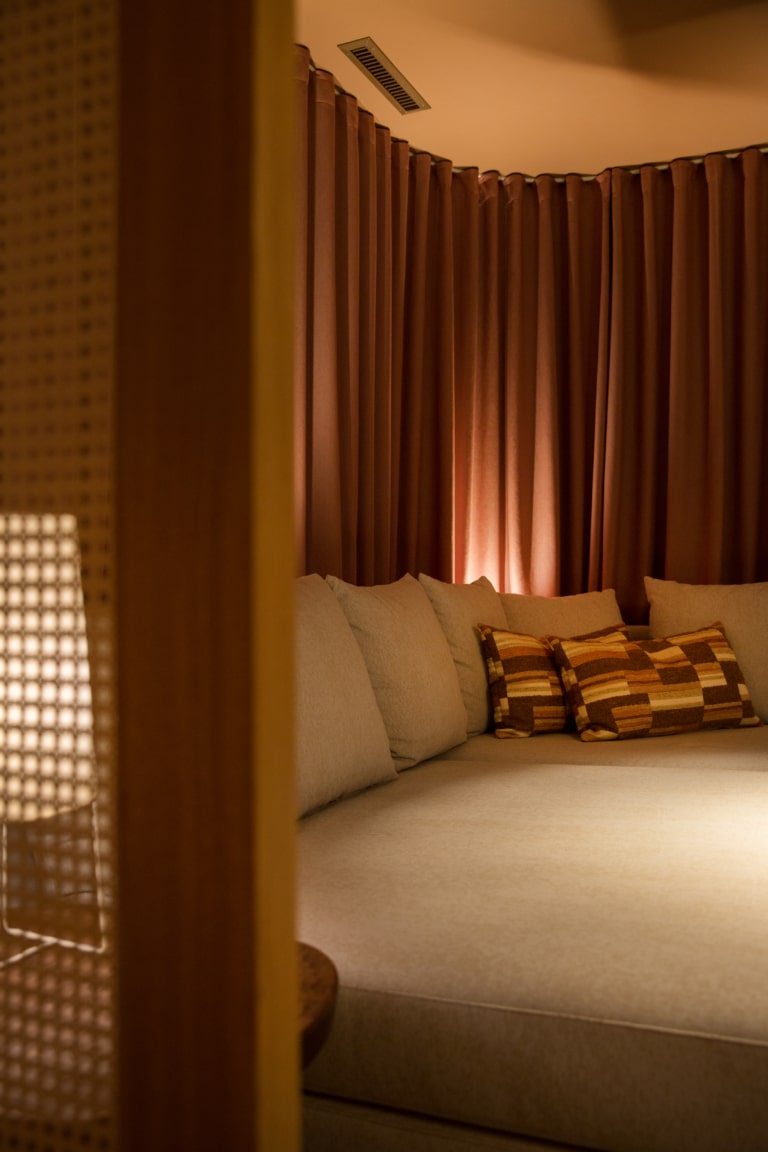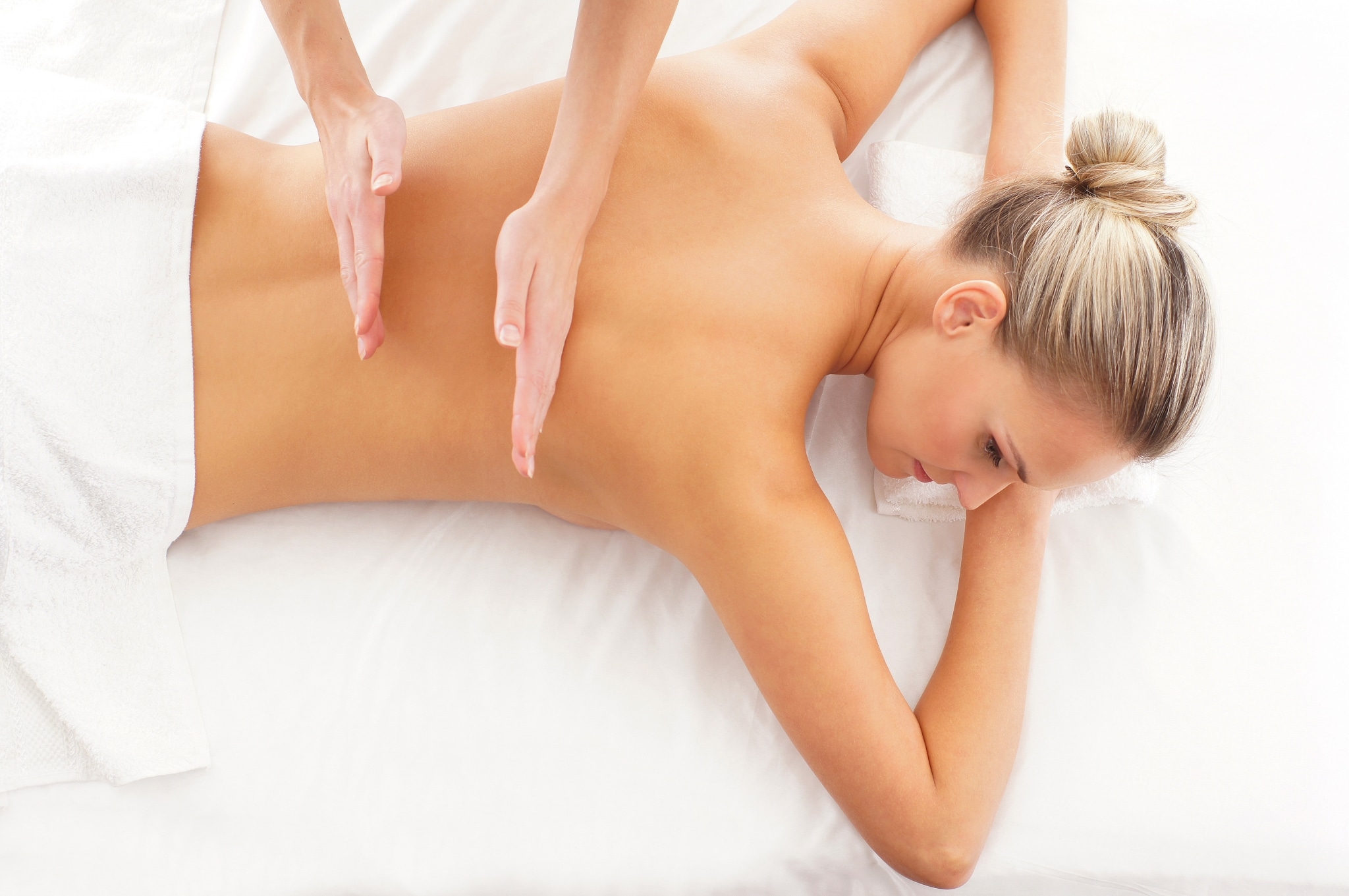 Massages à la carte at our Spa in Lech
Would you like a honey massage? Do you want to loosen your tense muscles with a sports massage? Or do you want to treat your youngsters to a teen massage?
Either way: Sauna and massages complement each other perfectly. Indulge yourself with a session, choose from our broad selection of massages or let one of our qualified therapists give you a recommendation. Our concierge will be happy to provide you with detailed information and will book your treatments – even well in advance of your arrival at the Sonnenburg spa in Lech, Austria.