Winter hiking on scenic trails
In Oberlech nature lovers of all ages experience the Austrian winter at its best.
At the Sonnenburg we affectionately call it our winter wonderland: More than 40 kilometres of groomed and waymarked winter hiking trails invite you to explore the mountains. Hike to the most beautiful places in and around Oberlech. Either by yourself, with your family, as a group or accompanied by an experienced winter hiking guide.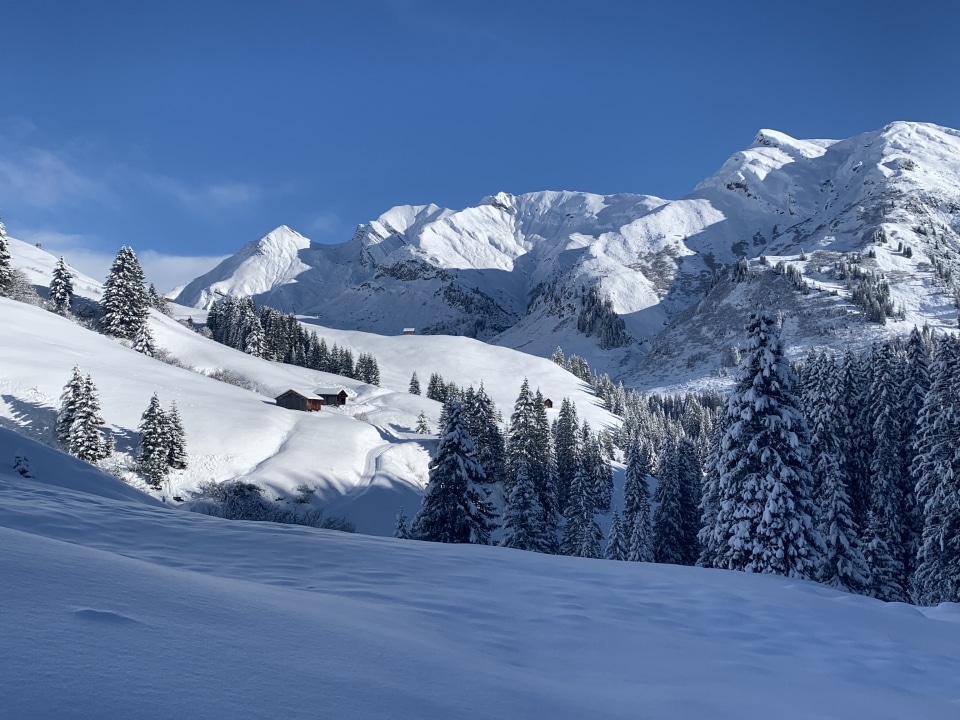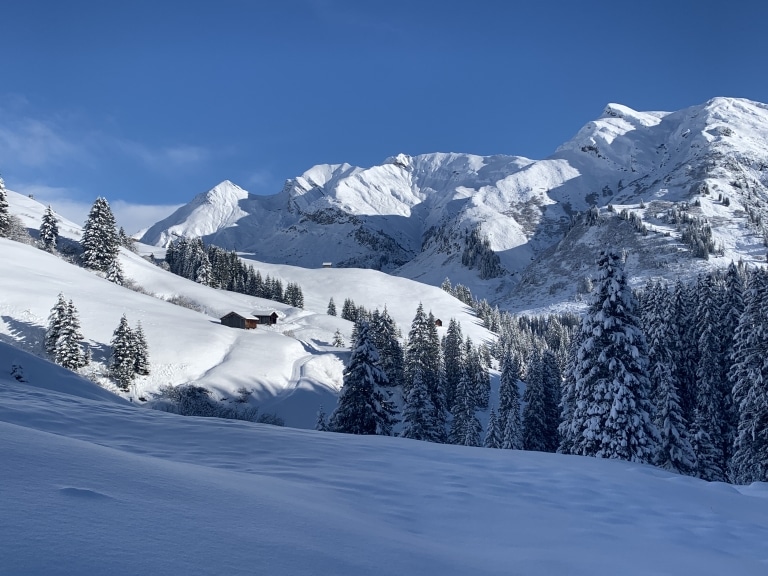 Winter hiking in Lech gives you the opportunity to explore the mountain world of the Arlberg region in your very own way, on paths of your choice and at your own pace. Treaded paths and the prepared winter hiking trails lead you through snow-covered forests, high up towards the peaks or along the mostly frozen Lech. You decide where to go and, above all, how fast.
Even for the experienced ones in Lech, those who think they already know the local mountain world inside out, winter hiking can offer new perspectives.
There are plenty of opportunities to pause and marvel. Everywhere in the ski area you will find a comfortable red bench where you can take a short break. There are also plenty of places to stop and have lunch on the sun terrace of the Sonnenburg.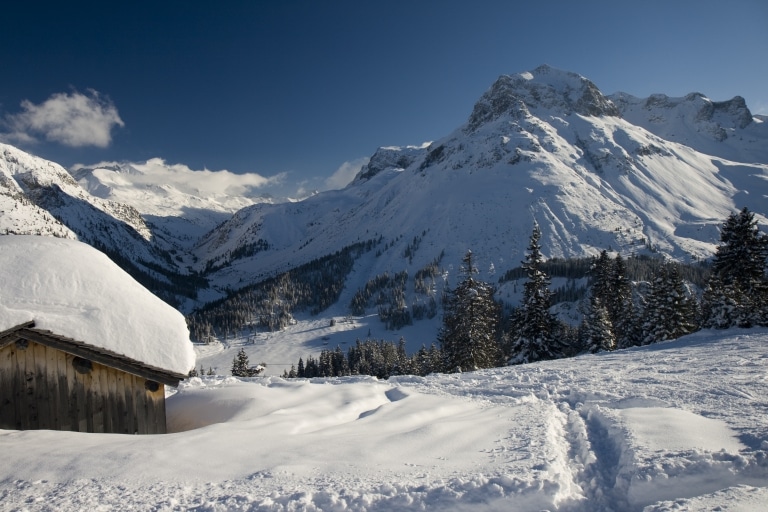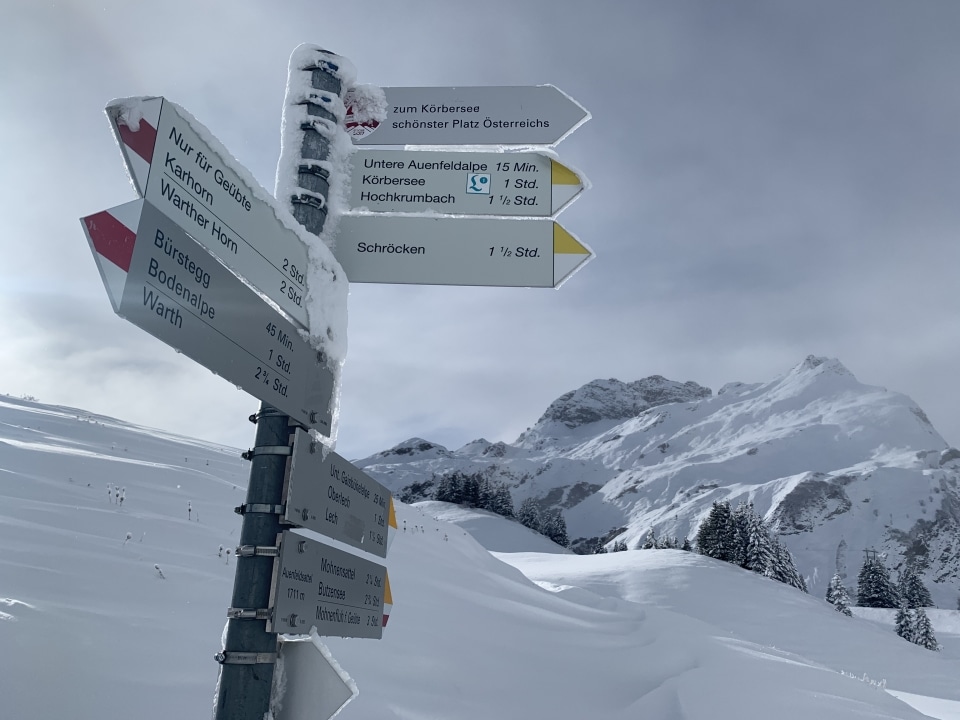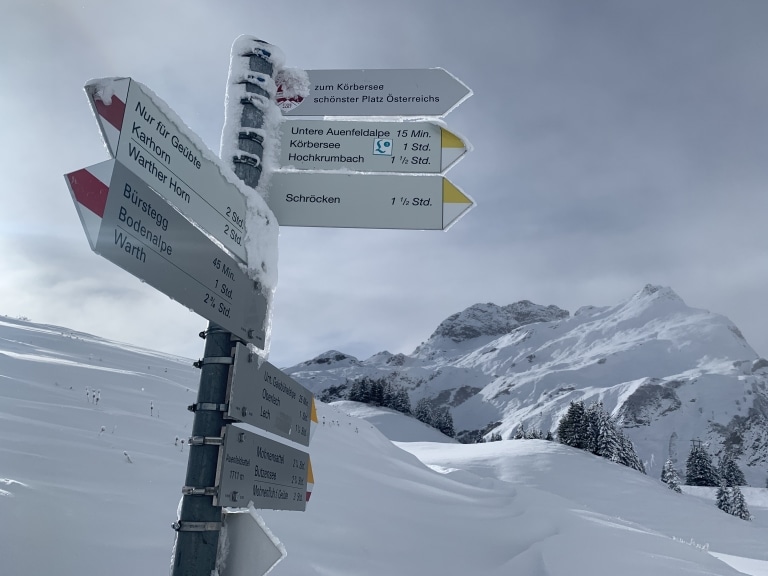 Only where you have been on foot,
have you really been.

Johann Wolfgang von Goethe
Walking through the winter wonderland
Over 40 kilometres of prepared winter hiking trails await you in Lech.
There is a trail to suit every ability and taste.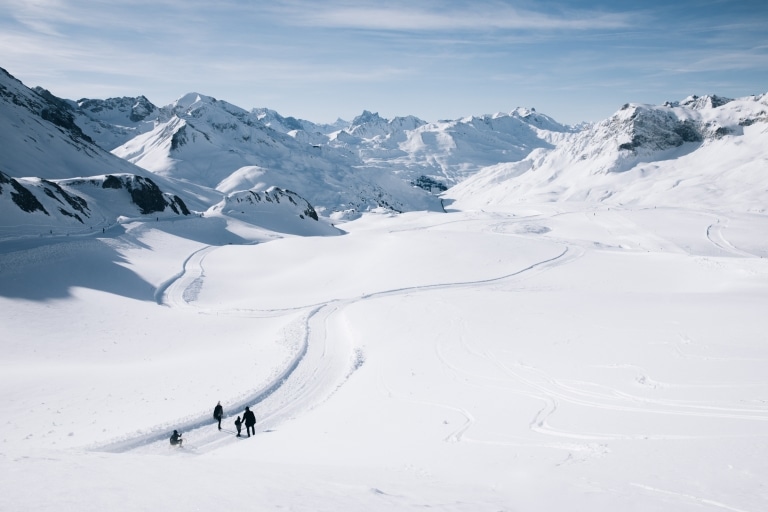 High, higher, highest
At the summit of the "Rüfikopf", a winter hiking trail leads you through the mountain world at an altitude of 2,350 metres. The trail is ideal for the whole family. Right at the top station of the "Rüfikopf" cable car, "The White Ring" symbol points the way to the viewing platform with 360° mountain view.
Skyspace Lech
By the way, one way to see the mountains, sky, and snow from a different angle is the art project "Skyspace Lech". It has been established by renowned land art artist James Turrel in 2018.
This "meeting of heaven and earth in a high alpine landscape" invites you and your family. Why not combine the cultural highlight with one of your winter hikes? The Skyspace Lech is located in Oberlech am Arlberg, only a 20-minute hike from Hotel Sonnenburg.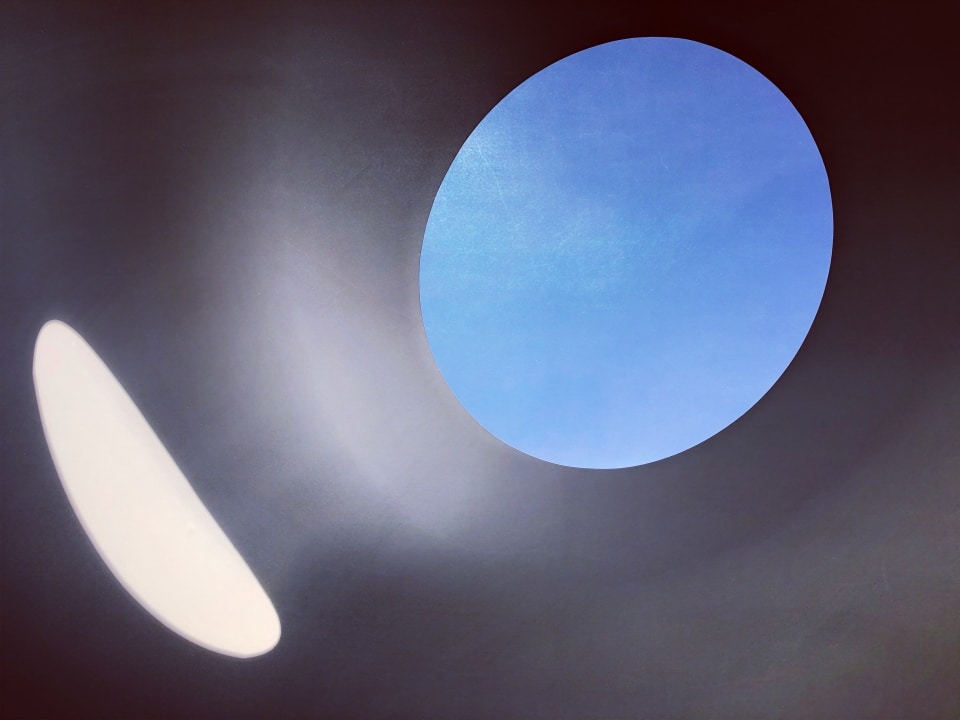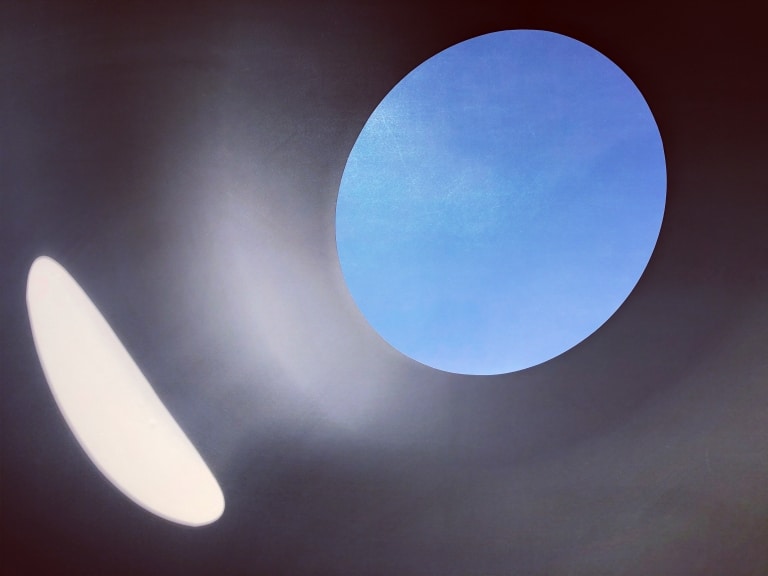 Winter Hiking as a Family
Hiking may not be the activity your children immediately shout hooray about, but we are quite sure: everyone is thrilled by winter hiking in the end. With its snow-covered landscape, the winter wonderland of Lech makes your children want to romp in the snow. This works wonderfully on a winter walk, because you can choose together which path to take and where to pause for exploring. A snowball fight is also never excluded during a winter hike in the Arlberg region…
Our tip for a hike with younger children: choose a short route to start with, as a tour that is too long might discourage the little ones, and explore the snow and its characteristics together.