Children and teenagers have endless energy. Luckily, the Sonnenburg offers countless sports activities on foot, by bike and around the water: Would you like to go climbing, geocaching or even archery? Maybe a mountain bike or e-bike tour? Besides, there's nothing better on a hot summer day than having fun in the cool water. You can cool off in the Lech forest swimming pool, for example. Meanwhile, there is plenty of action with family rafting or canyoning for children.
Gorgeous mountain views under a blue sky. The family hike winds through dark-green fir forests, rocky hills, and grassy valleys. Passing lush meadows with specs of colourful alpine flowers. Further down the valley runs a gurgling mountain stream. You inhale the clean mountain air. It has been a fun and challenging ascent, especially for the little ones. An extensive lunch break is your reward. After a hearty snack at the shore of a clear mountain lake the children romp about carefree. They even dip their toes in the icy water. The beautiful nature in and around Oberlech feels like an idyll from the old days. Proudly, your children carry a bowl full of self-picked wild strawberries in their hands. Along the way a marmot peeks out of its burrow – what a sight!
On the way back, the cable car drops you off right in front of the hotel. The children are happy to join their new holiday friends for dinner at the children's table. Meanwhile, mum and dad treat themselves to a glass of wine and enjoy a carefree and delicious menu together.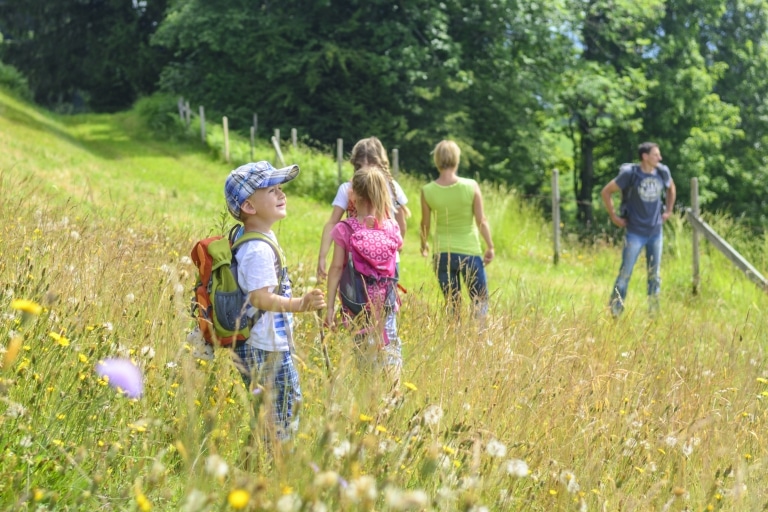 Your active family holidays in the mountains:
350 km of hiking trails in varying levels of difficulty:

hiking with a pram
family hiking
summit hikes
horseback trekking

mountain bike und e-bike trails
outdoor adventure pool, family rafting, canyoning for children
outings in the Arlberg region, Tyrolean Oberland, and the Bregenzerwald
events und celebrations
weatherproof fun at sport.park.lech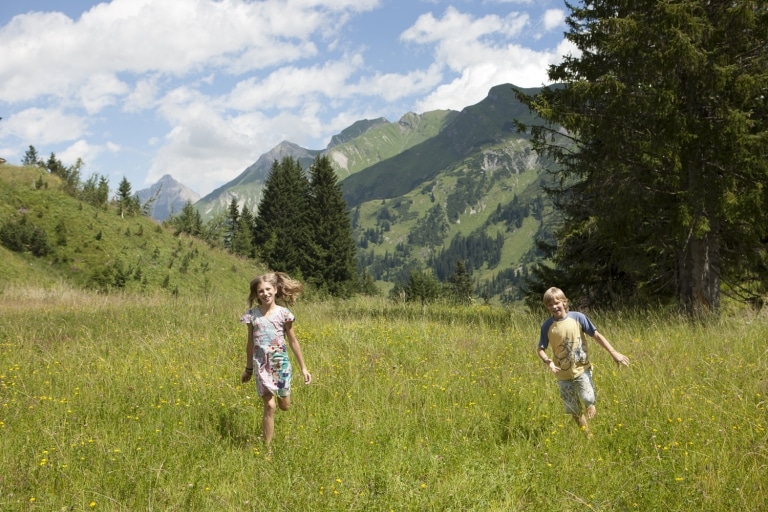 Your summer holidays at 5-star family hotel Sonnenburg
Happy children, happy parents
As parents, you will observe a sense of freedom in your children during a family holiday in the mountains. This experience is what we strive to provide at family hotel Sonnenburg. Family friendliness is so much more than just a phrase for us. What can we do for you and your family? Many of our young guests have a blast merely playing in the brook in front of hotel Sonnenburg. Or taking mum and dad on a walk to see the cows.
You could hike the Oberlech mountains and afterwards cool off at the Lech forest swimming pool. Alternatively, you can explore the Arlberg region by e-bike or go horseback trekking. Or else, your child can try their hand at rock climbing. If you travel as a large family, we provide you with anything you might need to enjoy your summer holidays in the mountains surrounding hotel Sonnenburg. And if mum and dad need some alone time: our devoted child carers at the Sonnenburg Kinderwelt are happy to take look after your children (3 years and older) for up to 4 hours per day.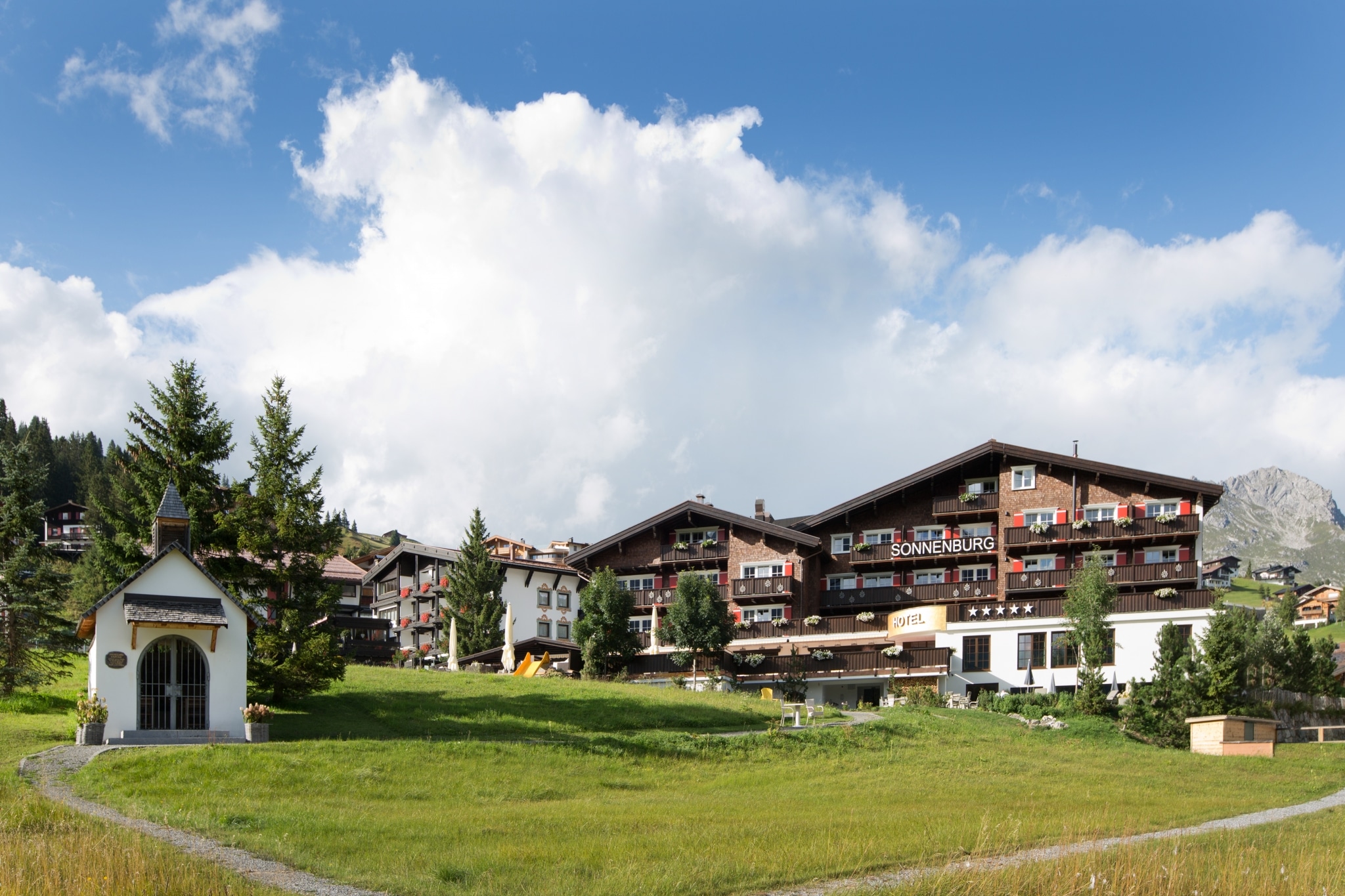 Summer Holidays for mountain enthusiasts of all ages
Your hiking holiday experience begins with your very first step out of Hotel Sonnenburg. Surrounded by approximately 350 kilometres of well-marked hiking trails, our 5-star hiking hotel in Oberlech offers direct access to a breathtaking mountain world. Therefore, many top athletes take advantage of a stay in Oberlech to complete their high-altitude training. However, there are also countless hiking possibilities for amateur athletes: whether you prefer an idyllic alpine hike on theme trails such as the certified "Lechweg" or the "Der Grüne Ring" ("The Green Circle"), a circular hiking trail. There are options for experienced hikers as well as for beginners. Ambitious mountaineers, for example, can challenge themselves with summit tours to Mohnenfluh and Rüfikopf or tackle the Karhorn via ferrata.
Where hikers' hearts beat faster
In the morning, family hikers gather strength at the breakfast table. Get your backpack, put on hiking boots – and start your hike right from the hotel! Our 5-star family hotel Stammhaus Sonnenburg and the 4-star superior Landhaus Sonnenburg are an ideal starting point. There are numerous well-marked hiking trails for families that are ideal for hiking with children (and prams). Discover the pure nature of the Arlberg mountains with your children: jump over streams, hike to mountain lakes or visit the Skyspace Lech, situated less than a 15-minute hike from Hotel Sonnenburg. As a family, you can experience fantastic hikes in the Lech-Zürs region during your summer holiday.
And if you children do not want to hike back to the hotel: there are cable cars, lifts, and busses that take you back to us. Our suggestion: ask us about the Lech Card. With it, you can use all gondolas, lifts, and buses around Lech am Arlberg free of charge. And should your children not want to part with their new friends from childcare: How about a challenging summit hike just for grown-ups? We are pleased to organise an experienced hiking guide for you. Our concierge service will also help you to choose between easier and more adventurous hikes. Of course, there is always some suitable option for your little adventurers.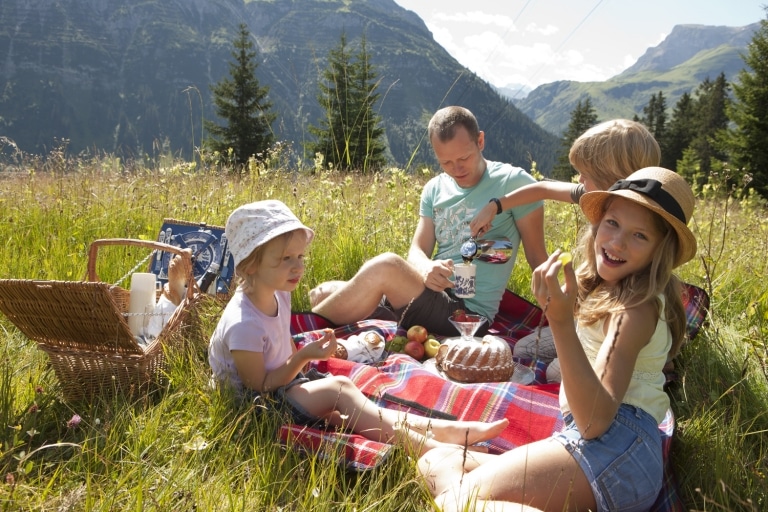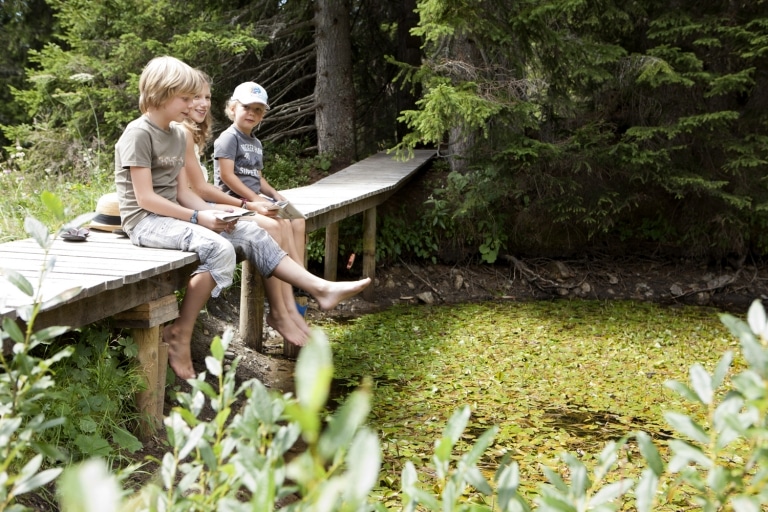 Family hikes with kids
Obviously, we at hotel Sonnenburg are also passionate hikers. For this reason, we would like to introduce you to three of our favourite hikes with children. And should your children not want to part with their new friends and our childcare: How about a challenging summit hike for grown-ups only? We would be happy to organise an experienced hiking guide for you.
Summer Sports Activities...
One of the highlights for our young guests is a generous outdoor playground right in front of hotel Sonnenburg. In addition, they can enjoy our lavish panorama pool as well as a youth space where your kids and teens can play air hockey or pool, watch a film, and more. If your children would like even more action, we are happy to help. During your family summer holidays in Lech, Austria, there are countless sporting activities available.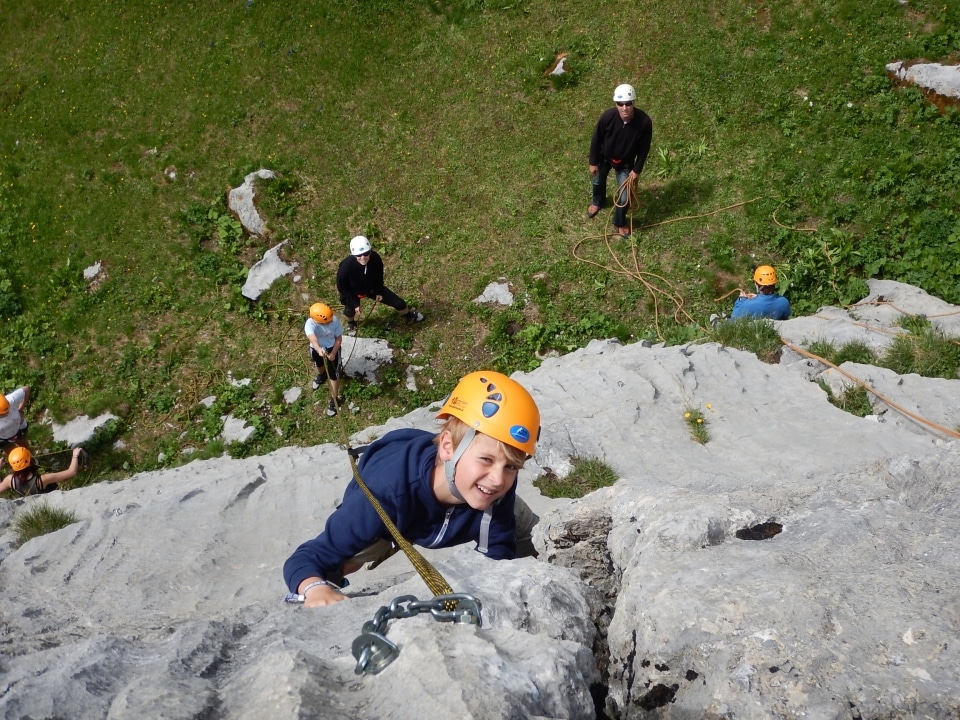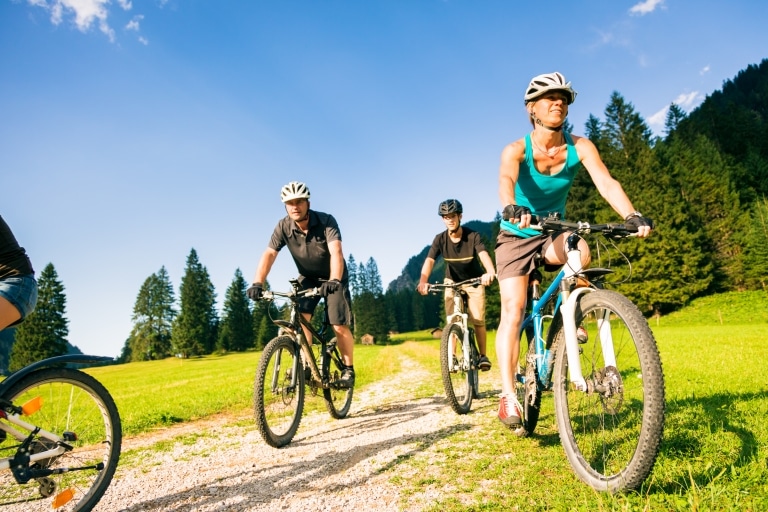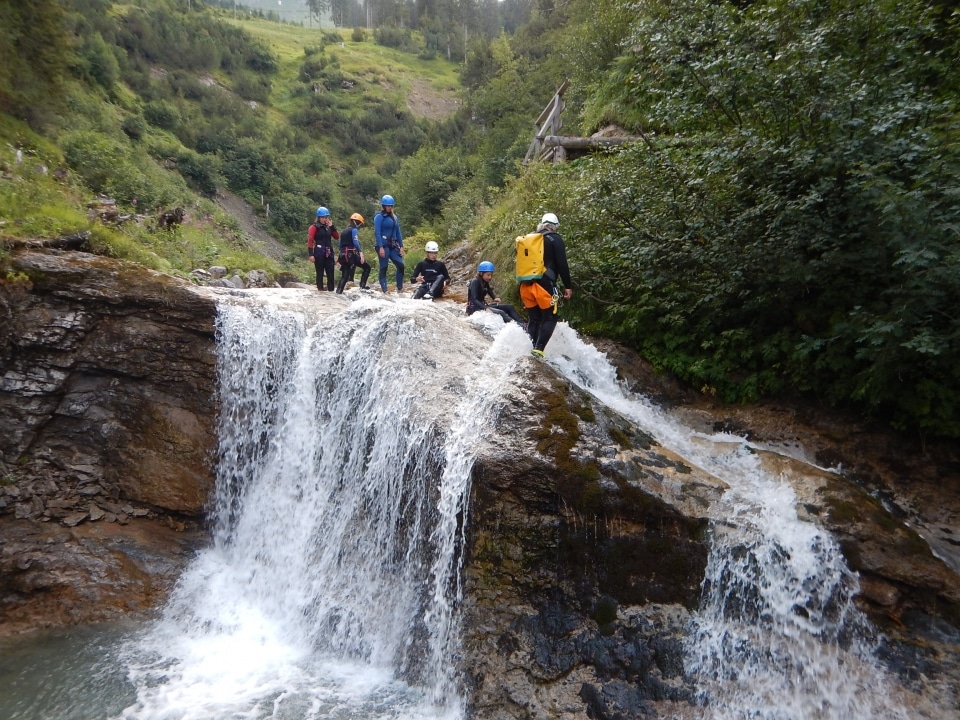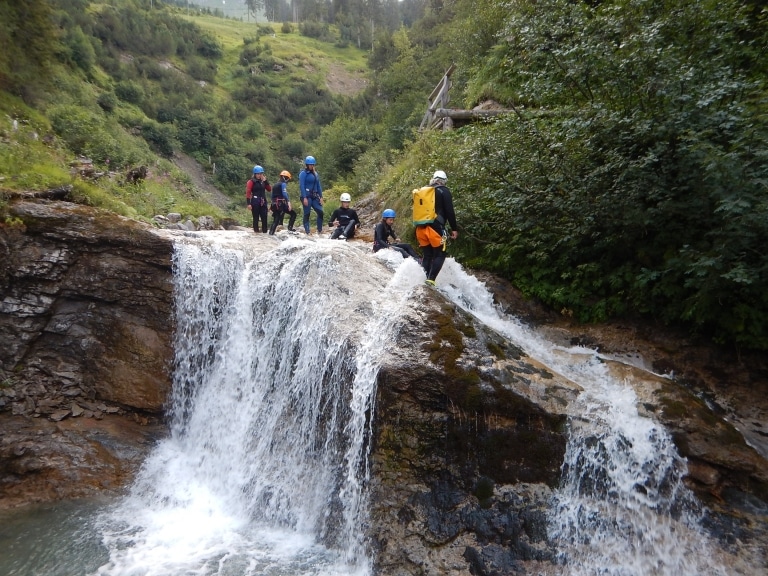 … on Foot
For instance, our guests will find many running and Nordic walking trails between Lech and Zürs. In addition, rock climbing in Lech am Arlberg is a dream come true: no matter if you prefer indoor or outdoor climbing, bouldering, via ferrata, children's climbing or an adventurous visit at the climbing park at Rüfikopf mountain. There are plenty of vertical possibilities for climbers around Oberlech.
Of course, our Concierge Service provides you with an experienced climbing guide. Alternatively, we can organise (family) climbing courses for all experience levels. In addition, young and grown-up adventurers can discover the Lech Alps through geocaching or experience Austria's stunning nature while horseback trekking. A 3D-archery course starts directly in front of Hotel Sonnenburg. It is very popular with our guests aged 6 and older.
… on a Bike
For avid cyclists, biking in the Austrian mountains is an exciting family activity.
Do you prefer mountain biking? Great! There are countless possibilities for both downhill mountain biking and freeriding in the Arlberg area.
And if you wonder: our guided e-bike tours through the Arlberg mountains are no less scenic and a bit less strenuous. Our guests can rent electric bicycles made of Bamboo from the Sonnenburg's own e-bike rental service.
… in and around Water
On hot summer days, there is nothing quite like fun in and around water. You agree? Then our adventure pool will be the first choice for your family. This large outdoor swimming pool in Lech am Arlberg is situated directly near the river Lech against a picturesque alpine backdrop. At a pleasant 25-degree Celsius water temperature it features a rocky island, a water slide, a children's pool, a lawn for sunbathing, and a playground which appeal to the whole family. By the way: use your Lech Card to access the outdoor adventure pool free of additional charge.
Moreover, you can learn how to dive in the Arlberg mountains: children and adults can discover scuba diving during their summer vacation at Hotel Sonnenburg. We are happy to organise an individual trial dive in a mountain lake or swimming pool for your family. Other water pleasures include river rafting on the Lech, family canyoning, the superb Hydro Speed or relaxed Stand up paddle surfing for children and adults on Lake Plansee. Meanwhile, if you are a fishing enthusiast you can head over to the fishpond in Zug and see if you catch one with your fishing rod.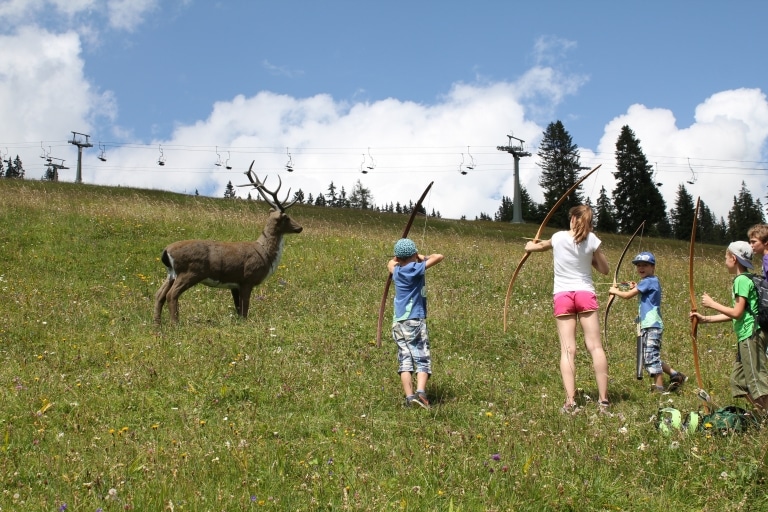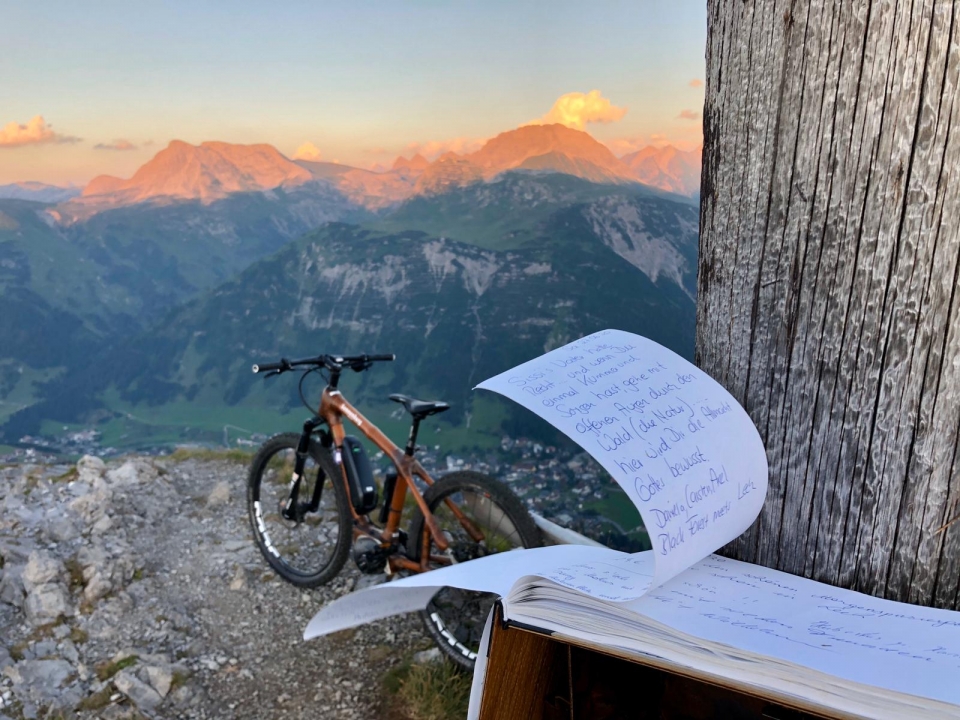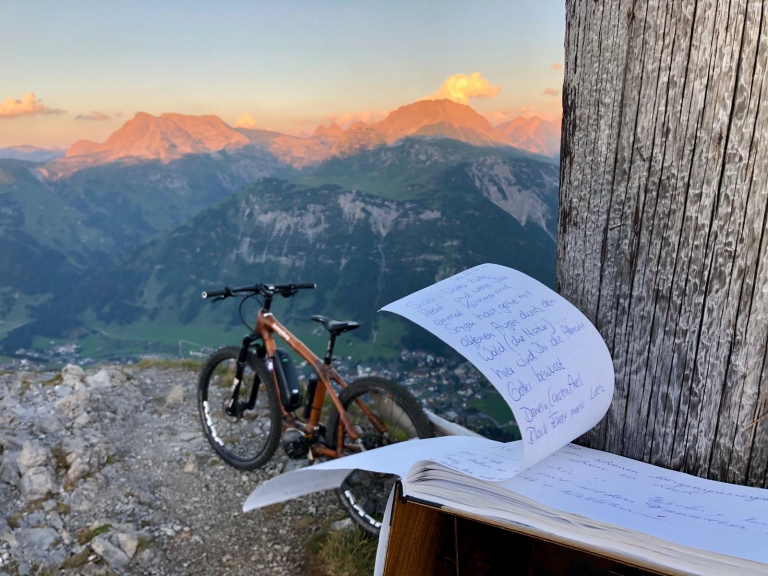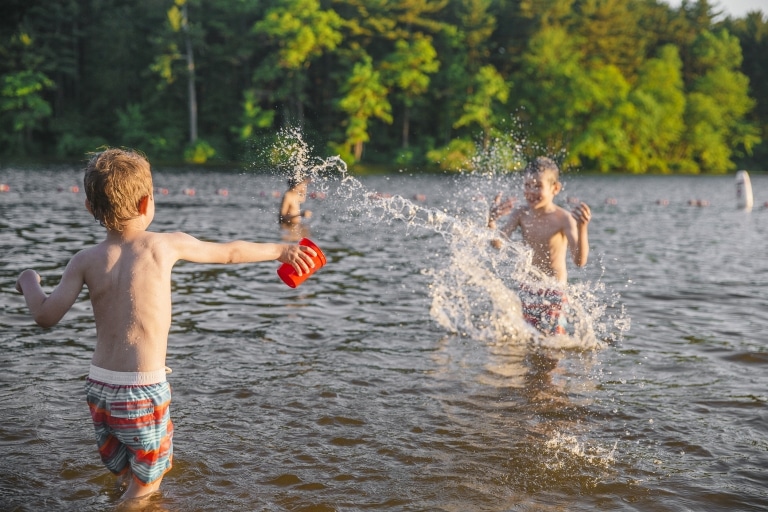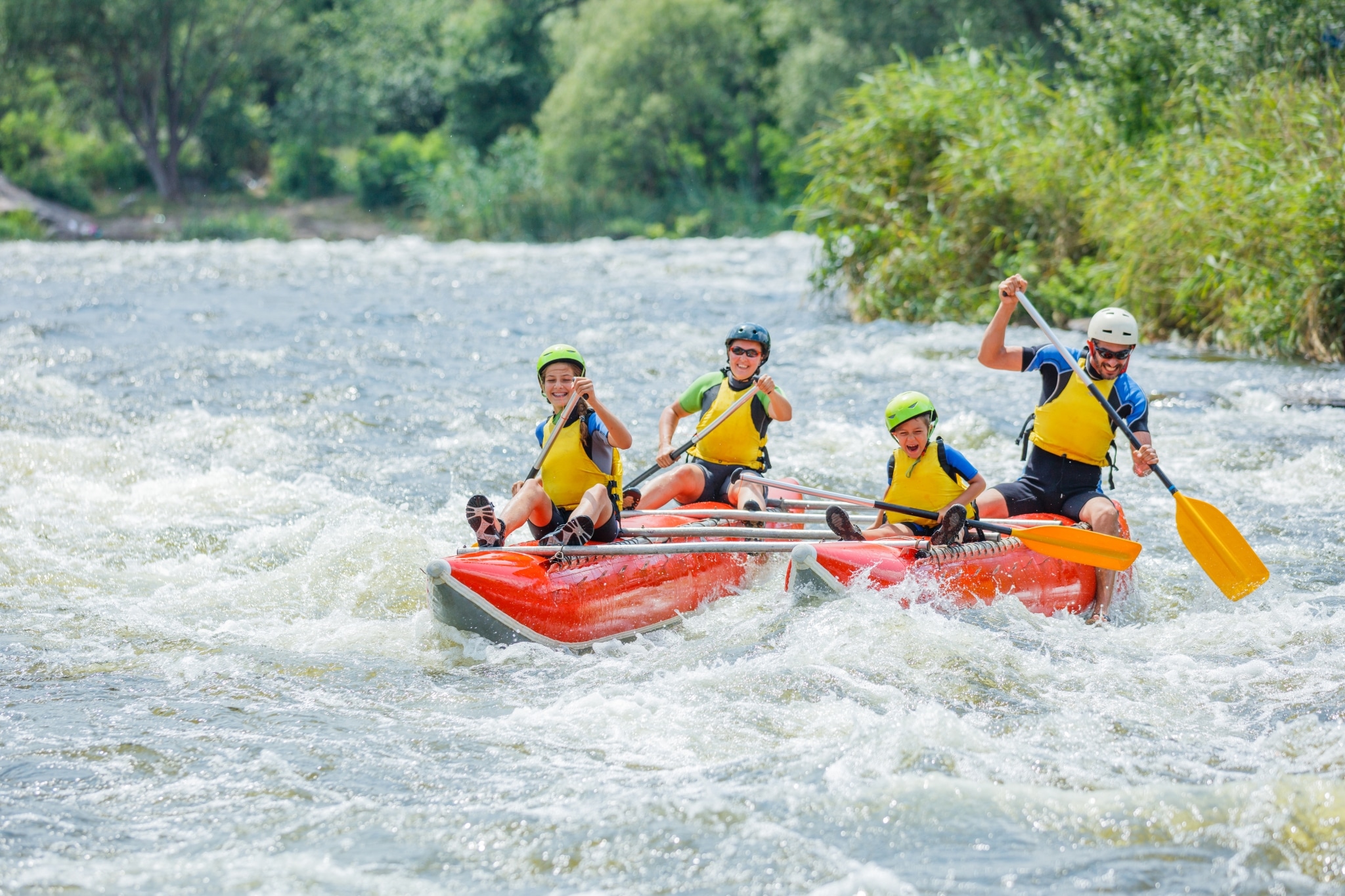 Family holidays in the mountains

… with our partner "Arlberg Alpin"
Children and youths have endless energy. That is exactly why there is an exciting children's and family programme for our guests with the Lech Card and the outdoor specialist "Arlberg Alpin". With lots of fun and adrenaline kick and accompanied exclusively by professionals and educators. What adventure are you in the mood for on your family holiday?
Cultural highlights for children and grown-ups
at literary hotel Sonnenburg
As a literary hotel, literature is particularly important to us. For this reason, we organize regular readings by authors and other literary events for readers of all ages at Hotel Sonnenburg. Beyond those events, the whole family can enjoy our extensive hotel library at any time. Or simply read a good book from the swimming pool library next to our panorama swimming pool.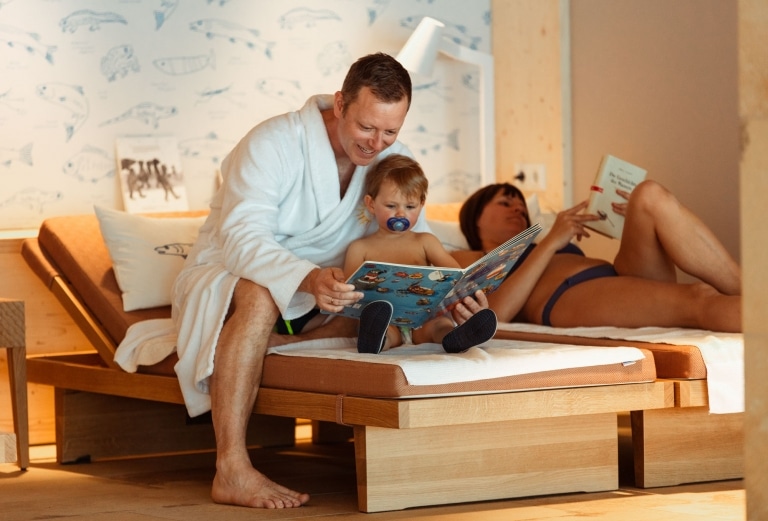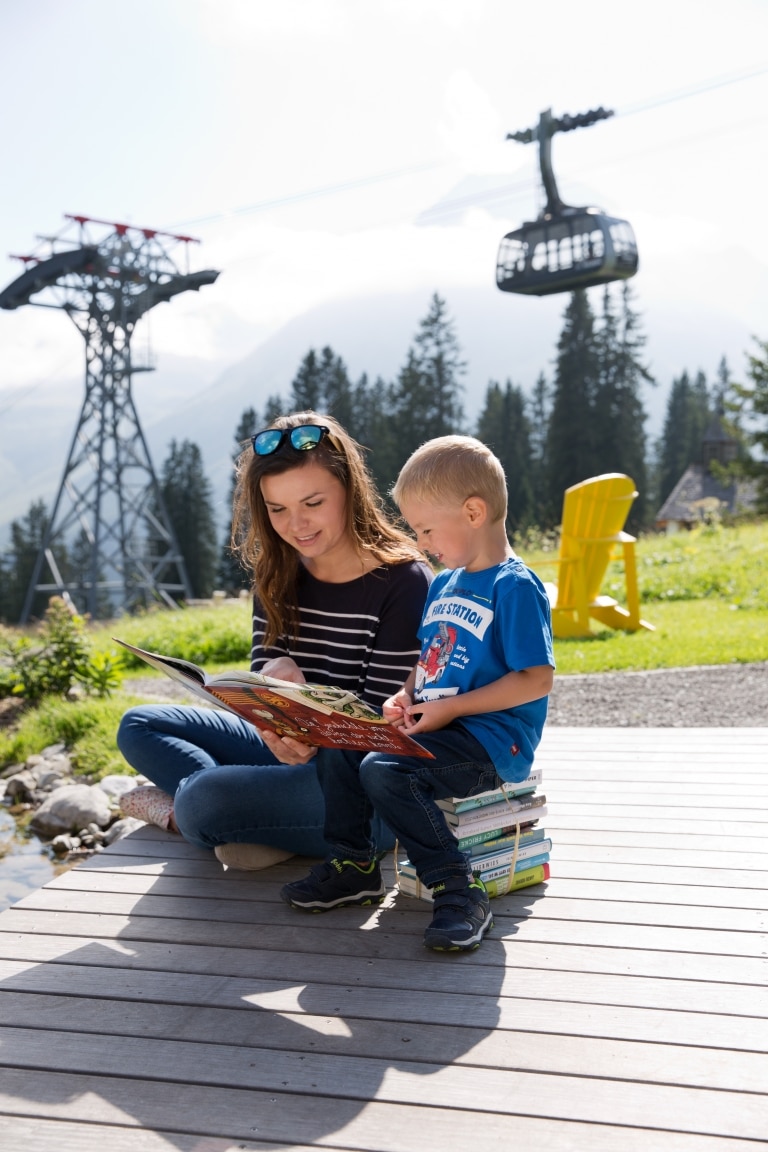 Outings for your family holidays
The sky in Oberlech remains cloudy for once? Isn't that great? That way, you can take a trip to one of the unique destinations around Hotel Sonnenburg. Get your little ones ready and off you go on a family outing – to Lech, to the Arlberg region, to the Tyrolean Oberland or the Bregenzerwald. We have compiled our area's highlights for your family holidays in the mountains. Let us inspire you:
Outings around Oberlech
- discover the Arlberg region with your children
Taking the Lech-Oberlech cable car down to Lech only takes about 3 minutes. By the way, you can use your Lech Card  to ride all cable cars and public transport around Lech. Our concierge will be happy to provide it for you. It also includes free entrance to many museums and leisure facilities. You are looking for more fun and games? The Buxbaum family playground offers outdoor entertainment like minigolf, table tennis, table soccer, and more to sweeten your day.
Meanwhile, sport.park.lech provides sporty families with weatherproof activities: badminton, ball sports, pool, bouldering or bowling are just a few of the numerous activities that families can enjoy there. Beyond that, there are other great experiences waiting for you and your children in the Arlberg region: the adventure park Schröcken, to name just one of them, is a climbing park with 42 rope courses, 3 zip lines, a mega swing, and infinite climbing possibilities at an altitude of up to 15 meters.
Day Trips
to Tyrolean Oberland or Bregenzerwald
In less than 90 minutes you can reach the Tyrolean capital Innsbruck by car from Oberlech. Stroll through Austria's fifth-largest city, known for its magnificent imperial buildings and modern architecture. Perhaps your little knights and princesses also want to discover the Imperial Hofburg. Once you have admired the famous "Goldenes Dach" ("Golden Roof"), you can make a detour to Europe's highest located zoo. The "Alpenzoo" features over 2,000 alpine animals. Hardly any other zoo in the world has such a wide scope of wildlife from the alpine region.
Furthermore, your children and you can experience nature and technology up close at the inatura nature show in Dornbirn situated in the Austrian province Vorarlberg. Fantastic guided tours and exciting multimedia interactions will captivate your entire family. We can also particularly recommend the Dornbirn Rolls-Royce Museum: car lovers can not only experience fine vintage cars up close but also learn about the impressive technology behind luxury cars.
The mystery of "Ötzi", a man who was found in a glacier, will fascinate your whole family if you decide to visit the Ötzi village in Sölden. An interactive open-air park, the village invites you to engage in active discovery. Children can learn how to light a fire, shoot arrows or tan fur. In addition, they learn exciting facts about Ötzi and his people who lived thousands of years ago during the Neolithic Age.
You have a strong sense of beauty? Then consider immersing yourself in the Swarovski Crystal Worlds in Wattens/Tyrol and discover the sparkling world of crystals. Apart from magnificent installations, you can admire sparkly artworks of all sorts. In addition, children and adults can get artistic at the Swarovski Creative Workshop and create their own masterpieces.
Finally, the city of Bregenz and beautiful Lake Constance are only a 70-minute drive from the Sonnenburg family hotel.
Then something Tookish woke up inside him,
and he wished to go and see the great mountains,
and hear the pine-trees and the water falls,
and explore the caves,
and wear a sword instead of a walking-stick

J.R.R. Tolkien
Lech in Summer - Events & Celebrations
Summer in the Austrian Arlberg region is peppered with a variety of events. Topics such as music, sports, art, regional culture or fine food attract families from all over the world. Your summer family holidays at Hotel Sonnenburg will be eventful, we promise!
Family holidays meet Austrian folklore
Are you going on a family holiday in the Arlberg region? Then why not become a part of Oberlech am Arlberg and immerse yourself and your family in Austrian folklore. How this works? For instance, visit the Lecher Dorffest that takes place every July in Lech am Arlberg. Traditionally, the fete opens with a concert of the local folk band on the village square in Lech. Afterwards, your whole family participate in our Bohemian traditions such as barrel broaching while listening to some superb brass music.
Another event in July is the Lecher Musikantentag ("Lech Musician's Day"). This festival in Lech am Arlberg is dedicated to traditional alpine music. Further folklore highlights include the Tannbergmarkt. It is a market that takes place every Thursday at Rüfiplatz in Lech. As a farmer's market it attracts guests and Arlbergers alike. Local producers, farmers, and craftsmen offer their goods here. This way, you will quickly get in touch with them. Whether you try spicy Tyrolean bacon, alpine honey or typical wood products from the Arlberg region ‒ this colourful market offers a feast for all senses.
Sports Events
Undoubtedly, sports enthusiasts of all ages can spend a great summer holiday in the Arlberg area. One reason for this is the Lecher Höhenhalbmarathon. Of course, running a half-marathon distance in high altitudes is a real challenge. But that is part of what makes this running event so appealing. While you circle the Karhorn mountain with an altitude difference of about 1,200 metres, your little ones can excel at the Kids' Run. Also, each summer the TransVorarlberg Triathlon provides fun for the whole family. So, register as a team for the triathlon family relay or let your children age of 7 and older compete at the Children's Run.
A Summer of Culture in Lech am Arlberg
All year long, friends of the fine arts are looking forward to the Kultursommer (cultural summer) in Lech: it is just as varied, vibrant, and beautiful as the Arlberg nature. At the Lech Classic Music Festival, for instance, you can meet international music legends and enjoy orchestral works, operas, and other classical pieces with your loved ones. If you love jazz, enjoy the well-known Jazzbühne Lech ("Jazz Stage Lech"). Or indulge in (German) prose, poetry, and poetry slam at the Lecher Literaturtage ("Literature Days Lech"). There is something to suit the individual taste of every family member during your stay at Hotel Sonnenburg.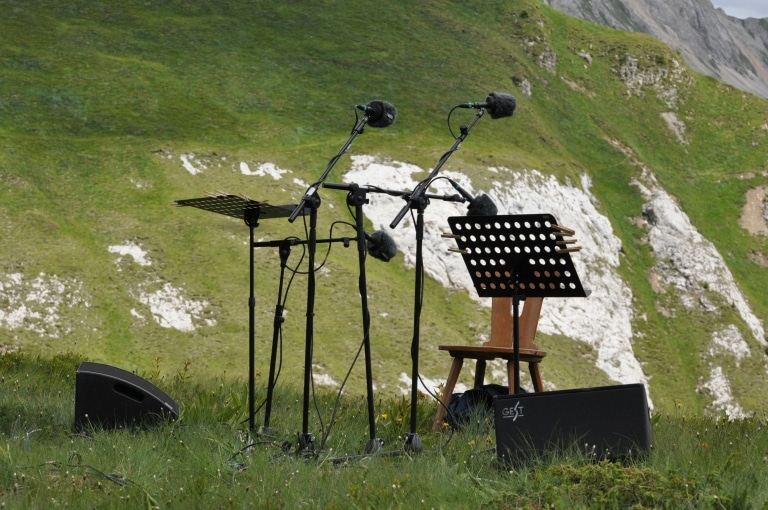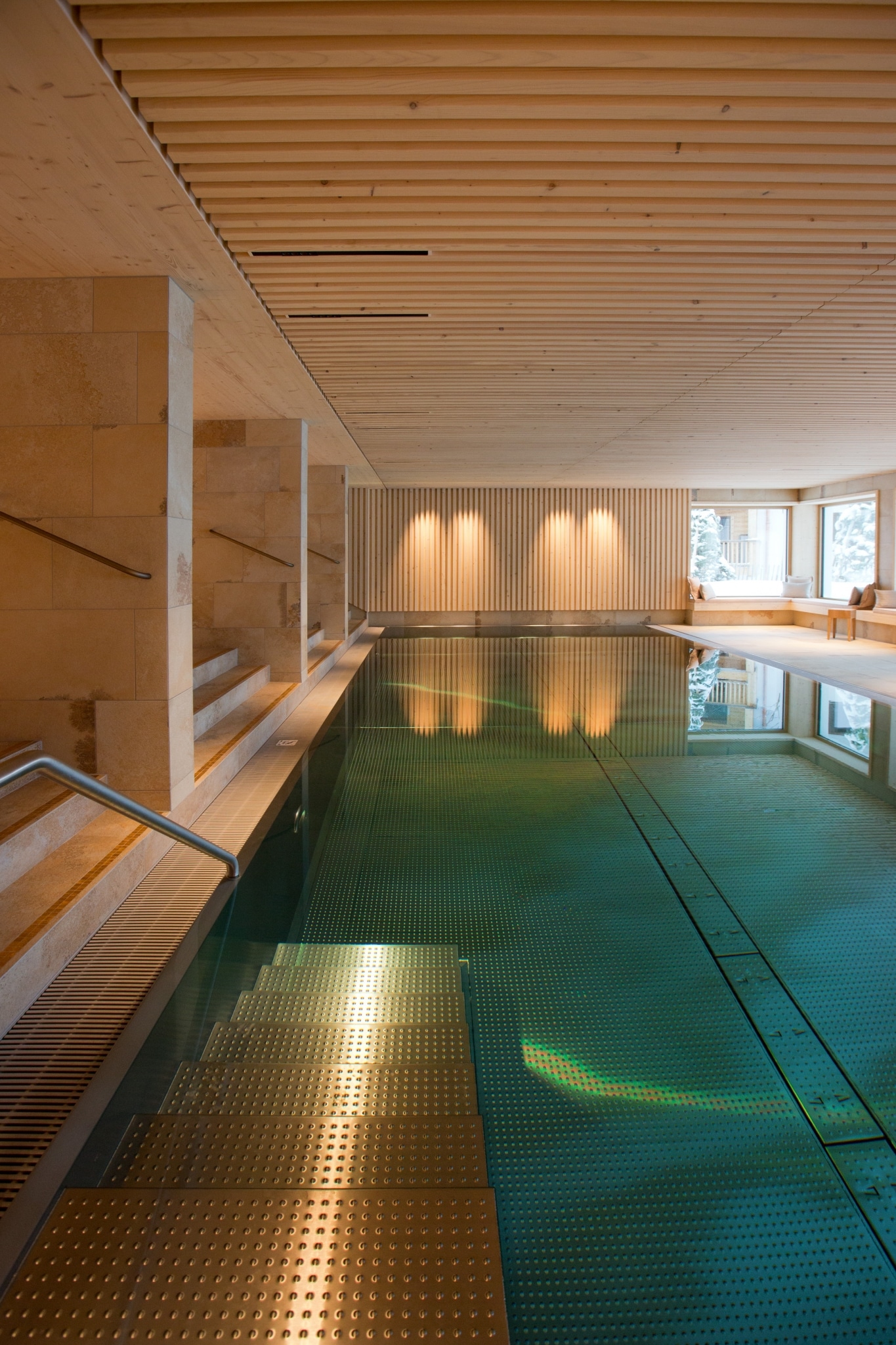 Family Spa and Massage
Besides outdoor activities you will find a wide range of wellness activities in our 5-star family hotel with pool in Austria. The Sonnenburg spa area is equipped particularly for families. Swim laps in our luxurious panorama pool or relax your muscles in our family sauna. It provides the ideal setting for a joint family wellness programme. Round off your family holidays with a soothing massage from our massage menu. Besides, as a family hotel we also offer special massages for teenagers.